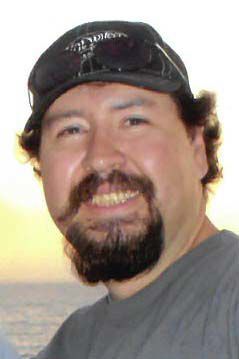 August 17, 1968 - January 4, 2021
Mason City - The Robles family and the Hot Wheels community are saddened by the sudden loss of David Robles on January 4th, 2021. He passed peacefully at his home in Mason City, Iowa.
David lived life by his own rules. He was a loving husband, father, son, brother, uncle, friend and fellow collector who lived 1000 years in the 52 calendar years he was on this earth. He paved his own way leaving his own mark, writing his own story. An obituary is the place we inscribe that story in the book of forever.
As his story goes: He was born in Lubbock, Texas to Juan and Guadalupe (Serna) Robles in 1968 with him being the 3rd out of 4 sons to that union. The family moved to Ft Lupton, Colorado where he went to school and college majoring in auto body because of the love of cars he shared with his dad. In 1994, he gambled and married Barbara Ann Rose in Las Vegas, Nevada. That union took them to Mason City, Iowa where Dave was employed initially by Titan Tire in Ventura and then for Land o Lakes Purina in Mason City for over 20 years. In 1992, shortly after the birth of their son Jonathan, Dave began collecting Hot Wheels which soon turned into a passion that led the family of 3 to be included into a much larger crazy loving Hot Wheels family that spans the globe. The bonds of love and friendship that grew through this hobby was remarkable. He was so thankful and felt blessed for the many collectors that he considered brothers and sisters in our Hot Wheels family.
Left to cherish his memory, share his story and play with his toy cars are his wife-Barb, son-Jonathan, mother-Guadalupe, and brothers-Juan Jr (Guadalupe) and family, Jaimie and Eduardo and Grandfather Crespin Serna plus many aunts, uncles and cousins. Also celebrating his life would be his father in law, Herbert Rose and Barb's siblings and their families.
David was preceded in death by his father Juan Robles and very special grandmother, Carmen Serna.
David felt very rewarded in his life with the charity work he and fellow collectors accomplished over the past twenty plus years where those efforts benefitted children's organizations. In lieu of a memorial, the family requests that you would help any local or national charity that helps children in his name.
David would not like you to mourn his death but to celebrate his life as his chapter closes. We will plan multiple celebrations of life that will take place this year.
Hogan-Bremer-Moore Colonial Chapel, 126 3rd Street NE, Mason City.641-423-2372.