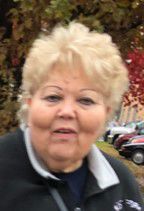 July 26, 1951-January 10, 2020
THORNTON – Connie Sue Stadtlander, 68, of Thornton, died Friday, January 10, 2020, at Mayo Clinic Hospital, Methodist Campus, surrounded by her family.
Funeral services will be 10:30 a.m. Wednesday, January 15, 2020, at Thornton United Methodist Church, 404 Maple St., Thornton, with Rev. Rodney Meester officiating. Burial will be at Pleasant View Cemetery in Thornton.
Visitation will be from 4:00-7:00 p.m. Tuesday, January 14, 2020, at the church in Thornton.
In lieu of customary remembrances, Connie's family suggests memorial contributions to Mission Thornton or to Thornton EMS.
You have free articles remaining.
Connie was born July 26, 1951, the daughter of Eugene and Mildred (DeVries) Jensen in Mason City. She married Larry "Tweet" Stadtlander on June 8, 1974, at the Richland Lutheran Church in Thornton.
A graduate of Meservey-Thornton High School, Connie continued her education at Hamilton Business College in Mason City. She worked as a secretary at nursing homes in Belmond and Hampton, before working nearly 35 years at the Meservey-Thornton High School.
Connie was a people person who loved her community and always enjoyed donating her time to several events and organizations, including EMS. She was an election officer during retirement and enjoyed her school kids. She enjoyed going on shopping trips, road trips to Oklahoma City and spending time with her nieces, nephews, great-nieces and great-nephews. She also liked flowers, gardening, shopping and Mickey Mouse.
Connie is survived by her husband, Larry "Tweet" Stadtlander of Thornton; three siblings, Mike (Betty) Jensen, Kathy (Tom) Janeka and Laurie (Glenn Maas) Mecham, all of Thornton; siblings-in-law, Shirley (Marty) Proctor of Thornton, Bev Stadtlander of Meservey, Dean (Renae) Stadtlander of Clear Lake, and Brenda (John) Bracklein of Oklahoma City, OK; and many nieces, nephews, great-nieces and great-nephews.
She was preceded in death by her parents; brother, Donnie Jensen; parents-in-law, Louis and Gertrude (Smit) Stadtlander; two brothers-in-law, Richard Stadtlander and Floyd Mecham.
To plant a tree in memory of Connie Stadtlander as a living tribute, please visit Tribute Store.