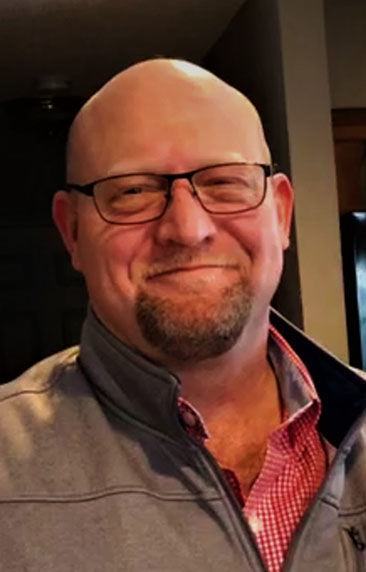 April 25, 1970-December 28, 2019
MASON CITY --- Chad Richard True, 49, passed away suddenly Saturday, December 28, 2019, at Fairview Ridges Hospital in Burnsville, MN.
A Celebration of Life will be at 7:00 pm on Friday, January 10th, 2020 at Hogan-Bremer-Moore Colonial Chapel, 126 3rd St NE, Mason City, IA.
Visitation will be from 5:00 to 7:00 pm on Friday, January 10th, 2020 at Hogan-Bremer-Moore Colonial Chapel.
You have free articles remaining.
Chad was born on April 25, 1970, the son of Richard and Susan (Francis) True in Northfield, MN. He graduated from Mason City High School; class of 1988. Later, Chad married Dixie Grisham in November of 2000. Chad achieved his dream of earning a Bachelor's of Science in 2011. He was in the management field for many years; his final years were spent as a regional manager at TrustWave I.T. Security.
Chad enjoyed family holidays, Vikings & Twins, comics, cruising in his convertible, and fishing. He was a member of the TCM Backlot Club and an avid cinephile. He shared his passion for movies by creating a Drive-In Movie Night on the annual family trip up North to Eagles Nest Lodge. Many fall trips were taken north to go fishing with his father and uncles; Chad looked forward to the peace of nature. He liked cooking especially pot roast and enjoyed all food at Pete's Kitchen or Godfathers.
Chad was a giver of life through organ donation, continuing to help others as when he was alive.
Those left to cherish memories of Chad are his wife Dixie; children, Mason (Teri) True, Conner, and Zoey; grandchildren, Maximus and Archer; parents, Richard and Susan True; siblings, Jennifer (Bruce) Bourgeois, of Green Bay, WI, and Christopher (Pooja) True, of St. Paul, MN; niece Paige Bourgeois; mother and father-in-law, Richard and Verla Grisham; Dixies siblings, Susan Reynolds, Ben Grisham, and Gordon Grisham; as well as numerous extended family members and friends.
Chad is preceded in death by his grandparents, Carl and Clara True, George and Delores Francis; aunts and uncles, Duane Francis, Denise Luecht, Steven True, and Ken True; cousins, Little David True, Shannon DuClos, Hunter True, Shawn True, Tyler Hendrickson, and Katherine S.B. Hogen.
Hogan-Bremer-Moore Colonial Chapel, 126 3rd St. NE, Mason City; (641) 423-2372 ColonialChapels.com
To send flowers to the family of Chad True, please visit Tribute Store.