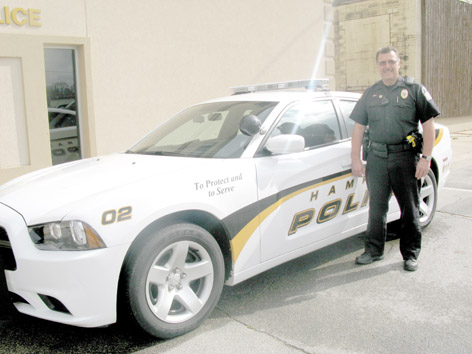 HAMPTON — When Bob Schaefer of Hampton was in high school he knew he wanted to be a police officer someday.
"I liked working with people, and I thought maybe I could make a difference," Schaefer said. "Part of that was my Uncle Clarence Kothe, too. He was chief of police in Hampton."
Now, after 30 years with the Hampton Police Department Schaefer is following in his uncle's footsteps.
The Hampton City Council appointed Schaefer police chief on Sept. 27 and he began his duties the next day.
"He's served the city very well in his capacity with the Police Department and we just thought he'd be a real good fit for our chief of police," said Mayor Diane Weldin. "He has really good community support."
Schaefer said he was a little surprised by the promotion from lieutenant to chief because he didn't get it the last time the chief position opened up.
"It's something I always wanted to do," he said. "I like the people in the community and wanted to be able to serve them on that level. If there is a problem, people come to the chief."
Schaefer, who grew up in Dumont, began his career with the Hampton Police Department 30 years ago when he applied for a full-time position. He didn't get the job but instead became a reserve officer.
Over the years full-time positions opened up again and each time he applied until getting hired in February 1989.
"I told them, 'I haven't been a reserve officer just because I need the money — I want to do this,' " Schaefer said.
You have free articles remaining.
Since then he has been fighting crime and doing community policing in Hampton.
He's also served as a DARE officer for the Hampton-Dumont School District, teaching students about the dangers of drugs, alcohol and violence since 1994.
"It's one of the positive things," he said about DARE. "They get to see you in a positive role."
It helps balance the other aspect of his job where he sees cases like a double stabbing and the unsolved murder of Roberta "Bobbi" Crawford in 1999.
"Like all the police chiefs before I would really like to see that solved," Schaefer said about the Crawford case. "It bothers you but you can't let it consume you."
Despite challenging cases, Schaefer, who has a wife, Michelle, and two grown daughters, still enjoys the job.
"I enjoy the people," he said. "I think we've got a great crew here and that makes things easier. We also have a lot of nice people in the community and that makes it easier, too."
He hopes to continue the good things going on at the Police Department and improve it even more with things such as computers in each patrol car.
"I basically want to lead the department into the next decade," Schaefer said.
His co-workers have no doubt he'll do a good job at it.
"I feel that he will make an excellent chief in part because the officers and dispatchers think highly of him, and Bob has earned the chief's position," said Capt. Jim Hilton, who's been with the police department 36 years. "... he has a good rapport with the public and fellow officers."