By mid-September, the North Iowa landscape was drying up. The small wetland where I was currently hunting teal had shrunk to a water depth of two inches and was getting lower by the hour.
Many of the smallest potholes had already gone completely dry. And then, with only a week to go before this year's Sept. 21 goose opener, the rains came. Deluge would be a more appropriate term. Depending on where you happened to be in the region, anywhere from 6 to 7 inches of water fell from the skies in the span of just four days. Potholes instantly refilled; marshes returned to crest. There were even some areas of temporary sheet water in the low spots; something that wouldn't have seemed possible just a few days earlier.
Nesting Canada geese enjoyed banner production across Iowa this year. In light of greatly improved habitat conditions, the stage was set. Hunter anticipation was running high. While doing some preseason scouting at a likely looking cow pasture, Carol and I decided to hike to the top of a prominent hilltop for a better view of our surroundings. Reaching the top, we were surprised when we spotted a small temporary pond located near the edge of some recently baled alfalfa. Surrounded by rolling terrain, the pond was only visible from the air and seemed like a perfect spot to try decoying some Canada geese.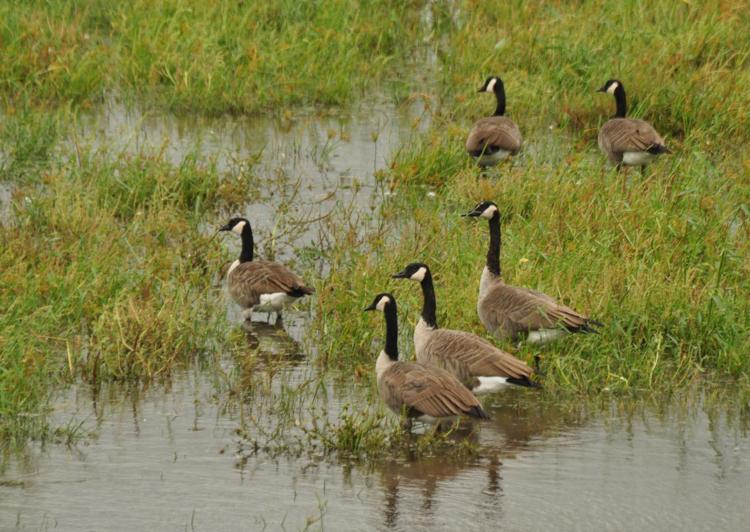 You have free articles remaining.
Getting to the spot would require some effort. When the Saturday opener finally arrived, the fields were still way too wet to drive over. Consequently, we were forced to trade a full goose trailer for whatever miscellaneous equipment and decoys we could strap unto a small two-wheel cart. It was a long haul, and our minimal spread ended up consisting of just 13 goose silhouettes and eight full-bodied decoys. Hopefully, it would be enough.
When the big day finally arrived, the weather failed to cooperate – offering a gloomy blend of heavy overcast, mist, and drizzle. Area goose flocks were also less than enthused with the conditions and there was little activity early on. But when we eventually received a 9 o'clock break in the drizzle, we could hear some birds beginning to stir around. We soon spotted a lone goose headed more or less in our direction and began calling. The honker turned, came straight on, and was soon hanging – legs down – four or five feet above our tiny set of decoys. I told Carol to take the shot, and our first goose of the season was in the bag.
The breeze was picking up and we soon heard more geese coming from somewhere downwind. When the birds came into view, it turned out to be a noisy group of five, flying high and traveling fast with the wind. The birds kept going and would soon be lost in the haze. We stepped up the calling and, much to my amazement, the flock suddenly executed a U-turn and headed back in our direction. Still flying at altitude, the geese had apparently decided that they liked what they saw and began whiffling down from sky. Whiffling is a rapid, side slipping maneuver that allows birds to quickly reduce altitude. It was an incredible sight as some of the honkers rolled completely over as they "maple leafed" toward earth. Arriving at the decoys, the flock simultaneously dropped their black webs and braked for a landing.
The moment of truth had arrived. Rising from the blind, Carol's 20-gauge barked while, at the same time, my little 28 did a two-barreled yip of its own. The flock's survivors were still disappearing downrange when a group of three more geese suddenly appeared to give our spread a serious look see. But the shooting was over. With a double limit of four beautiful Canadas already on the ground, we were finished for the day. And although somewhat soggy, we couldn't have been happier. Time had arrived to sip some hot coffee, enjoy a fresh cinnamon roll, and enjoy the show. It was a prefect start to this year's season.