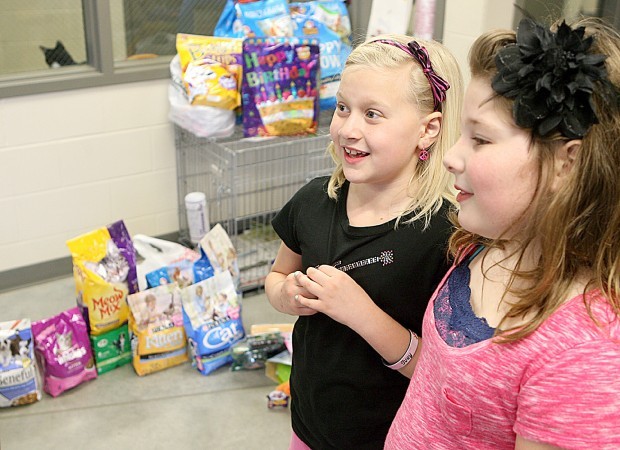 MASON CITY — When 9-year-olds Evie Vaughn and Ivey Overbeck, both of Mason City, asked friends and family to donate items for the Humane Society of North Iowa instead of giving them birthday presents this year they were surprised by the response.
"We only thought we'd get a couple of donations because we only invited 24 people" to their joint birthday party on March 10, said Evie.
Instead, they were able to raise $300 in cash and received donations for dog and cat food, treats, toys and other supplies.
"I think this is great," said Tracy Hamand, Humane Society manager. "It makes me all warm and fuzzy what kids can do. It's not easy to make me teary- eyed and this did it."
The girls decided to ask for donations instead of birthday presents after deciding they had enough toys and other items as the only children in their families and after learning that the Humane Society needs donations.
You have free articles remaining.
"I wanted to donate to the Humane Society because they need it very much," Ivey said.
Both Evie and Ivey have pets. Evie has a dog named Ruby and Ivey has a cat named Rudy.
"They both just love animals," said Ivey's mother, Jordan Bishop.
Evie and her mother, Katie True, have also volunteered the Humane Society.
"She saw how nice of a place it is and I told her how it runs on volunteers and donations," True said. "Her and Ivey then thought it would be a good idea (to ask for donations)."
Hamand said the Humane Society is very thankful for the donations and amazed at how much Ivey and Evie were able to raise.
"We will use every bit of it," she said. "I am surprised how much they did get, especially the cash donation."