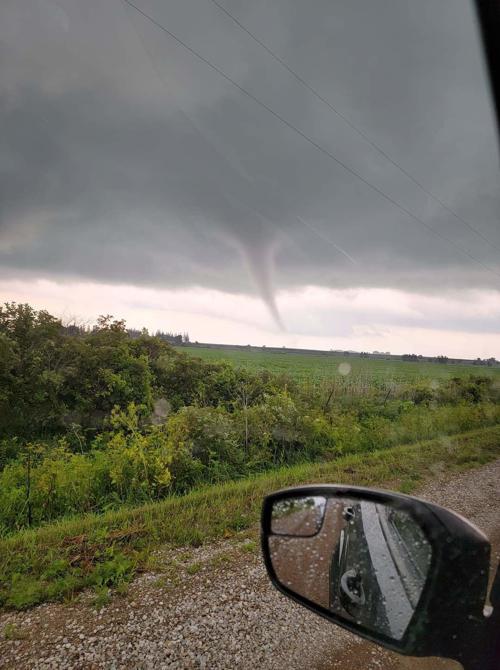 Iowa's Wednesday weather was ripe for tornadoes.
Supercells, or severe thunderstorms that feature rotating winds which can produce hail or tornadoes, developed throughout north central Iowa.
No deaths or injuries were immediately reported from tornadoes that tore through northern, central and eastern Iowa, but many found damaged buildings, shredded trees and overturned vehicles in the path of the storms, officials said.
Law enforcement and trained spotters confirmed several tornadoes Wednesday afternoon and night in mostly rural, uninhabited areas, the National Weather Service said. But one that touched down near Lake City in north central Iowa damaged a home, flipped a truck and trailer and flattened nearby corn crops, The Messenger reported.
"The environment was ripe for tornadic development and rotation was evident on radar shortly after storms formed," a report from the NWS said. "Generally south of along the Highway 20 corridor was the hot spot for tornadoes from around Nemaha, Lake City, Stanhope, Jewell, and Waverly."
At least 12 tornadoes were confirmed in central Iowa.
Tornadoes were reported south of Mason City. A preliminary report from the NWS included sightings northeast of Rockwell in Cerro Gordo County, near Floyd, Rudd and Nora Springs in Floyd County and near Shell Rock in Butler County. 
In Cerro Gordo County, there were no reports of damage or injuries from tornadoes.
Globe Gazette readers submitted photos and videos of their own sightings, many north of the Rockford area in Floyd County. That tornado has since been classified as a low-end EF1 by the NWS. Its peak wind speed was estimated to have reached 90 mph as it traveled across an 11-mile stretch from the Rockford area to the Rudd area, mainly through rural areas. The majority of damage from the tornado was ranked EF0, though it intensified as it neared the end of its path, causing considerable damage to a hog building and surrounding crops, which brought its ultimate classification up to EF1.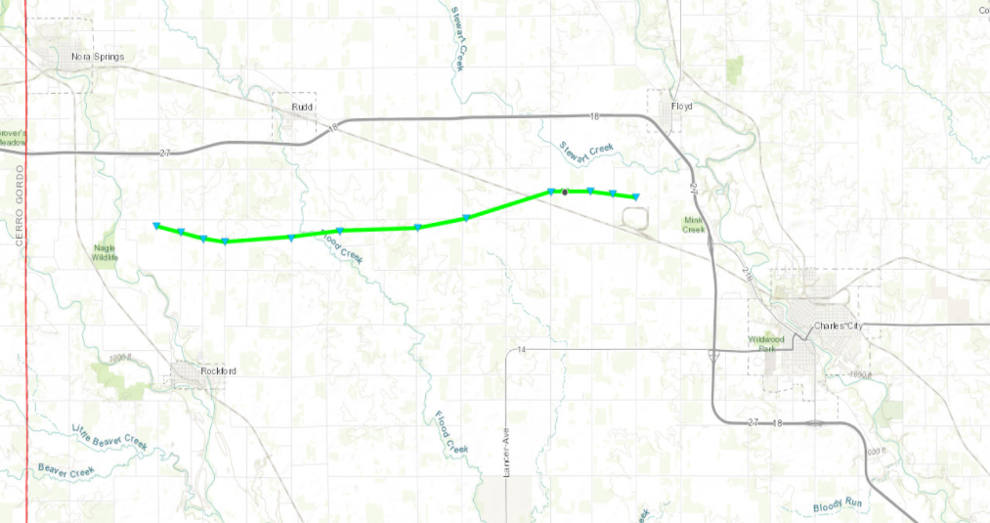 A tornado touched down north of Rockford Wednesday evening. 
Charles City police reported storm damage north and west of town.
Diane Wells, of rural Greene, saw significant tree damage and a metal storage shed was destroyed, but her house was spared, save two west-facing windows that were hit by a flying tree limb.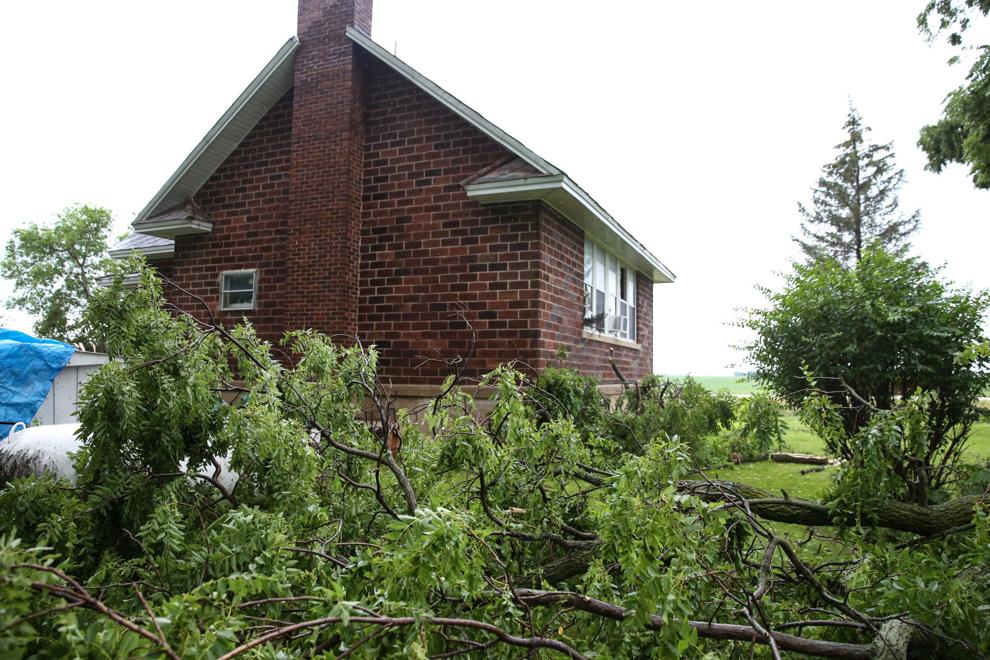 Facing what looks to be several thousand dollars in cleanup costs, as most insurance policies offer little, if any, coverage for tree removal, Wells said she plans to check with local organizations to see if there is any sort of public assistance available.
"I've lived here 28 years, and I went through a lot of storms, but I think this has been the worst," Wells said as she walked around the yard. "The fire department came and cut the trees from the driveway so we could get out, but I don't know who can help us with the rest of this."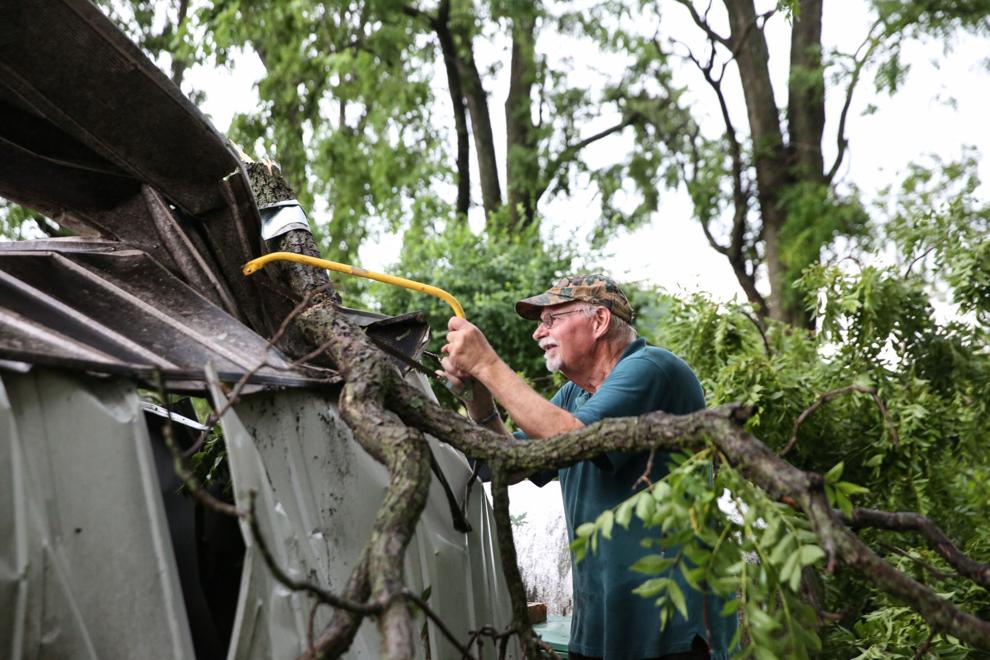 The tornado also damaged trees in her neighbor's yard and laid down corn stalks at the edge of an adjacent field, leaving half-moon trails of damage, resembling the number three, around Wells' and her neighbor's respective houses.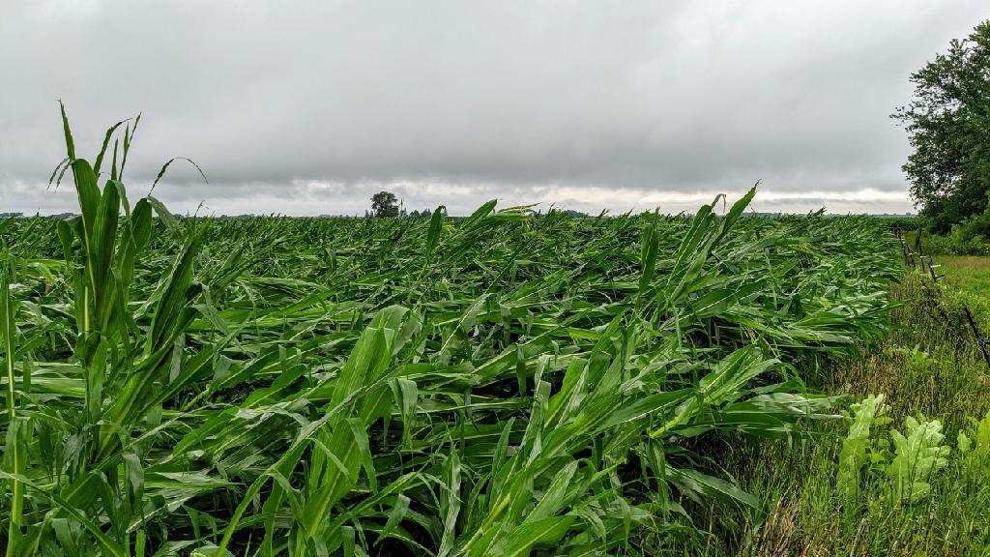 "It could have been a lot worse; I feel pretty lucky about that" Wells said. "It's just going to take some time to get this all taken care of."
"We do burn wood sometimes, but not this much," Wells joked.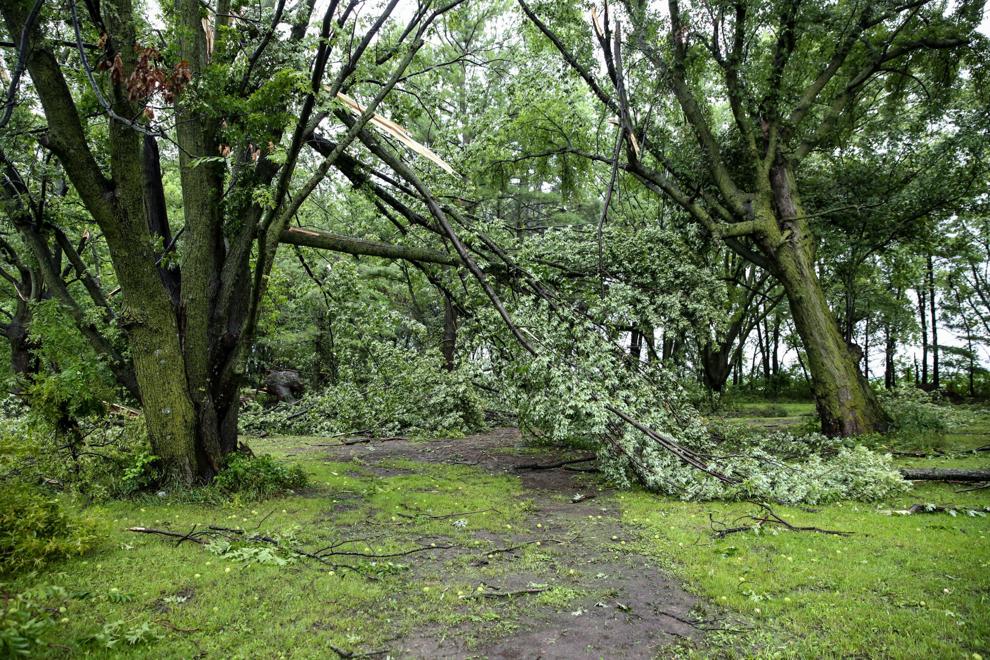 Two homes in Butler County had significant damage, while at least one homeowner had downed power lines sparking across his driveway in Bremer County, and tree limb damage was widespread across the Cedar Valley. Nonetheless, no serious injuries were reported in the area from the storms.
"Considering everything, we were very lucky," said Bremer County Sheriff Dan Pickett.
The tornado or tornadoes spotted in Bremer and Butler counties seemed to touch down and pull back up into the clouds numerous times, according to officials and based on photos and video shared on social media. But multiple sightings were reported to NWS on Wednesday afternoon and into the evening.
Butler County Emergency Management coordinator Chris Showalter said no houses in his county were destroyed, but two along 250th Street were "affected majorly." One of those had roof shingles and sheeting torn off, exposing the rafters, and a home across the street had a hole in a wall. Showalter wasn't sure if it had been hit by something or blown out by the tornado.
A two- to three-mile stretch of 250th Street had other minor damage, Showalter said, including damage to outbuildings like grain bins and machine sheds as well as to corn stalks.
"Luckily, we had no injuries whatsoever with all of the damages that we had," he said.
In Bremer County to the east, Pickett said there were no houses destroyed there either, but "a lot of damage reports, way too many to even mention" with regard to the up-and-down tornado through his county. He said the tornado first entered the county from the west, and went across 240th Street to 235th Street.
Half a building was "gone" on 240th Street, while tree limbs fell on homes, outbuildings and cars along that stretch as well as on nearby Fern Avenue, Pickett said.
In the 1700 block of 235th Street, an older man was unable to get out of his home when live power lines went down and tree limbs blocked his lane. Pickett said Alliant Energy and Waverly Fire helped reopen his lane.
Along Grand Avenue south of Highway 3, several evergreen trees were uprooted and houses were at least partially damaged, he said.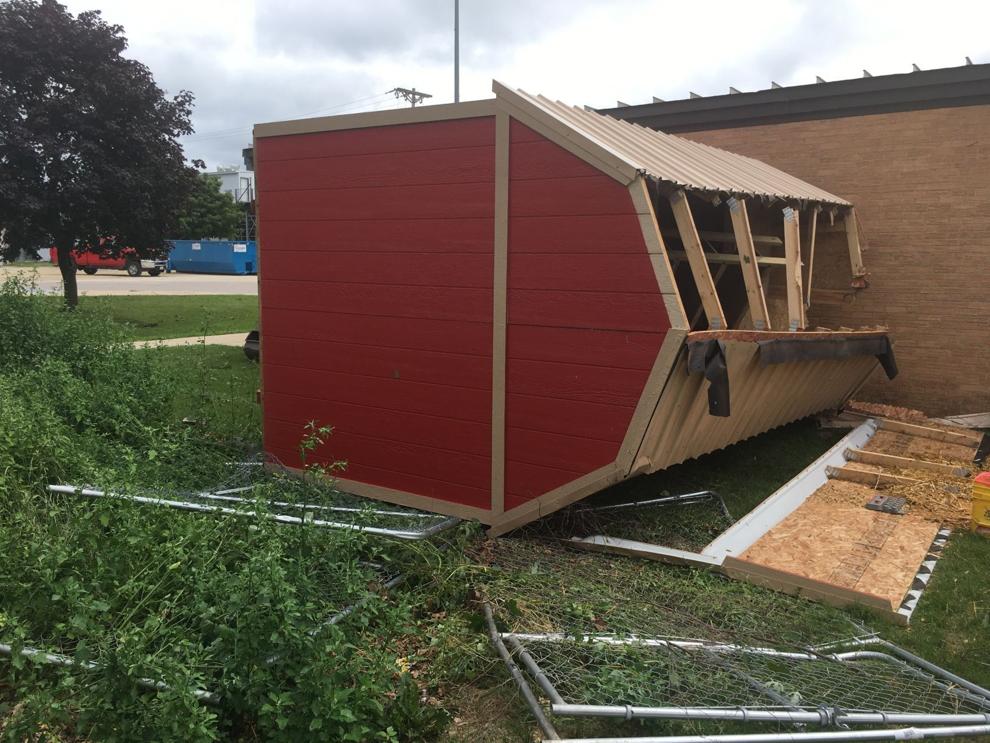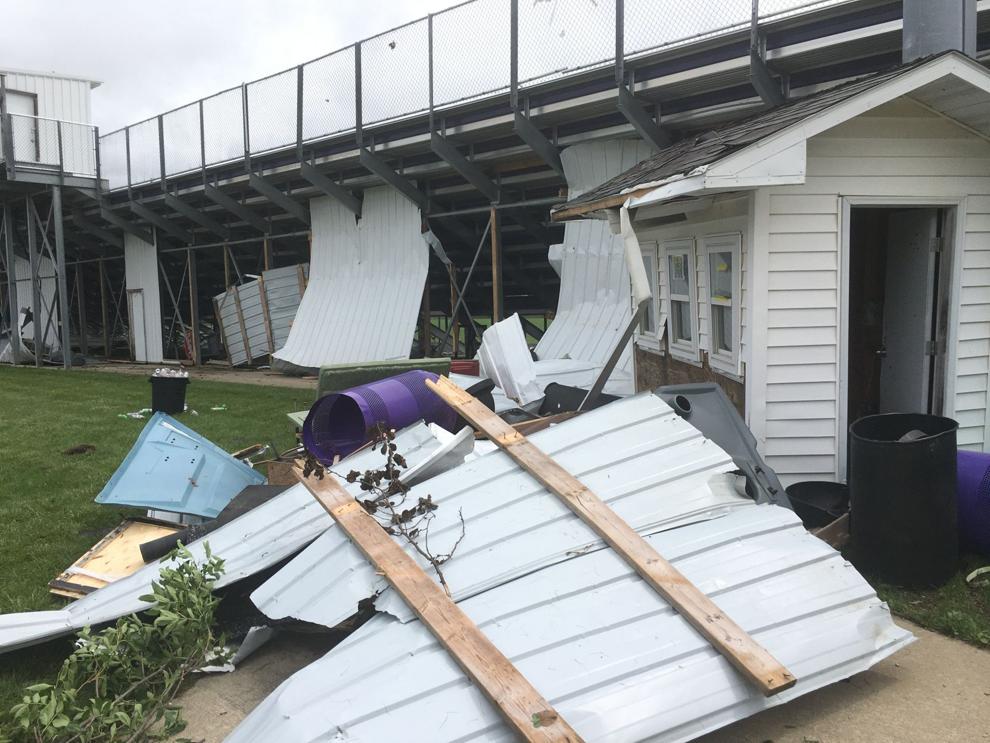 A machine shed was destroyed on the Ken and Lorie Henning farm in Shell Rock, and there was damage to the Husky stadium at Oelwein High School. The Oelwin tornado was classified as an EF0 by the NWS and traveled about 3 miles, reaching an estimated peak wind speak of 70 mph.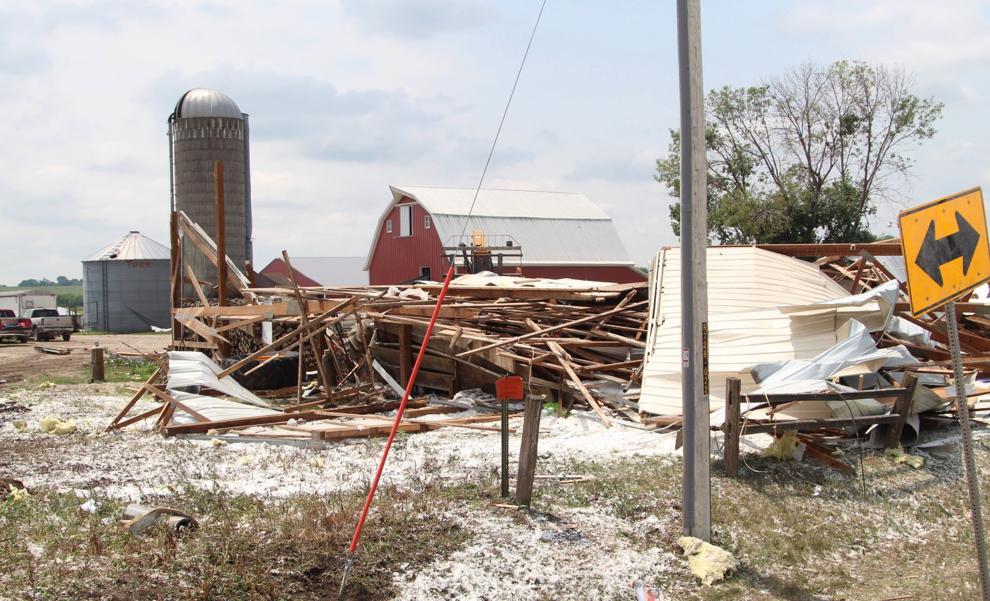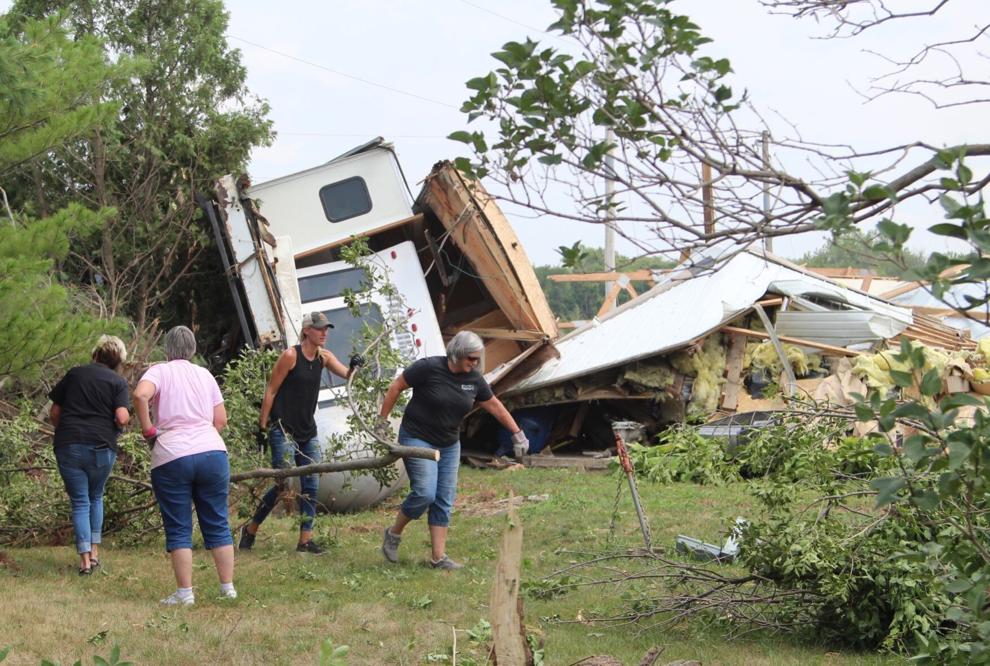 "We're very, very fortunate that we didn't have anyone seriously injured, and nobody really hurt, with all the damage we had," Pickett said.
A building that houses school buses for South Central Calhoun High School saw part of its roof and doors torn off.
Jack Widner, of nearby Waverly, told television station KCRG that he tried to survey the damage, but was hindered by strewn debris.
"I was worried about our neighbor," Widner said. "I couldn't find his house, I found his shed was torn apart down there, but I couldn't find his house and I couldn't find the other neighbor's house. All I could find was trees."
Additional information will be shared by the National Weather Service over the next several days. The National Weather Service bureau in Des Moines was sending a storm survey team to assess damage in Bremer and Butler counties Thursday. They were also sending one to Calhoun and Hamilton counties. Survey teams rate tornado strength based upon the damage they caused.
The Associated Press contributed to this story, as well as Lee Newspapers staff members Lisa Grouette, Melanie Mergen, Zachary Dupont, Amie Rivers and Jeff Reinitz.