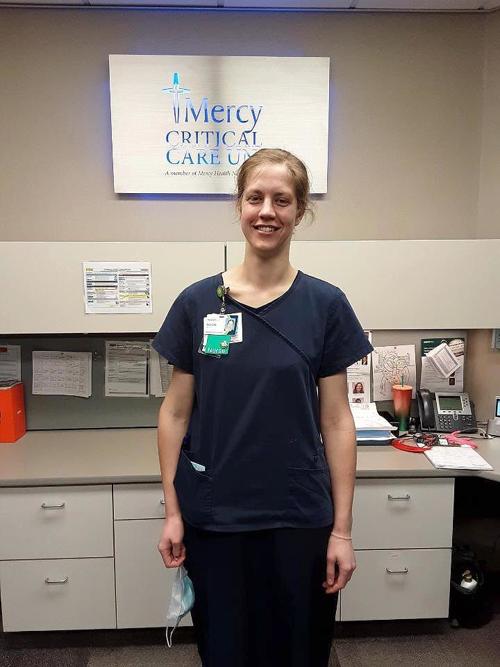 When a COVID-19 patient was dying in the critical care unit at MercyOne North Iowa Medical Center without family there, nurse Naomi Reiff held her hand and sang to her.
The song was "Jesus Loves Me," but Reiff changed the lyrics to "Jesus Loves You."
This moment was shared in her nomination letter for the Daily Award, which is presented to a MercyOne North Iowa nurse each month. Reiff won the award.
"That was a snapshot in time that somebody captured, but my co-workers do things like that all the time, little things for the patient," she said. "I feel like everyone is deserving of that award, not just nurses, but everyone who comes into contact with patients."
That attitude is typical of Reiff, said her supervisor, Emily Orton, director of critical care at the hospital.
"She is so humble and modest, but she's wonderful," Orton said. "Naomi is so caring."
She said Reiff always "goes the extra mile" and advocates for patients.
It was difficult for patients during the COVID crisis because their families couldn't be with them, according to Orton.
Reiff was there for those patients, praying with them and "just really touching things like that," Orton said.
Reiff, a Floyd resident, began working at MercyOne in 2016 after graduating from the RN program at North Iowa Area Community College.
In addition to her duties in the CCU, she also cares for post-operative open heart surgery patients.
Reiff became a nurse because she wanted to help others.
"People really interest me, how they work both physically and mentally," she said.
For Reiff, the best part of being a nurse is seeing someone who was really sick sit up in bed or walk for the first time.
"It's really rewarding to see people get better," she said.
Reiff said she experienced "lots of different emotions" during the pandemic.
"It was pretty depressing for a while with how sick people were and how we did all this stuff and they weren't getting better," she said. "But I thought everyone really stuck together."
It was disheartening to hear some people downplaying COVID-19, according to Reiff. However, she said she understands that the situation was a difficult thing for everyone to deal with.
Now that things are finally looking up after so long, it's a strange place to be in emotionally, according to Reiff.
She said she and the other CCU nurses get lots of appreciation from the public, "but the nursing home part of it and home care don't get as much support as we do and they do just as important of a job."
One of Reiff's co-workers, Amanda McNeese, nominated her to be featured in the "Nurses: The Heart of Health Care" special section of the Globe Gazette.
"Naomi advocated for her patients to get the best care and treatment provided by MercyOne," McNeese stated in her nomination letter. "Within the past year she has had to learn everything she could to care for COVID patients. I am honored and proud to work side-by-side with this knowledgeable, compassionate, selfless nurse. You rock, Naomi!"
"Within the past year she has had to learn everything she could to care for COVID patients. I am honored and proud to work side-by-side with this knowledgeable, compassionate, selfless nurse. You rock, Naomi!"

– Amanda McNeese