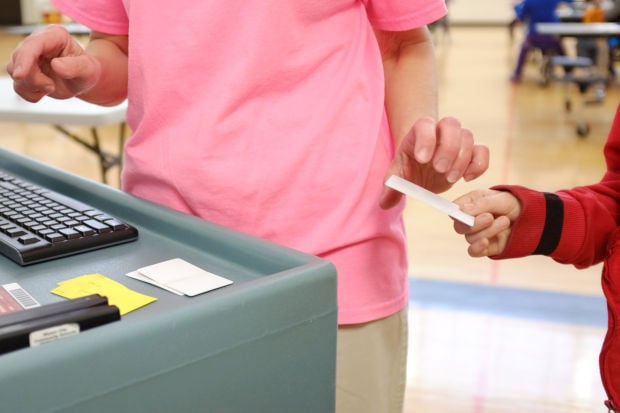 A North Iowa motorcycle club recently made a donation to offset negative lunch balances in the Mason City Community School District lunch program.
The Motorcycle Safety and Awareness Association raised $400 throughout the riding season and donated it to the district.
MSAA President Jody Onken said they donate money every year to something like Toys for Tots, but this year they wanted to give the money to the Mason City CSD's lunch program.
"It's a growing problem that kids can't afford lunch, and it's just nice to be able to help out your community," he said.
So far, the district has received about $1,600 in donations this year to help the nearly $10,000 worth of total negative balances. This has helped about 30 families, according to Sarah Mariner, the Mason City Community School District food services supervisor.
Students can charge a meal to their accounts whether they have money in it or not, so if any student that has to pay for a full or reduced lunch or breakfast doesn't have the money on their accounts, they will accrue a negative lunch balance, according to Mariner.
"Some people have older balances that have just been carried over from year to year for kind of the same reason," she said. "It might be something that they were on paid meals two years ago, so they had to pay full price for them, and later on they were approved for free meals, well that balance is still there that they had accrued so it just carries over year to year."
Lunches for students in kindergarten through sixth grade are $2.85, and lunches for students in seventh through 12th grade are $2.95.
Mariner said the number of students with a negative lunch balance fluctuates, because a student might have a negative balance of $25 but then put $200 on the account the next day.
You have free articles remaining.
"This time of year it obviously is probably more difficult for families with the holidays and stuff so we might have a few more that are in the negative," she said.
The lunch balance, whether positive or negative, carries over year to year, but when the student graduates they have to pay off all their school fees, including their lunch balance, to get their diploma, Mariner said.
Donations to the lunch program helps students and families because they are applied to the account just like any other lunch payment that would be made, according to Mariner.
"They don't have to worry about putting that lunch money on their account, or if they're $200 negative, you know, if you can relieve them of some of that, that helps the family out," she said.
Last year, the district received about five donations. This year, about 10 donations came in, ranging from $20 to $775, from local clubs, such as the MSAA, families, individuals, banks and businesses.
In determining which accounts get the donations, Mariner said donors usually specify which school or grade level they want the money to go to, and she then talks with the school secretary, and the social worker if needed, to have an idea of who could use the most help.
"The elementary seems to be the most popular with the donations that are made," Mariner said. "That's just because they don't want the younger kids to go without food, and that's fine."
Onken said the MSAA will probably donate all their money to the school lunch program again next year.
"I mean, the school lunch program is so in need, and I hate seeing a kid not be able to eat a good meal," he said.
Donations can be made any time throughout the year and can be directed to any school or grade level. They can be sent to the Office of Finance, Mason City Community School District, 1515 S. Pennsylvania Ave, Mason City, IA 50401.
Grace Zaplatynsky can be reached at 641-421-0534.