The National Weather Service upgraded the storm to a warning with snow fall now expected total between 6 and 8 inches.
Additionally, the timing of the storm was pushed back: the winter storm warning begins at 4 p.m. Wednesday and runs through 1 a.m. Thursday.
---
MASON CITY - North Iowa may receive yet another round snow Tuesday night into Wednesday.
The National Weather Service has issued a winter storm watch for Cerro Gordo, Kossuth, Winnebago, Worth, Hancock, Wright, Franklin and Butler counties.
The "fast moving" winter storm is expected to bring heavy snow, sleet, wind and freezing rain.
Total snow accumulations of 4 to 6 inches with locally higher totals and ice accumulations of up to one-tenth of an inch are possible.
Tuesday will begin sunny with a high near 38 degrees before dipping back down to 29 degrees Tuesday night. A chance of rain, freezing rain and sleet is expected before 3 a.m. Wednesday with wind gusts as high as 20 mph. A new sleet accumulation of less than one-half inch is possible.
About 8 a.m. Wednesday, the freezing rain will convert to snow and continue through the day. Winds could gust as high as 28 mph.
In addition to snow, some flooding is also possible in North Iowa. A few rivers have risen or may rise to near flood stage from Monday into the middle of the week. As the snow melts later in the week, this risk may rise.
Temperatures are expected to rise throughout the week into the 40s and reaching 51 by Sunday.
I-35 at Dows Webcam
I-35 at Clear Lake Webcam
I-35 at Clear Lake Webcam 2
I-35 at Clear Lake Webcam 3
I-35 Rest Area North of Clear Lake
I-35 at Joice Webcam
I-35 at Northwood exit
I-35 at Ames
US-18 at Spencer
US-18 near Mason City
US-18 near Floyd
US-218 near Plainfield
Highway 9 near Decorah
Highway 9 near Estherville
I-35 south of Albert Lea, Minnesota
I-35 at Owatonna
Cape Canaveral Florida Webcam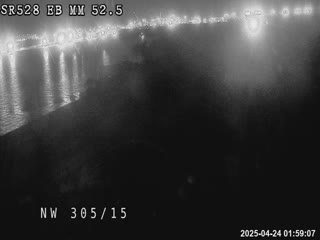 Highway 52 Rochester