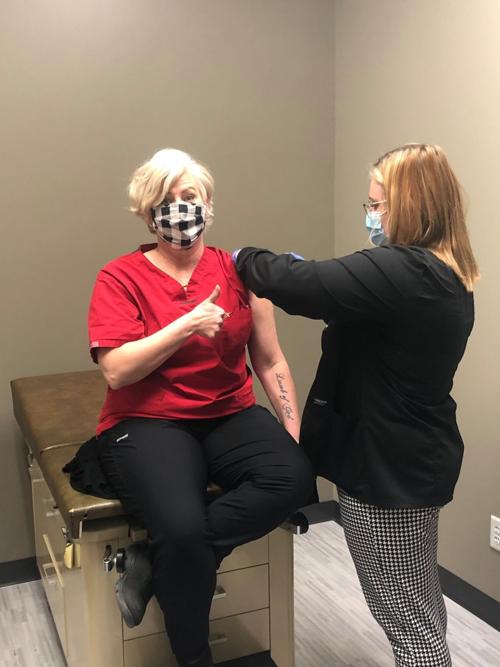 As a school nurse, Micki Fredricks has played a key role in the fight against COVID-19 in Mason City.
"It changed the whole environment of school nursing," said Fredricks, who is in her fifth school year at Mason City High School.
She has been offering guidance to students and families since the pandemic began more than a year ago. For example, if a member of the household, she tells them where they can get tested.
Fredricks said she saw increased anxiety and depression among the students, especially at the beginning of the school year.
They had a lot of concerns and questions, such as "How am I going to get through the whole day wearing a mask? How am I going to play volleyball? How am I going to play football wearing a mask?" Fredricks said.
Like her counterparts across the country, Fredricks has been involved in the establishment of school COVID-19 procedures and protocols.
"Micki has just been a tremendous lifeline for our building and our district, especially over the past year," said Mason City High School Principal Dan Long. "She just truly cares about kids and people and is here to help. She's a phenomenal person."
Fredricks has been a nurse for 19 years. She received her RN training at North Iowa Area Community College. After graduation she worked at MercyOne North Iowa before taking a position with the Cerro Gordo County Department of Public Health.
When she heard there as an opening for a nurse at Mason City High School, she decided to apply.
"I love kids. I've always really enjoyed working with teenagers especially," Fredricks said.
She had several kids of her own attending Mason City High School at the time.
"I thought it would be a really good way to spend some extra time with them," Fredricks said.
The transition from her previous job to her new one was easy because being a school nurse "is really a public health position," she said. "What we see in the community we see on a smaller scale in the hallways here."
The job of a school nurse goes far beyond what some people realize, according to Fredricks.
"I think there's a real misconception out there that we just put Band-Aids on and hand out meds," she said.
In reality, school nurses are heavily involved in day-today activities at school, according to Fredricks. She said the job also includes mental health nursing.
"We get involved with students who are homeless," she said.
School nurses also are involved in the Individual Education Plans (IEP) for students with medical needs, follow immunization records for all students, and act as the liaison between the school and the doctor's offices in the community, according to Fredricks.
She said Mason City High School has students with significant medical conditions. Some have to be tube-fed or catharized. Others have diabetes.
Since the beginning of the pandemic, school nurses in Iowa have been responsible for contract tracing for students who test positive, according to Fredricks. This involves asking those students who they have been around and contacting those individuals.
Before the pandemic, Fredricks was the only nurse at the high school. However, COVID-19 increased her workload so much that the district had to hire a full-time long-term substitute nurse to handle Fredricks' ordinary duties so she could concentrate on pandemic-related work.
"COVID was a full-time job," Fredricks said.
Megan Brood, the Mason City High School social worker, said Fredricks "just went above and beyond" this past year.
"She is focused on what's best for kids, no matter what," Brood said. "She just loves everyone. She thinks of her students and our families as her family."
Fredricks said she feels fortunate to have the support of everyone else working at the high school.
She also said she appreciates that the administration and staff have a team approach and focus on the whole student, not just academics.