On Monday afternoon, MercyOne North Iowa officials unveiled a 150-pound statue handmade by an artist in Zimbabwe to, as its inscription states, "serve as a reminder of all the heroic efforts displayed within these walls."
Later, that same inscription then states, "Through the darkest of times, never have our core values shined brighter."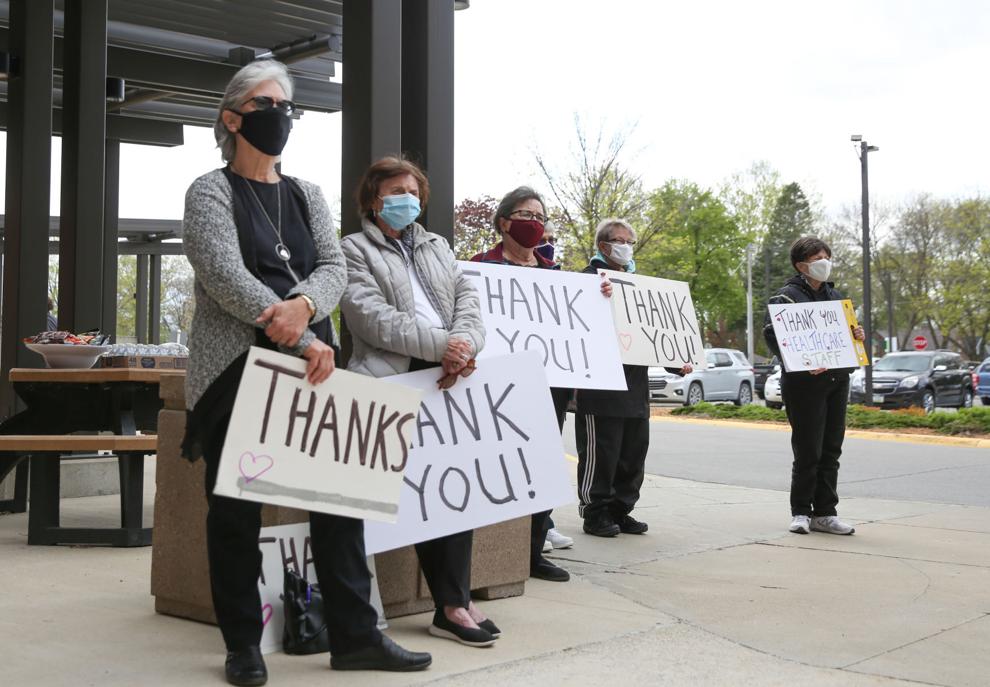 Kim Chamberlin, the chief nursing officer for MercyOne North Iowa, said that planners wanted a statue built from stone so that it could be an everlasting symbol of the battle that her colleagues fought.
"I have been a nurse for over 40 years and the past 14 months have been the most difficult time," she said.
After the event, nurses from MercyOne North Iowa said that they felt plenty appreciated by people in attendance before showing deference to those who helped them over the past year. 
"I really liked how it's to all colleagues because everybody pitched in," MercyOne North Iowa Critical Care Director Emily Orton said. "People from interventional radiology came to work in our supply chain to help fill the need of all the supplies. Our housekeepers worked so hard turning rooms over as we were getting so many patients in."
Sheyanne Schultz, a nurse who was named in the "100 Great Nurses of Iowa," then added to what Orton said: "Every single department was not spared."
"For those who participated in it, it's going to be with us forever," she said.
What a Globe Gazette News+ membership can do for you:
A deeper examination of local issues than you'll find anywhere else.
Two products in one – not everything that's in the print edition of the Globe Gazette is on our website, and not everything on our website is in the print edition.
Access to newspapers.com archives dating back two years.
The ability to carry your local news with you and receive alerts instantly as news unfolds.
Advertising that frequently gets you deals you won't find anywhere else.
Jared McNett covers local government for the Globe Gazette. You can reach him at Jared.McNett@globegazette.com or by phone at 641-421-0527. Follow Jared on Twitter at @TwoHeadedBoy98.