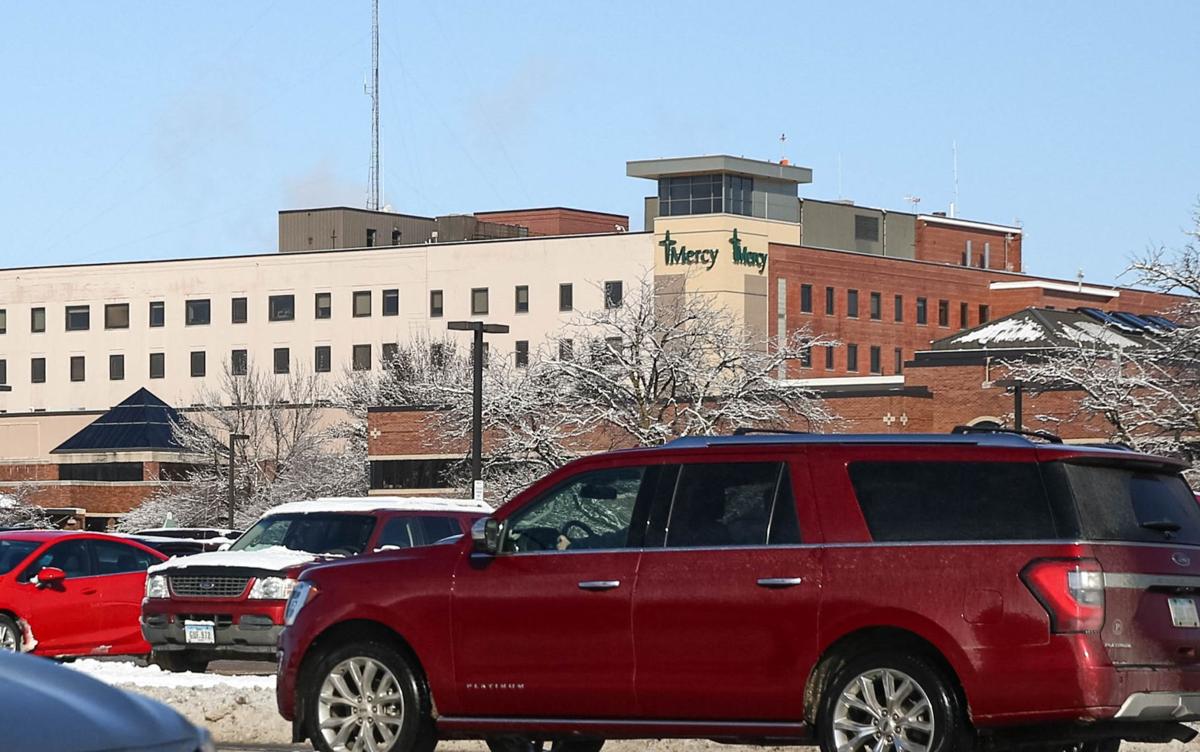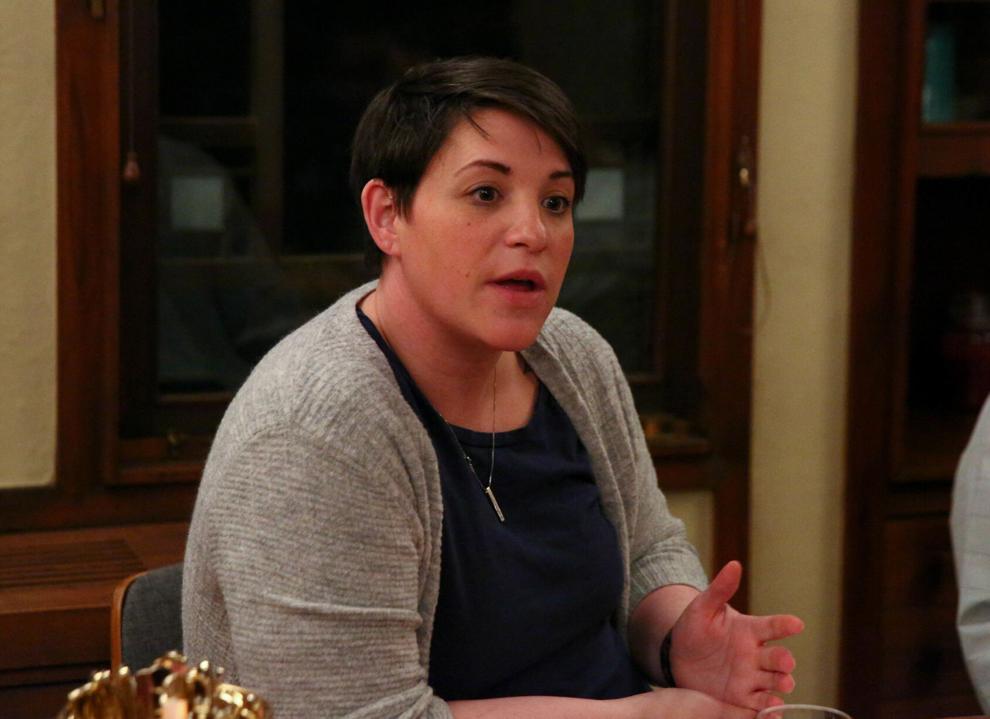 Dr. Jonna Quinn knew when she had her second child earlier this month it'd be her last.
That's because months prior to her delivery, she decided to have a tubal ligation during her cesarean section.
"I have risk factors," she said. "I'm advanced maternal age, plus I don't want more children."
A tubal ligation — also known as getting one's tubes tied or tubal sterilization — is a permanent form of birth control in which a woman's fallopian tubes are cut, tied or blocked, preventing the fertilization of eggs.
OB-GYNs commonly perform tubal ligations after C-sections to avoid the health risks associated with having a second invasive procedure after recovering from childbirth.
Quinn's tubal ligation is among 90 the MercyOne North Iowa Medical Center OB-GYN department performs annually, but it is also among its last.
The department's providers, including Quinn, were notified last fall by administration that tubal ligations during C-sections would no longer be allowed at the hospital after March 31.
Administration cited the hospital's affiliation with the Roman Catholic Church and its teachings for the elimination of such services.
"As a Catholic health care organization, MercyOne North Iowa follows the Ethical and Religious Directives (ERDs) for Catholic Health Care Services," the hospital said in a statement. "We are working with our providers and colleagues to ensure the medical services we provide respect these guidelines.
"We remain committed to caring for the patients and communities we serve in the spirit of our Catholic values."
The hospital's statement didn't elaborate on when the change takes effect, why it's being made or how women are supposed to receive the service in North Iowa.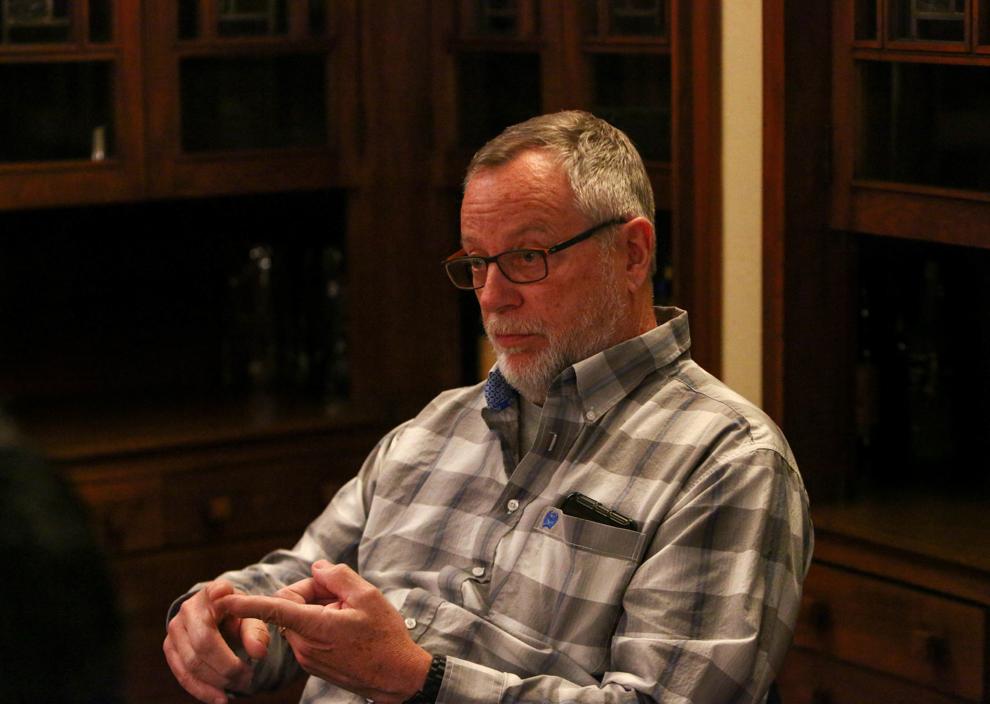 MercyOne hasn't publicly announced the change in reproductive health care services, and there is no mention of it on its website.
Quinn and longtime OB-GYN Drs. Charles Debrah, Michael Faust, Thoo Tan and Roberto Velez said the administration's handling of the situation has caused widespread confusion and frustration among their patients, co-workers and the community.
"Not once have any of us been called to the room to defend ourselves (and) our position with the bishop," she said. "We've really had no voice in the fight."
The OB-GYN department providers say they are against the administration's decision, but because they are employed by a Catholic hospital, they have no other choice but to follow the directives.
They said leaving MercyOne for a health care facility that allows tubal ligations doesn't change the situation in North Iowa, and could, in fact, hurt their patients — many of whom have delivered multiple children in their care — by reducing access to services with fewer providers.
"None of us want to abandon our patients to this situation," Quinn said.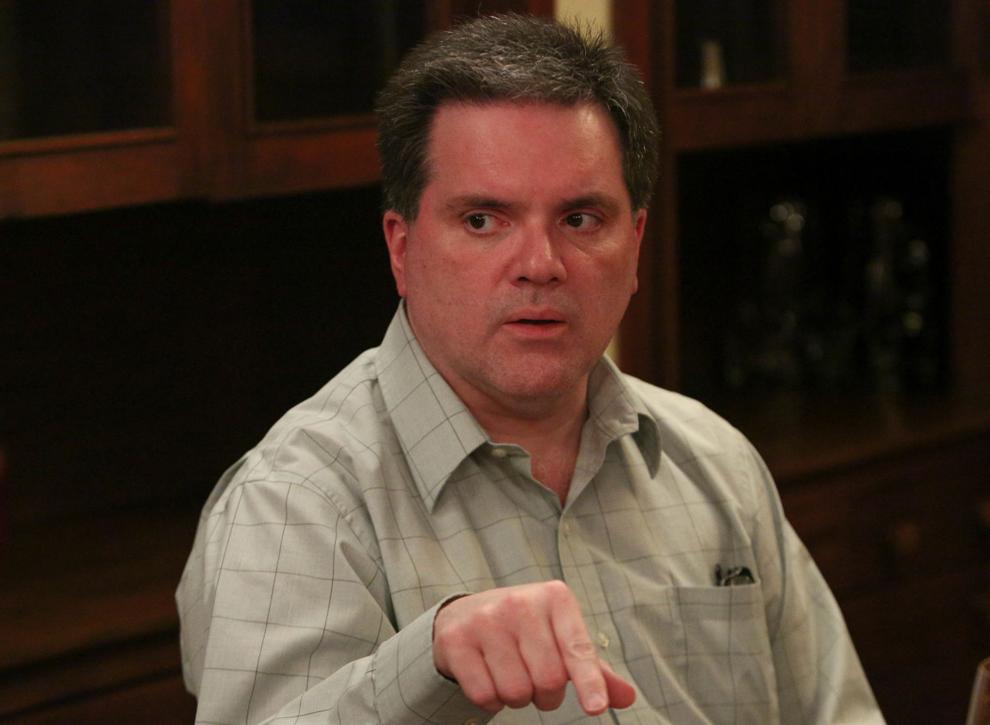 The Church's directives for health care
The elimination of tubal ligations during C-sections at MercyOne North Iowa Medical Center comes nearly a year after birth control measures, such as tubals, vasectomies and contraceptive implants like IUDs, were no longer offered at MercyOne's sister hospital in Waterloo.
As a result, the doctors said, MercyOne Waterloo Medical Center experienced an exodus of personnel and patients within months of the decision.
But unlike Waterloo, North Iowans don't have many options outside of the MercyOne system for such services without traveling more than 30 miles.
The providers said vasectomies, which are performed by the Mason City Clinic, and other contraception will still be offered in North Iowa — for now.
"We're not only worried about what they're doing to us today but what's going to follow with their history," Faust said. "The best predictor of the future is your past, and the best predictor of what they're going to do in the future is what they've already done, and it frightens us, who provide women's health care, what they've done before is going to happen here."
MercyOne North Iowa Medical Center, which spans 14 counties across northern Iowa, is part of a connected system of more than 400 health care facilities and services formed in 1998 and operated by Catholic Health Initiatives, now CommonSpirit Health, and Trinity Health.
It also holds management agreements with eight rural primary care hospitals in North Iowa, including Hancock County Health System, Kossuth Regional Health Center and Mitchell County Regional Health Center.
Catholic hospitals, like MercyOne, are supposed to follow the Ethical and Religious Directives for Catholic Health Care Services that prohibit reproductive health services, like abortion, sterilization and all contraception except for natural family planning; however, some have continued to provide them through arrangements with non-religious affiliates and partners.
The U.S. Conference of Catholic Bishops approved new and revised directives for Catholic hospitals in June 2018 that crack down on such arrangements.
According to the revised directives, Catholic facilities now must ensure neither its administrators nor its employees "manage, carry out, assist in carrying out, make its facilities available for, make referrals for, or benefit from the revenue generated by immoral procedures" or affiliated with such practices.
The directives state that the local diocesan bishop must be immediately informed if any Catholic hospital is suspected of "wrongly cooperating with immoral procedures," and the institution's leaders should resolve the situation "as soon as reasonably possible."
The Archdiocese of Dubuque, which includes MercyOne North Iowa Medical Center, had no comment related to the changes at the hospital.
OB-GYNs at MercyOne Des Moines Medical Center still offer tubal ligations during C-sections for their highest risk patients but only if they receive prior approval from a board.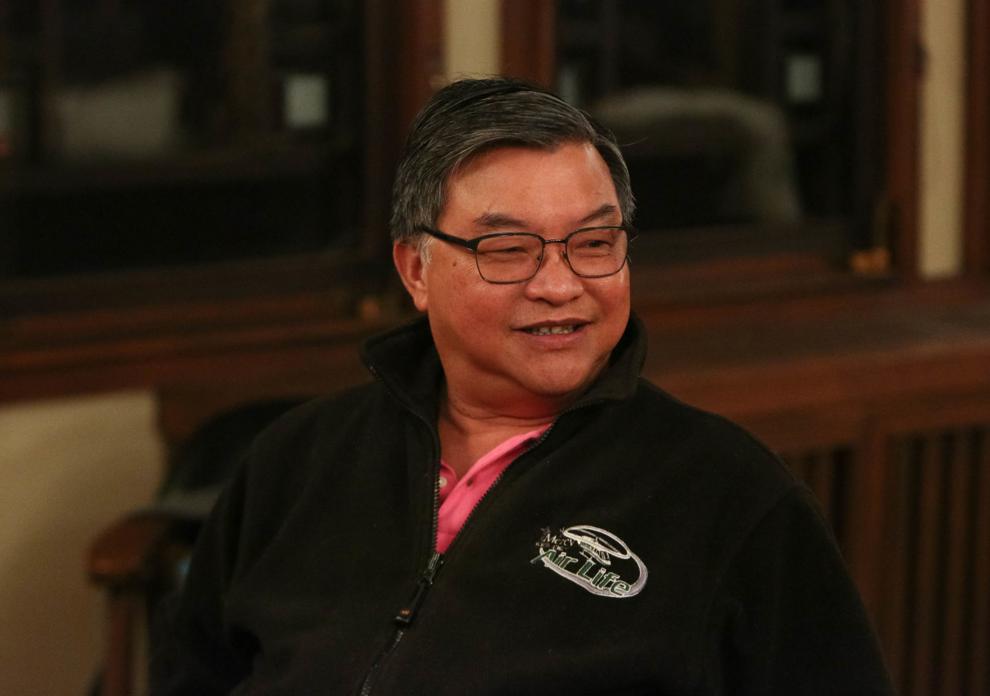 'A medical ethical issue'
All patients who wish to have a tubal ligation in North Iowa will have three options: deliver elsewhere, endure two separate surgeries or forget the procedure altogether.
Debrah, Faust, Tan, Quinn and Velez said the latter two are extremely dangerous, expensive and inconvenient for their patients.
"It becomes a medical ethical issue for us because by denying tubal ligations, we're actually increasing that patient's risk of future medical care," Faust said. "That goes against everything that we're supposed to do.
"We're supposed to attend to their medical risk, not increase it."
The providers said they've already had conversations with several of their patients about the change, and most are shocked that the service is being discontinued.
Velez said he feels like he's violating his ethical obligation to his patients by denying their desire to have a tubal ligation during their C-section surgery.
"It's a no-brainer to do it at that time and again medical ethics say don't put a patient through unreasonable risk," he said.
Debrah said a patient who decides to undergo a tubal ligation after recovering from their C-section will need more time to recover and more time off work, which means no income while incurring another medical expense.
"Maybe for the hospital and us it's easy, but for someone who has a new baby, financially and socially, it's a burden," he said.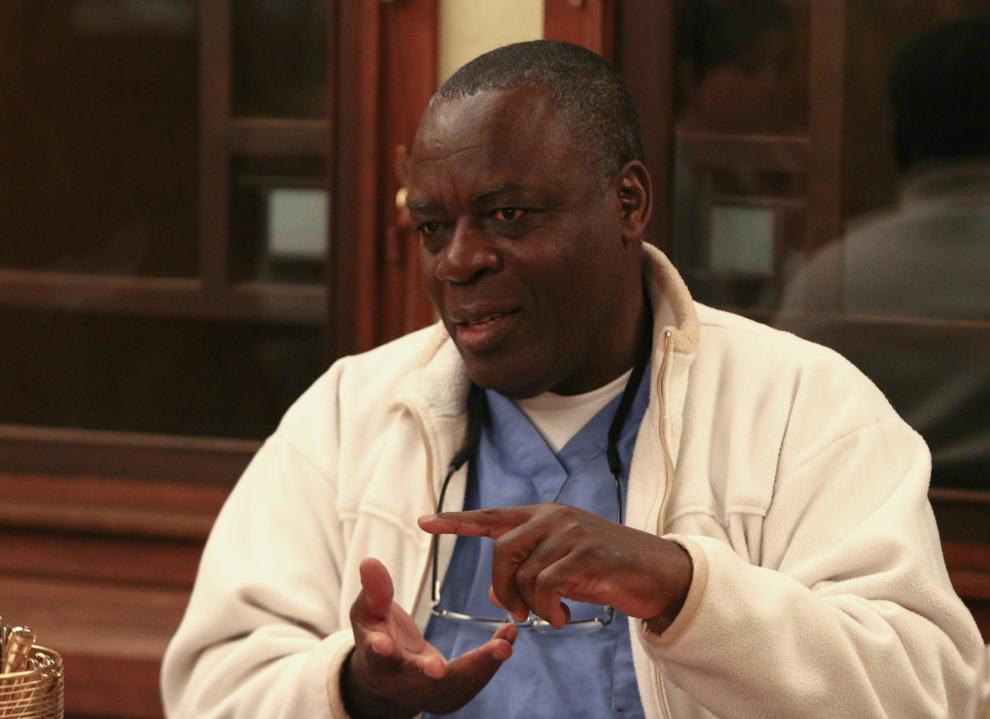 Some women may choose to forego a second procedure altogether to avoid time off work, time away from their families and time in recovery and put themselves at risk for an unintended pregnancy and another C-section, Debrah said.
Debrah, Faust, Tan, Quinn and Velez said many of their patients who consent to a tubal ligation — they are required to submit signed documentation 30 days prior to the procedure — are at-risk because they're older and have had multiple C-sections.
They said there are still more vaginal births than cesarean births in their department, but the number of C-sections is increasing.
"We're going to see more and more of those patients who are higher risk due to multiple C-sections because that's the trend of delivery of care," Faust said. "So a higher percentage of our patients are getting C-sections, which means a higher percentage are repeat, which means a higher percent are at increased risk.
"The logic behind (the church's decision) mystifies me. It just does."
The doctors estimate about 90% of the patients who request to have their tubes tied have had multiple C-sections.
Quinn said she requested a tubal ligation during her C-section before she was informed that the hospital wouldn't be allowed to do perform them after March.
"I am so happy to have been able to have it done," she said. "I am not sure what decision I would have made if I was unable to."
The OB-GYN providers said MercyOne North Iowa Medical Center's elimination of tubal ligations during C-sections has cost its department two doctors.
Dr. Mark LaDuc's last day was March 27, and an OB-GYN recruit who wanted to practice in Mason City declined when he heard the hospital wasn't allowing tubal ligations, according to the doctors.
Both, they said, affect the department's practice and the care provided to women in North Iowa.
"None of us have been in the position yet where we can't do it, where we're standing in the operating room, we're looking at their tubes and we know that the patient wants us to do it, we want to do it and we can't," Quinn said. "I feel like it's going to be hard from an ethical and emotional standpoint to not be able to treat our patients appropriately and how they want to be treated."
From the archives: Epidemics of the past
May 7, 1963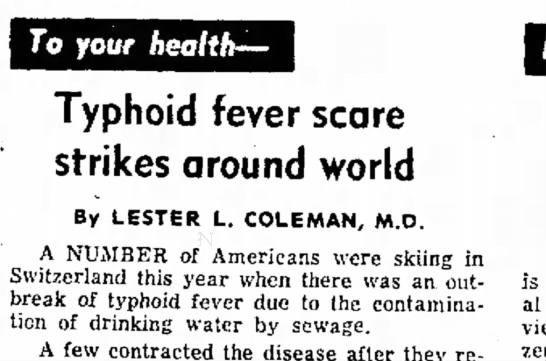 April 12, 1955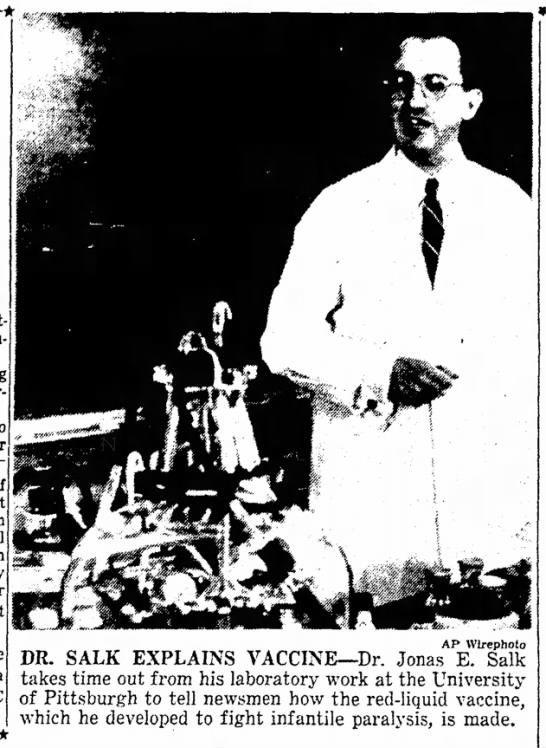 May 1, 1937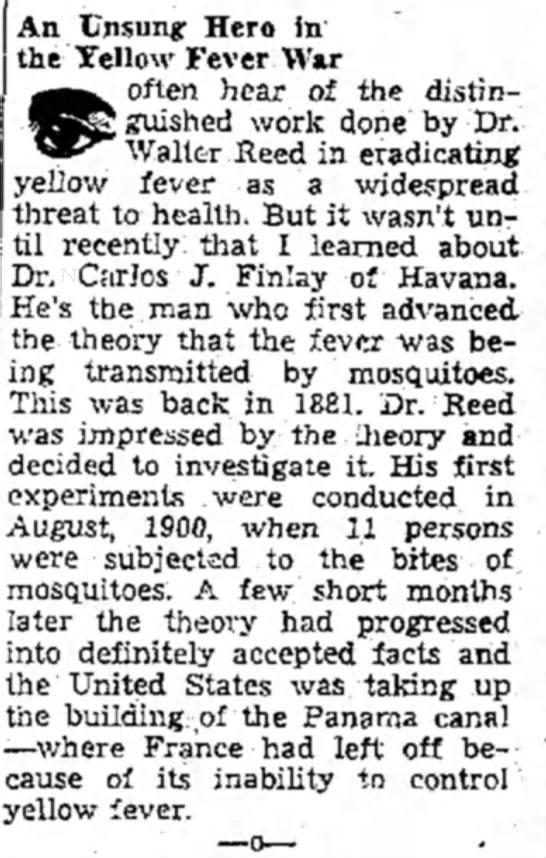 Jan. 17, 2007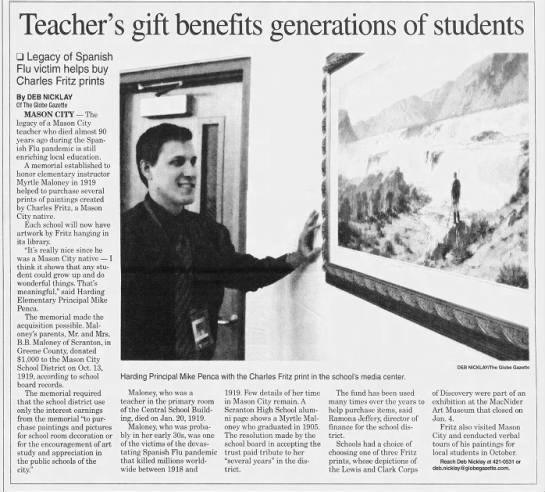 Sept. 2, 1941

May 3, 1998

May 4, 1955

Aug. 6, 1989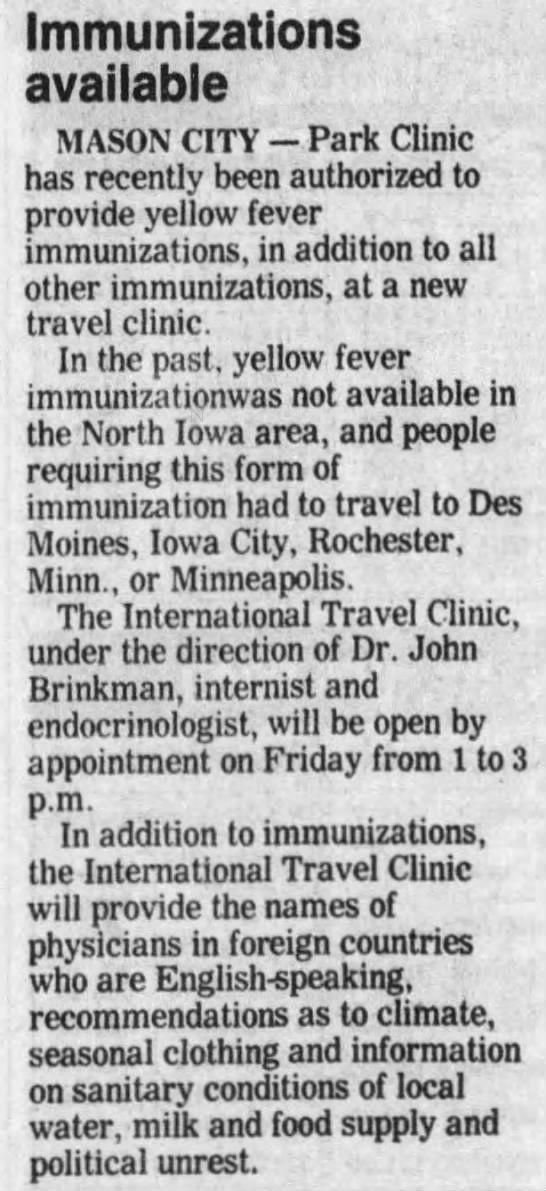 May 7, 1963

Nov. 7, 1961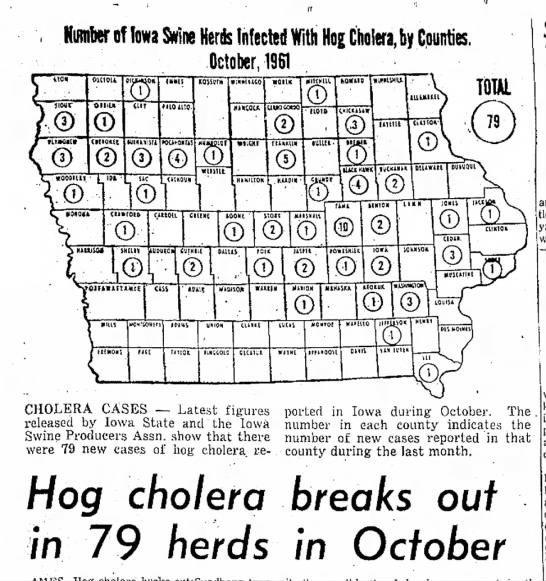 Jan. 9, 1953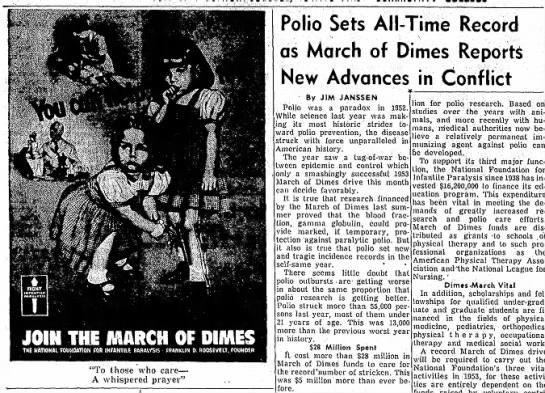 Nov. 9, 1942: Smallpox

Apr. 11, 1967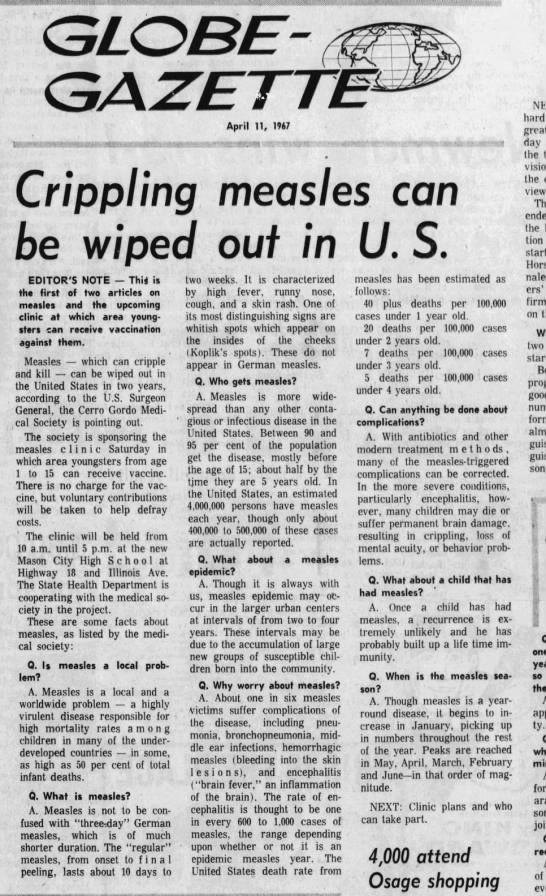 April 12, 1955

Nov. 18, 1999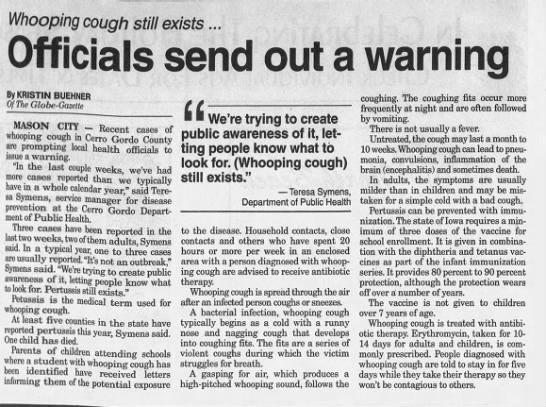 Aug. 19, 1970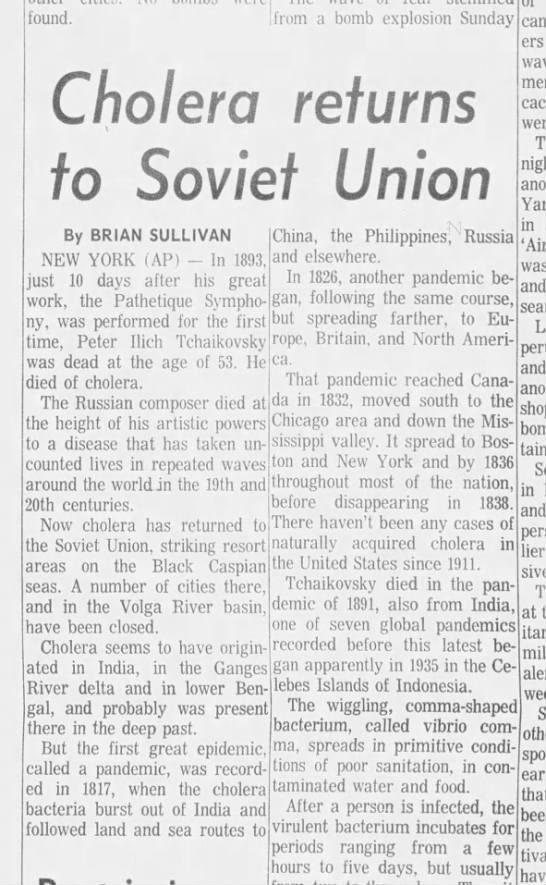 Feb. 19, 1959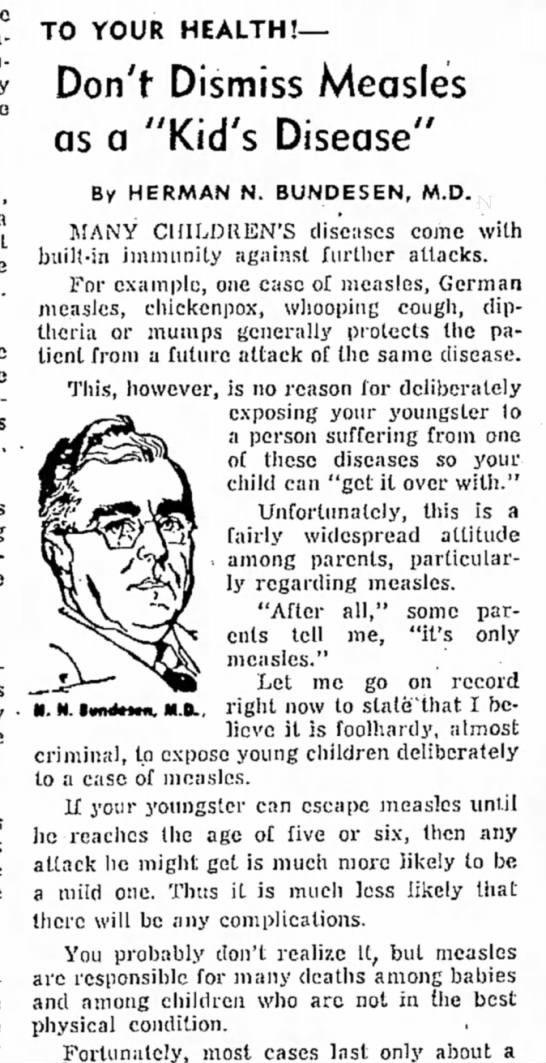 Oct. 19, 1929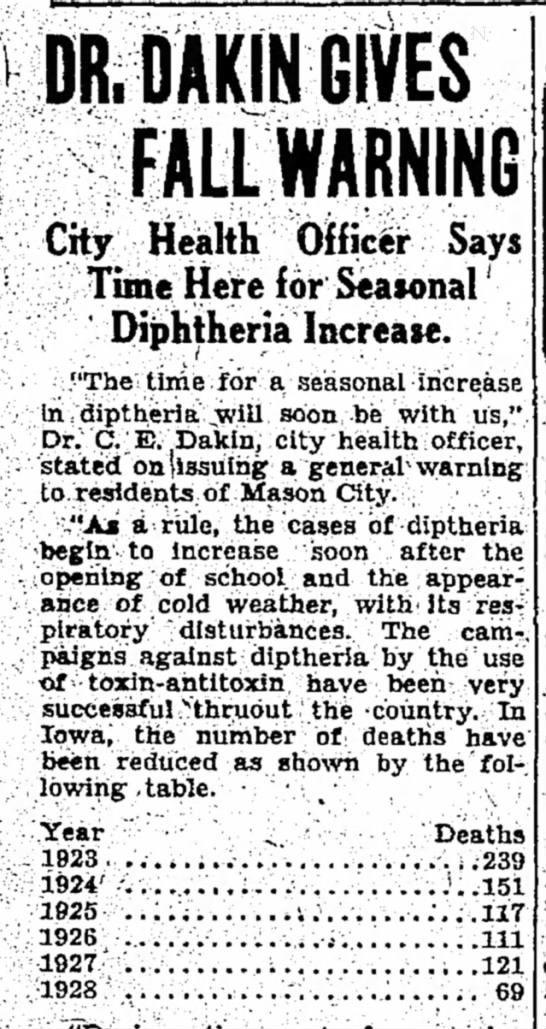 Aug. 23, 1938

Feb. 24, 1937

July 24, 1933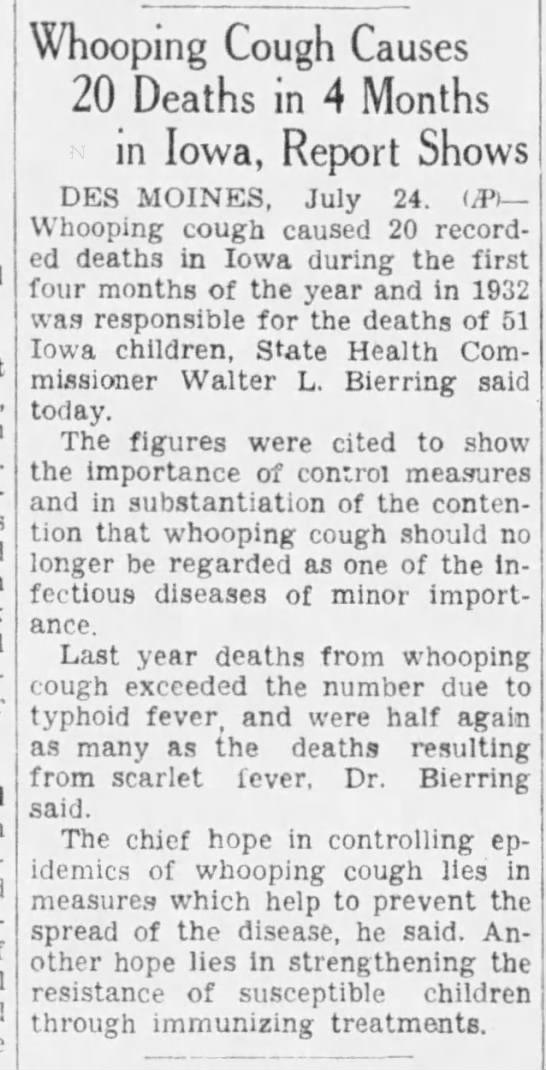 Oct. 30, 1939

Jan. 25, 1930

July 26, 1930

Jan. 28, 1956

Feb. 28, 1963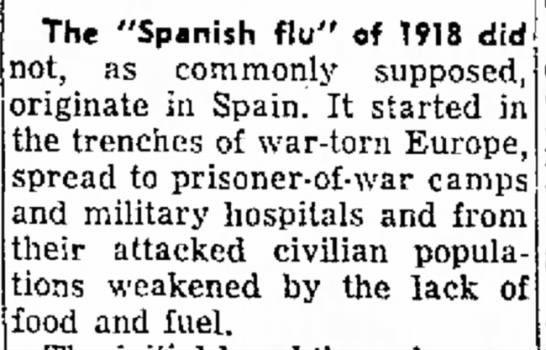 Apr. 27, 1962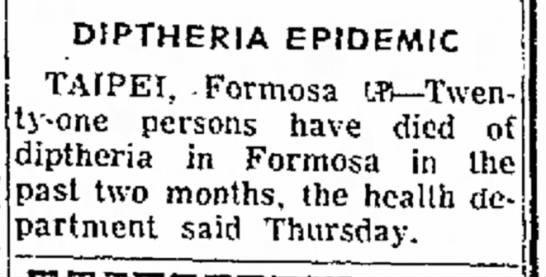 Jan. 28, 1956

Jan. 28, 1989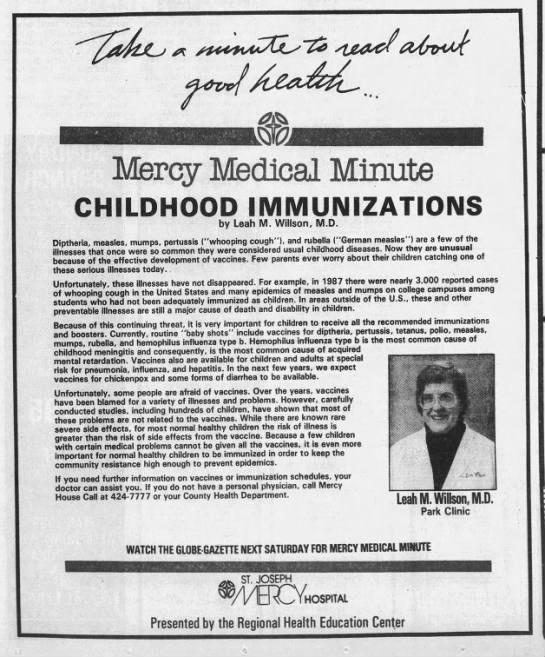 Jan. 28, 2003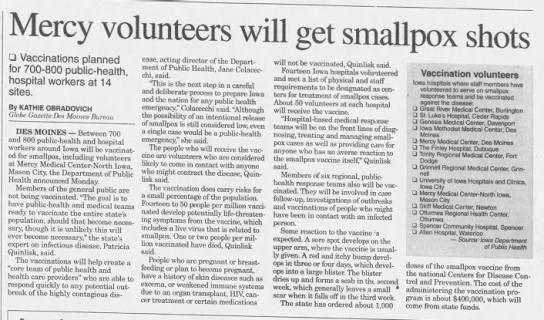 Aug. 31, 1937

Reach Reporter Ashley Stewart at 641-421-0533. Follow her on Twitter at GGastewart.