BRITT | The trailer carrying the 31 towers that make up the Remember Our Fallen Memorial arrived in Britt Thursday afternoon with a motorcycle escort of more than 60 riders. 
"It's exciting," said Gene Guenther of Britt, a Vietnam veteran who was one of those who gathered along Main Avenue to wait for the procession to arrive. 
He said he's proud that Britt is the first community in Iowa to host the national memorial for the 5,000 American men and women who died for their country during the post-9/11 era.
"I love honoring the veterans," Guenther said. 
A dozen or so volunteers began setting up the memorial, which consists of 31 towers with names and photos of the honorees, on a blocked-off portion of Main Avenue between the Britt Public Library and Veterans Park.
The memorial will remain there until 6 p.m. Sunday. 
A number of local residents rode their motorcycles to the Boondocks truck stop in Williams Thursday morning so they could join the procession on its way to Britt.  
Melissa Abele of Britt brought her 3-year-old daughter, Kenley, downtown to see the memorial arrive.
Abele was attending Waldorf College, now Waldorf University, in the fall of 2001.
She vividly remembers passing by a large-screen TV in one of the commons areas on campus and seeing the second plane hit the World Trade Center the morning of Sept. 11.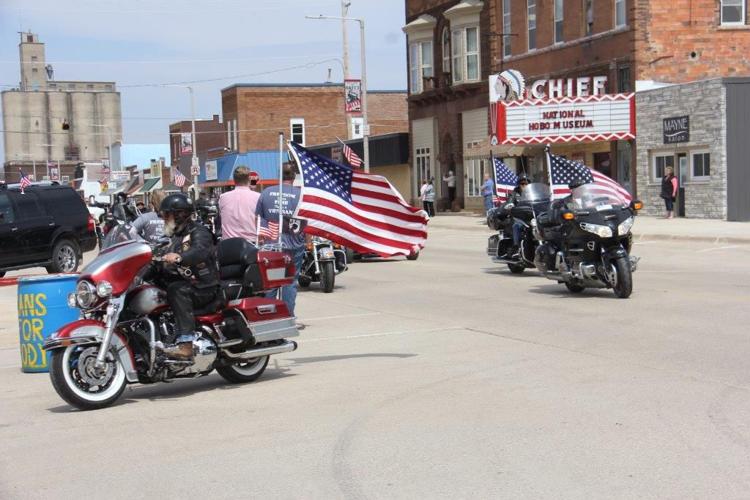 Another female student was also looking at the TV when the plane hit.
"I just remember hugging her," Abele said. "We knew our lives would be changing from that moment." 
She said she has great respect for the military and brought her daughter with her to see the memorial arrive because "I want her to grow up to have the same values I have."
Bob Steenlage, a Britt native and a graduate of West Point, spoke in Britt Thursday evening. 
Britt Mayor Ryan Arndorfer said it sometimes takes 50 to 60 years for veterans who died serving their country to be honored, so it's important that America's more recently fallen service members be recognized for the sacrifices.
"It's what the cost of democracy really is," he said. 
The Tribute Towers were unveiled in the fall of 2017 on the steps of the Lincoln Memorial in Washington D.C. The memorial is now traveling around the nation similar to the Vietnam Wall replica.
A memorial ceremony featuring dignitaries is 11 a.m. on Saturday. Country music artist Rockie Lynne will play a free concert paying tribute to veterans at 12:30 p.m.