CLEAR LAKE- Since August, Cassie Peterson has watched her labor of love restaurant evolve and morph into the spot for Sunday brunch in Clear Lake.
"The customers have kind of established this as a brunch spot, which is pretty cool," Peterson said. "I want everyone to feel comforted and awesome and leave happy."
Peterson, a former MasterChef contestant, opened Bread and Buttercrème on 444 N. Shore Dr. in August 2017.
"At the time, I think we were trying to be too many things," Peterson said.
Heading into the eatery and bakery's first spring and full summer by the lake, Peterson said she and her crew are excited for this summer and have lots of plans.
"We took some notes from last summer and scrapped every idea we had," Peterson said, laughing. "We took the winter to figure it out and now we're ready to go."
The eatery and bakery features breakfast, brunch, small plates, cocktails, baked goods, vintage beer and more.
"People get really excited when they see we have Hamm's," Peterson said.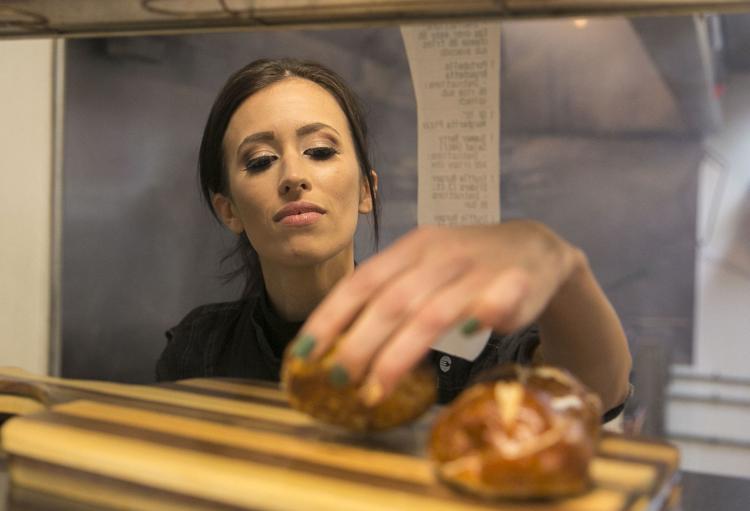 Peterson praises her new staff of about 11 people.
"We actually have reversed things a bit from tradition," Peterson said.
Women make up most of her kitchen staff while men make up most of her serving staff up front. She also has chef Davin McLeod working with her.
Since starting the business, Peterson has been tired at times but excited.
"I have not had time to be scared," she said, laughing.
An interesting group of people, she said, ready to work and get things rolling with warmer weather -- if it ever arrives.
"This has been such a long winter," Peterson said. "If it ever gets warm again, we'll get to work on the patio and outside bar."
The building features a fenced-in patio to the side of the building. Peterson hopes to get some covering for the space and light misters for the humid Iowa summer.
"We'll have a bar, new cocktails," she said. "I'm so excited for our new cocktails this summer."
One of their two most popular drinks are the mimosa and the cheeseburger bloody mary.
You have free articles remaining.
"This place turned into more with my love of detail and experiencing new things," Peterson said. "Different takes on foods you may be familiar with."
Chicken and waffles, hangover burgers, lobster roll, 3-way chicken wings, black truffle burgers and more fill up the menu.
"In the evening we do our small plates," she said. "You can come in, have some drinks, play some games."
The bakery features fresh-baked breads, cheesecakes, gluten-free items, doughnuts, caramel rolls, muffins and cronuts, a croissant-doughnut hybrid. 
The ever-changing menu may be different for many customers but is not unusual for restaurants in bigger cities to change things up with the seasons, Peterson said.
"I spent so much time apologizing for it but now, I don't feel the need to," Peterson said, chuckling. "We kind of have a secret menu so if you loved something and it's no longer on the menu, we can probably still make it for you."
The food is all made fresh, Peterson said, noting the good food takes time.
"We're a little area putting out a lot of food," she said.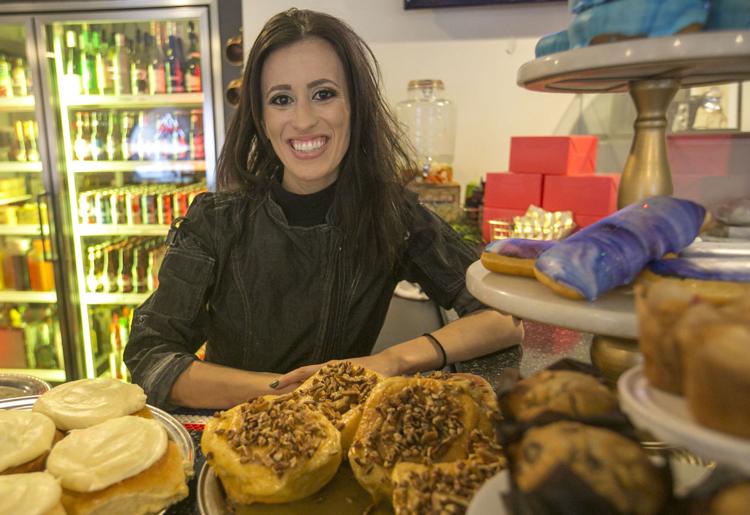 One of the most popular dishes, the Burnt Ends Benedict Bowl, came to be because her mom couldn't decide what she wanted. He mom asked for a little bit of the things she liked on a plate, including pork, potatoes, a poached egg and hollandaise.  Peterson threw it all in a bowl for her.
"There's a story behind almost everything on the menu," she said.  
Peterson also does event catering.
"My goal could be to open a restaurant and make a lot of money, but that's not my goal here," Peterson said. "I want people to stop, relax and enjoy a beautiful place with delicious food."
The next step, after the patio and bar, is to take more time to work on the decor.
"It's a bunch of funny signs right now," Peterson said.
The business times may change to 6 days per week as the weather warms. For now, Bread and Buttercrème is open Thursday through Sunday. Peterson said she will announce changes on the restaurant's Facebook page.