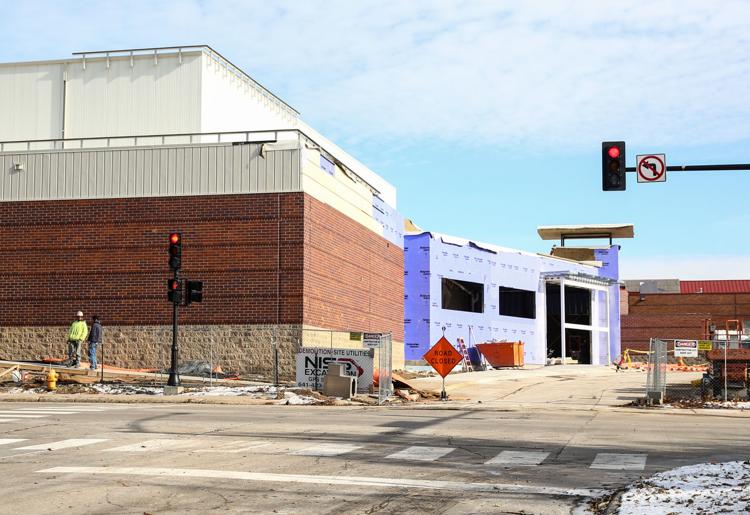 When the Mason City Youth Hockey Association had its capital campaign kickoff to fund its financial commitments for the soon-to-be-opened multipurpose arena in downtown Mason City, it had about $1.8 million in sponsorship opportunities for which it needed to find homes.
At that point, sponsors had already claimed naming rights to a lobby and concession stands (which all run in thousands of dollars) but no one had stepped up to take on the five items that each cost more than $100,000.
Still, the mood was one of excitement. 
Nearly two months later, there's more than $1.7 million in multi-year financial sponsorships that the Mason City Youth Hockey Association's capital campaign still has available.
They were able to find a sponsor for mezzanine deck, one of the $100,000 per year items, but funding for the arena name ($1,000,000), the ice naming rights ($500,000), the training and shooting room ($100,000) and the Zamboni ($100,000) remains elusive as the arena is set to open the first weekend in December. Mid-level items such as the main concession stand ($15,000) and the secondary concession stand ($10,000) are also waiting to be claimed.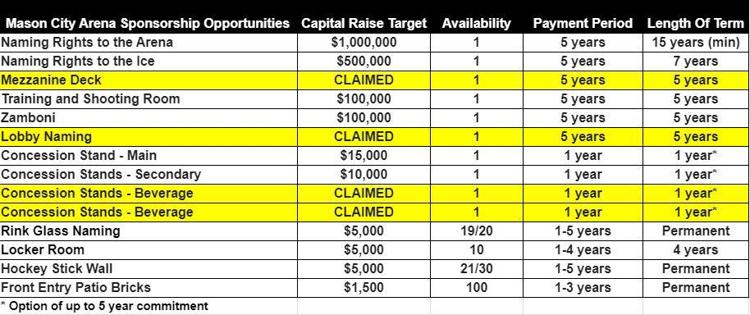 But the mood is still one of excitement.
Mason City Youth Hockey Association President Steve Crane said that the process has been going well and that they've had nice responses from potential donors while also noting the kind of undertaking such a campaign can be. 
"It's a big commitment so it takes a little time for people to decide what they want to do," Crane said. 
According to Crane, there are at least two interested parties in the training and shooting room and each one of the items have gotten looks from people. "This is a legacy situation for the next 30-40 years, so it's a big impact to whoever sponsors," he said.
Crane acknowledged that it's unlikely to have all items sponsored by the time the puck first drops in early December at the arena but that it'll happen soon enough. 
You have free articles remaining.
"I don't think we'll have it all locked down before the arena opens but I would say in the next three to four months we would have most, if not all, items locked down," he said. He added that the most difficult part has just been anticipating all of the items needed to move into a new building. Making sure everything is up to speed during the transition and that nothing is overlooked.
For Mason City Youth Hockey, that's meant getting donors in place and working to line up future events. For the city, that's meant getting ticketing agreements in place and finding arena managers.
And addressing issues as they spring up.
As the arena itself nears completion, there has been more than $1 million worth of work change orders for the project. 
From April through July, there was one work change order a month as well as change orders in October and November. The largest totaled about $201,290 and addressed additional work for electrical, carbon monoxide detection, drywall and food service equipment. The smallest change order was about $50,000 to elevate a condenser, which is a necessary part of the refrigeration process, above the arena.
With all of that, the construction work has still been projected as being within budget. 
When the kickoff event happened in late September, First Ward Councilman John Lee attempted to sum up the years of work it had taken to get to this current point while also trying to project forward. 
"To say this is a roller coaster ride, I don't know if I've been on a roller coaster as crazy as this has been ... Until I see that puck drop, we're all nerves but super excited."
What a Globe Gazette News+ membership can do for you:
A deeper examination of local issues than you'll find anywhere else.
Two products in one – not everything that's in the print edition of the Globe Gazette is on our website, and not everything on our website is in the print edition.
Access to newspapers.com archives dating back two years.
The ability to carry your local news with you and receive alerts instantly as news unfolds.
Advertising that frequently gets you deals you won't find anywhere else.