Several hands slipped into the air Monday morning when retired U.S. Marine Corps Cpl. Bill Gansemer of Mason City asked if anyone in the audience had a loved one who was killed while serving in the military.
Those hands represented a fraction of the lives more than 100 men, women and children gathered to honor and remember during the Memorial Day program at the Veterans of Foreign Wars All Veterans Home in Mason City.
"This day, above all, is an opportunity to spend a few minutes to remember those that said, 'Yes,' with their lives," he said.
Memorial Day programs, organized by the Mason City Veterans Memorial Association, were scheduled outdoors at Elmwood-St. Joseph and Memorial Park cemeteries but were moved indoors because of the rain.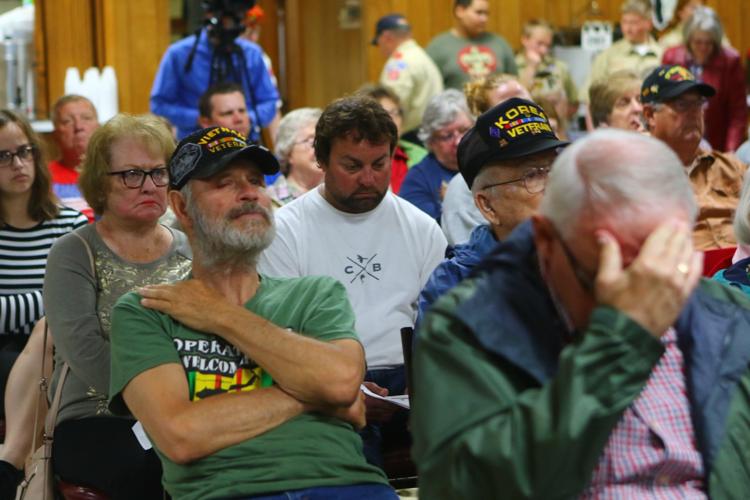 Nearly 5,000 veterans — including 65 who died this past year — are buried between the two Mason City cemeteries.
"It is most fitting that we pay tribute to these veterans today and every day," said Mayor Bill Schickel, while giving his proclamation.
The program, which was led by Jim Wolf, featured an invocation and benediction by the Rev. Jacob Rouse, associate pastor at Epiphany Parish in Mason City and U.S. Army National Guard veteran; the Pledge of Allegiance led by Boy Scout Lucas Parent; singing of "I Can Only Imagine" and "God Bless America" by Madison Braun, McKinzie Johanns and Paige Braun, and the reading of General Order No. 11 and the Gettysburg Address.
Gansemer, the guest speaker, served in the Marines from 1982-1986.
You have free articles remaining.
His address focused on the men and women who have served the country, especially those who were killed while serving. He identified about 20 local men who were killed in Vietnam and buried in Mason City.
"As we consider the impact that these individuals have had on the world defending freedom and protecting democracy, I'm reminded of the words of Winston Churchill: 'Never in the field of human conflict was so much owed by so many to so few,'" he said.
Gansemer encouraged everyone to thank those in the military, past and present, for their service, and get involved in the community by volunteering.
"We honor the dead best by treating the living well," he said.
After Gansemer's address, the wreath-laying ceremony was done by individuals with the American Legion Auxiliary, Daughters of the Union Veterans of the Civil War and Auxiliary Veterans of Foreign Wars. Mason City Boy Scouts with Troops 1401 and 14 Erik Manness, Jacob Wolf, Trey Wise and Parent performed the flag-folding ceremony.
The rifle salute by the Honor Guard concluded the program.
Refreshments were served afterward at the VFW Post Home.