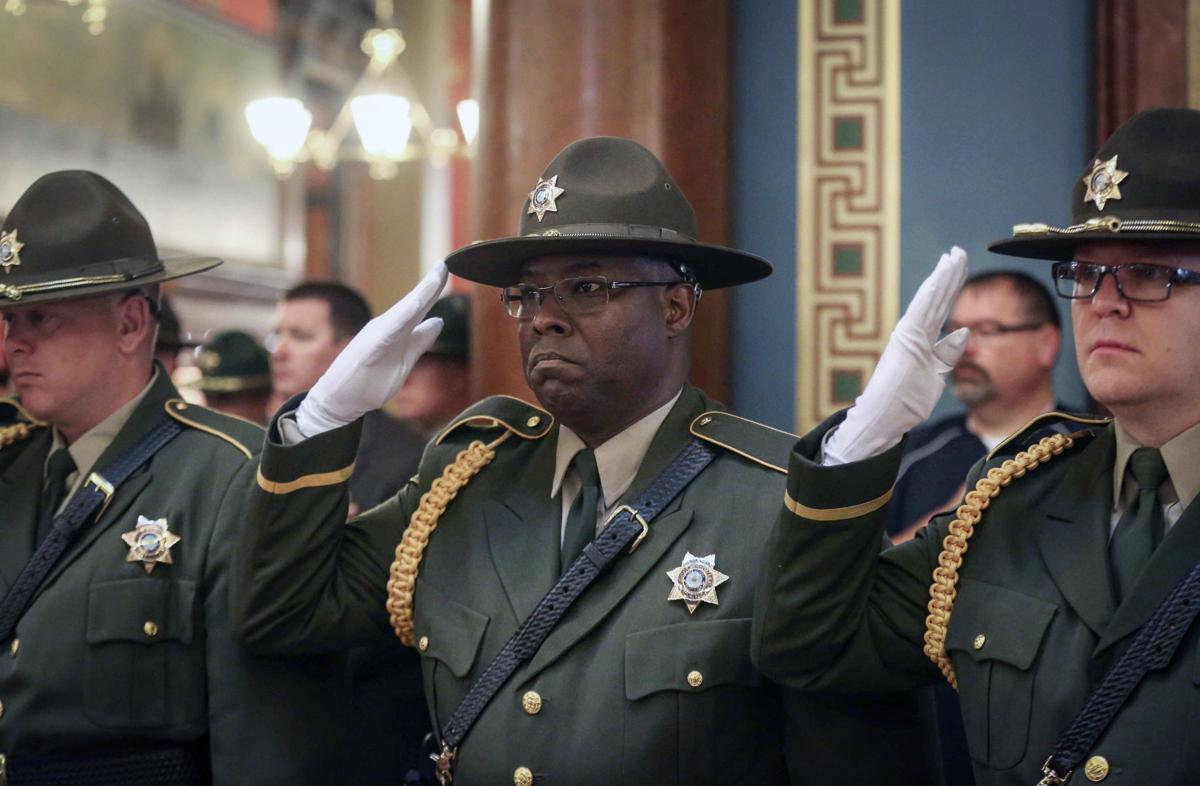 DES MOINES | A Mason City railroad cop was honored Friday at the Iowa Peace Officers Memorial Ceremony in Des Moines, almost 125 years after he was killed on the job.
Railroad Special Agent Timothy O'Brien was born in Ireland, served in the Civil War and was later employed by the Chicago, Milwaukee and St. Paul Railroad. He died in 1893 at the age of 49.
O'Brien's honor in Friday's ceremony and addition to the Iowa Peace Officer Memorial Monument was the result of more than a decade of research by Mason City Police Sgt. Greg Scott.
"In January, we decided to get the ball rolling on this," said Scott, who submitted O'Brien's nomination.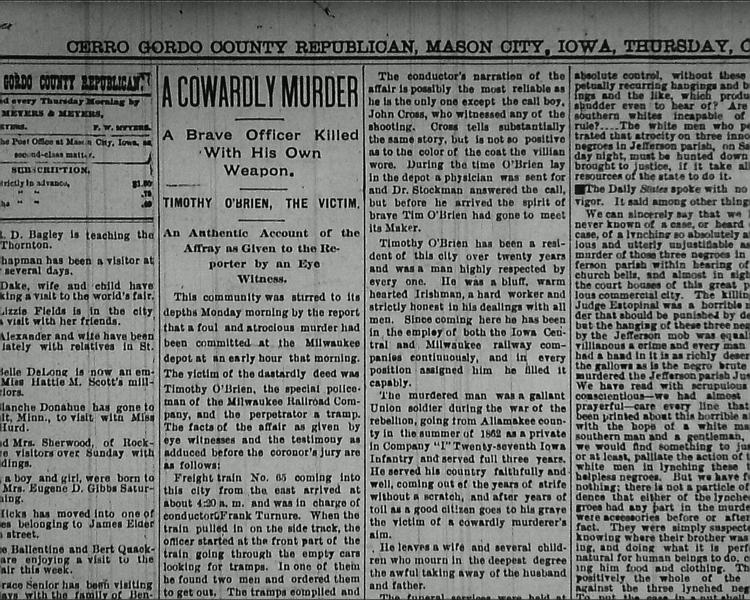 According to records, including newspaper articles from Mason City at the time, O'Brien was killed Oct. 2, 1893, with his own gun at the train depot.
The language used in the 19th century publications could be considered derogatory or incorrect today, but was commonly used at that time. For example, "tramp" as noted in the stories from 1893, would refer to a homeless person or transient individual.
The Cerro Gordo County Republican, one of the Globe Gazette's publishing ancestors, reported Oct. 5, 1893 that O'Brien had been going through the empty cars of a train that had pulled into the station about 4:20 a.m. "looking for tramps."
"In one of them he found two men and ordered them to get out," the article said. They were riding freight train No. 65 as it pulled into the Mason City rail yard.
One suspect fled, but O'Brien was able to bring the other to the freight office and began to search the man.

The suspect then fled outside, and O'Brien pursued him, drawing his his revolver. After a struggle, the man disarmed O'Brien and fired three shots.
An "eyewitness" at the coroner's jury recounted the event in the article and said O'Brien lived another 20 to 25 minutes before he died.
"The escape of the villain was owing to the darkness and in the confusion which followed when it was learned that O'Brien was shot," the article said.
Detectives arrived from Chicago to assist with the investigation.
The newspapers released a description of the man given by the train conductor who witnessed the crime: "The man was about 5 feet, 10 inches tall, slightly built, wore a dark coat and dark slouch hat. The coat had the appearance of a short overcoat of light weight. He had a dark mustache and short beard on his face and chin. The beard looked to be about two weeks' growth."
O'Brien had been a resident of Mason City for more than 20 years at the time of his death.
"He was a bluff, warmhearted Irishman, a hard worker and strictly honest in his dealings with all men," the article said.
He left behind a wife and several children, the articles said.
O'Brien also served as a sergeant in the 27th Volunteer Iowa Infantry for the Union Army for three years during the Civil War and was wounded in Mississippi.
He was buried at Elmwood-Saint Joseph Cemetery in Mason City.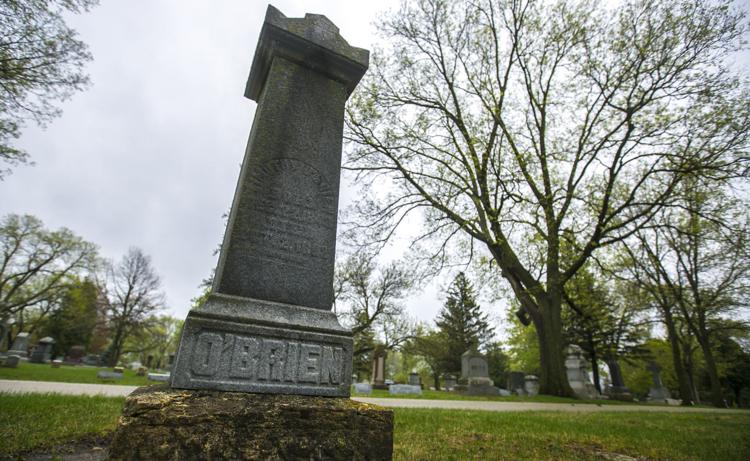 As far as police know, the case remains unsolved.
"I didn't find anything saying he had been caught," Scott said.
At least three descendants, all great-grandchildren, worked in law enforcement at agencies across the country. One, Shane O'Brien, is a retired officer from the Dubuque Police Department.
We had the opportunity today to attend the 2018 Iowa Peace Officer Memorial service at the state capitol. There we joined Special Railroad Officer Timothy O'Brien's family. O'Brien's EOW was 10-02-1893 in Mason City. 2701 pic.twitter.com/BuDfjCofQW

— Mason City Police (@MasonCityPD) May 12, 2018
Timothy O'Brien was one of six officers added Friday to the Iowa Peace Officer Memorial Monument, which located next to the Oran Pape State Office Building on the State Capital Complex.
Nineteen people – including relatives, Scott, Mason City Police Chief Jeff Brinkley and Capt. Mike McKelvey – were scheduled to attend Friday's ceremony in O'Brien's honor.
"Let this somber day also be a day of inspiration," Gov. Kim Reynolds said during the event. "We should all be inspired by these six peace officers because they set an example for us all. That there are honorable people working in our towns and cities who put community needs first and personal well-being second."
Contact Courtney at 641-421-0534 or on Twitter @CourtneyFiorini.
Get local news delivered to your inbox!
Subscribe to our Daily Headlines newsletter.