The Mason City Community Based Outpatient Clinic in the Westbrook building on South Pierce Avenue is going mobile.
And veterans are on board with it.
The clinic, part of the federal Veterans Administration network, has been a staple in the city for 30 years, according to Clinic Administrator Sarah Eisenman.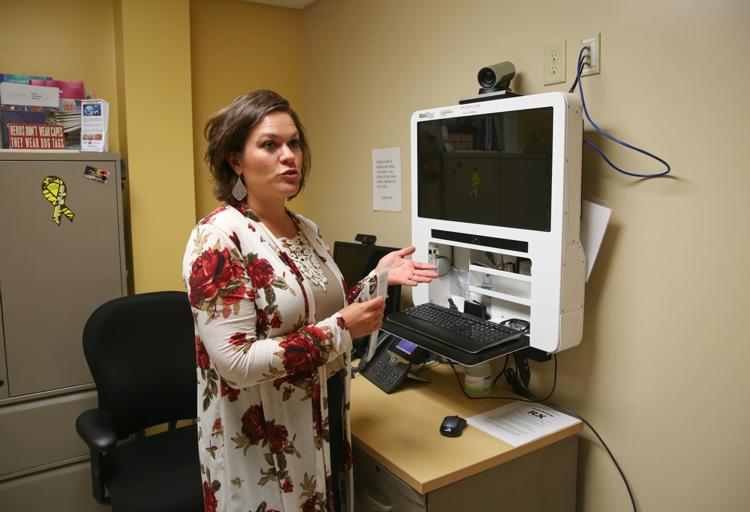 When the clinic started, it was open two days a month. The current 10,000-square-foot facility is now open five days a week and, according to Eisenman, is busting at the seams.
Four primary care teams see 900-1,000 patients each. On a recent weekday, the waiting room was nearly filled with veterans of all ages.
An "honor wall" at the back of the waiting room featured veterans from the area who were nominated by a local family to have their portrait hung there (contact the clinic to get your vet on the honor wall). A few children played with toys at a smaller table, reflecting a new generation of veterans who are using the clinic.
Besides primary care, the clinic offers lab services, mental health services, substance abuse, social work, physical and occupational therapy, audiology/hearing tests and optometry. Soon, Eisenman said she hopes to add radiology to that list.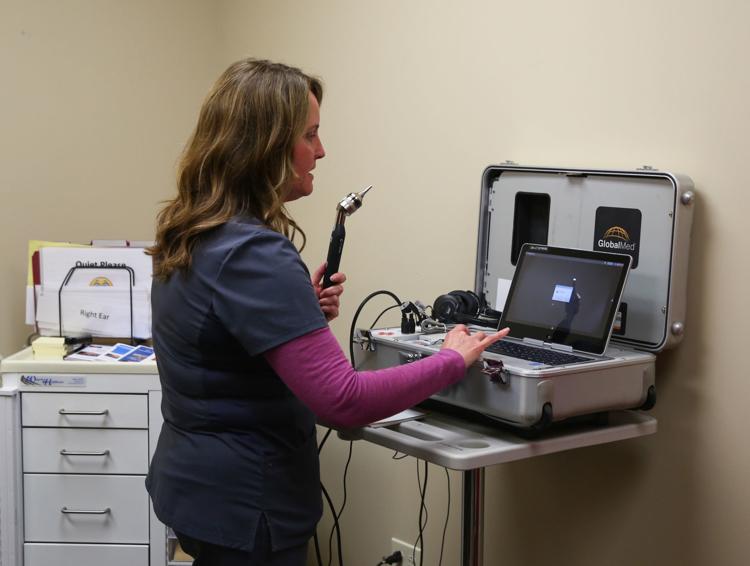 There is support for survivors of military sexual trauma. A coordinator – the only one in Iowa – who works with homeless veterans will not only help them find work and a stable living situation, but will pick up a homeless veteran who lacks transportation to get them to their appointment. Cooking classes are offered on site for those living with diabetes.
And then there's Battlefield Acupuncture. More than 200 veterans have had acupuncture to treat their acute pain since the clinic began offering it a few months ago, and just two have said in post-treatment surveys that it did not mitigate their pain. The rest reported being better able to sleep, eat and live a happier life in general as a result. Word on the treatment has spread, Eisenman said, and the demand for the service has exploded.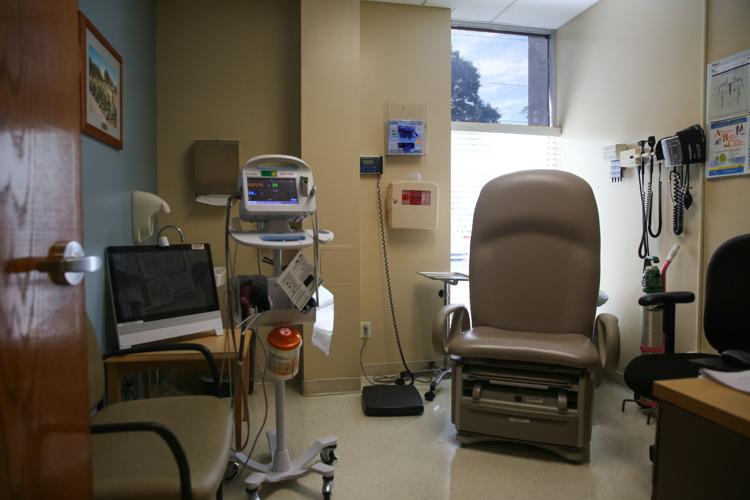 Those services are worth writing home about to be sure, but it is the move to offering mobile care using new technologies that has veterans and the staff at the clinic excited.
Meet Telemed, the Clinical Video Telehealth system. The system allows staff at the clinic to expand the services offered, and bring them right into veteran's living room, if needed.
Here's how it has helped one local veteran, according to Janna Arndt, an advanced telehealth clinical technician: The Washington state family of a local veteran wanted to be more involved in their loved one's care. So now, with every appointment, Arndt takes care of the vet, and the family can interact with her via secure video link.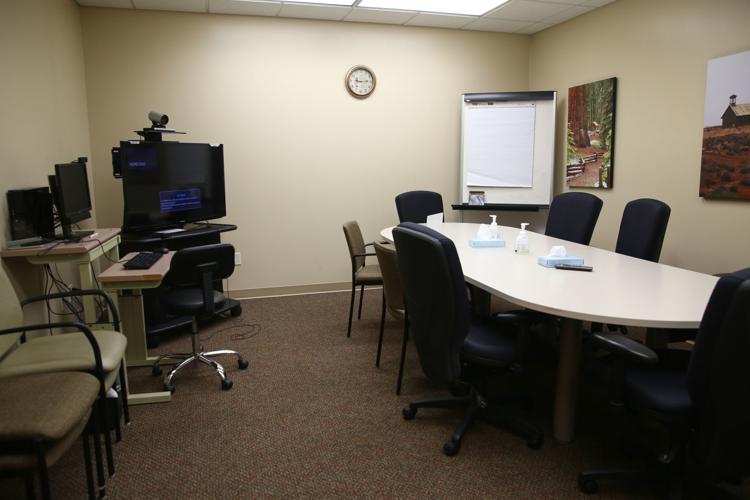 If the vet is home-bound or unable to get to the clinic, the VA will issue them an iPad so they can connect via video with their local doctor or a specialist not in the area.
The central Iowa region, of which Mason City is a part, is among the top regions in the nation in the number of Video Connect users, according to the VA.
Appointments are already booked through October, Arndt said.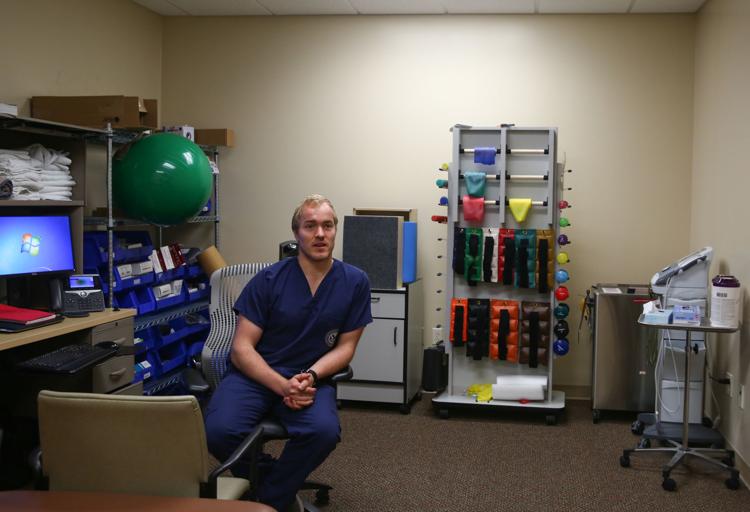 The clinic can now also offer a full range of audiology services, including ordering, fitting and helping veterans maintain their hearing aids. Using the same wand a doctor uses to look in a patient's ear, the technician can live video the ear exam or conduct a hearing test while an audiologist in Des Moines looks on via link and issues a diagnosis. In the past, such a diagnosis would require a hour and a half trip to see the audiologist in person.
The same is true for dermatology. The technician can take a picture of a mole, and instantly send it to a dermatologist who can render a diagnosis. These are not your usual cameras – when you can see the individual hair follicles on your arm on the screen, you're talking powerful.
The hearing tests are particularly fun, Arndt said, because the vets often make jokes about the sentences they're asked to repeat.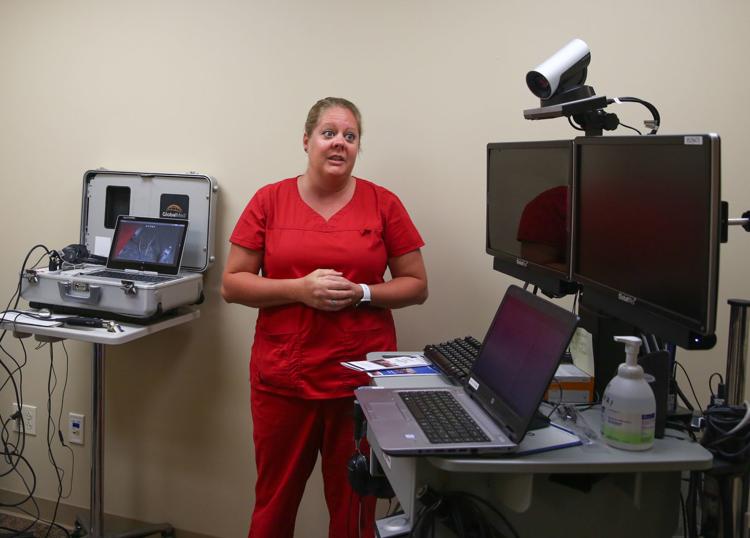 "They enjoy the heck out of that," Arndt said.
Veterans seeking mental health services can also use the system to keep in constant contact with a member of their care team, even if that member isn't in town at the time. Those struggling with substance abuse can participate in support groups available in Des Moines using Telemed.
"This way we can build trust and rapport with them and that's so critical," said Sara Hodak, the clinic's mental health treatment coordinator.
The clinic now wants to take their show on the road. They hope to have approval in the fall to take Telemed out into the community, to places like nursing homes, and to continue to expand their services.
"If we haven't done it yet, we'll find a way to do it," Arndt said.
What a Globe Gazette News+ membership can do for you:
A deeper examination of local issues than you'll find anywhere else.
Two products in one – not everything that's in the print edition of the Globe Gazette is on our website, and not everything on our website is in the print edition.
Access to newspapers.com archives dating back two years.
The ability to carry your local news with you and receive alerts instantly as news unfolds.
Advertising that frequently gets you deals you won't find anywhere else.
Get local news delivered to your inbox!
Subscribe to our Daily Headlines newsletter.