MASON CITY | A new mural is being painted on the fire escape stairwell on the City Center building in Mason City.
The mural is part of the "Building Our Brand" project that began last year. Two of three panels on the alley entrance to the Brick Furniture building were painted by Ali Hval, a graduate student at the University of Iowa.
Chamber of Commerce President Robin Anderson said in a statement the project is meant to enhance downtown buildings.
"Citizens may be largely immune to the current view, but the approach to downtown from every direction welcomes visitors with an unattractive landscape of building backs and unkempt alleys," Anderson said in a statement. "This project is intended to make our downtown core more welcoming and beautiful."
The project is paid for by building owners and a grants from the Iowa Arts Council and Cerro Gordo County Community Foundation.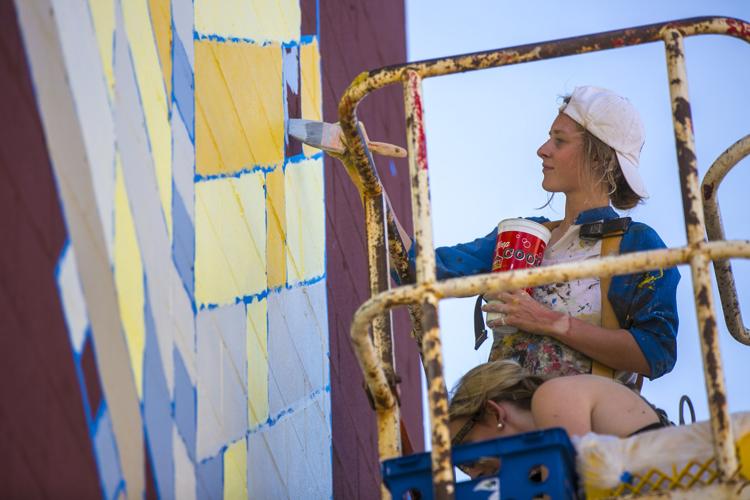 The mural itself is based on Frank Lloyd Wright's Prairie School, and is similar to the one painted last summer on the Brick Furniture building a few blocks to the north. Hval designed the mural and and planned out the dimensions, but is busy painting two murals this summer.
She submitted the project to Mason City officials through the University of Iowa Office of Outreach and Engagement.
Keely Hertzel, the mural artist, told the Globe Gazette Thursday afternoon she hopes to complete the mural by early next week, weather permitting. She also painted the mural on the Community Theatre two years ago.
The need for public art for Mason City's downtown is critical, according to Hertzel. She is a Mason City native currently residing in Denver, Colorado.
"This one is on such a main drag, East State Street ... there's so many people coming up and down here," she said.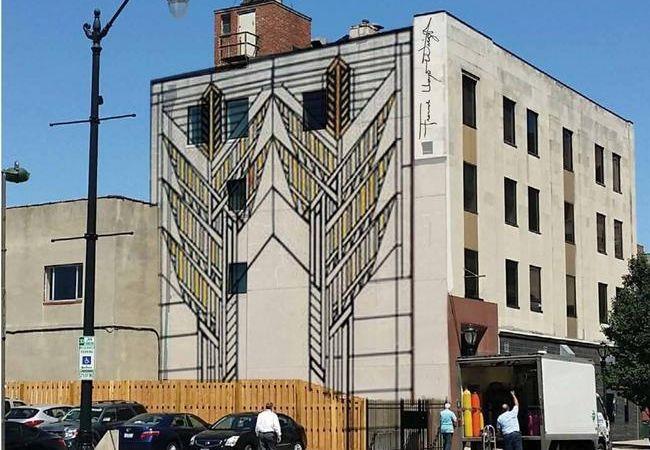 When Hertzel is in town, she also often works at the Decker House Bed and Breakfast, and tells guests there to walk around the area.
"I tell guests every single day to walk down here, see the (Historic) Park Inn, see all these beautiful properties we have," Hertzel said. "And to have something like this to draw their attention ... personally, I don't think you can put a value on that. It's so cool to be able to look at local art."
Hertzel was appreciative of people passing by, and talking to her about the mural. The art itself is meant to enhance the downtown and showcase the identity of cities throughout Iowa.
"It really brings a lot of personality to these small towns, and rural areas," Hertzel said.
Correction: An earlier version of this article mentioned a mural had been painted last year on the Brick and Tile building, which is incorrect. The Globe Gazette apologizes for the error.