From the Downtown Shopping District past Main Street Mason City to the Manor on Third Street Northwest.
That's where the city's replacement paver project will wind through when it's undertaken sometime later this year.
At this point, Mason City Operation & Maintenance Manager Bill Stangler said that the timeline for the pavers going in isn't set in stone but should happen between now and the fall.
Stangler said that the previous paving stones along the route "failed" over the course of 10 years and had grown somewhat hazardous so replacement became a necessity.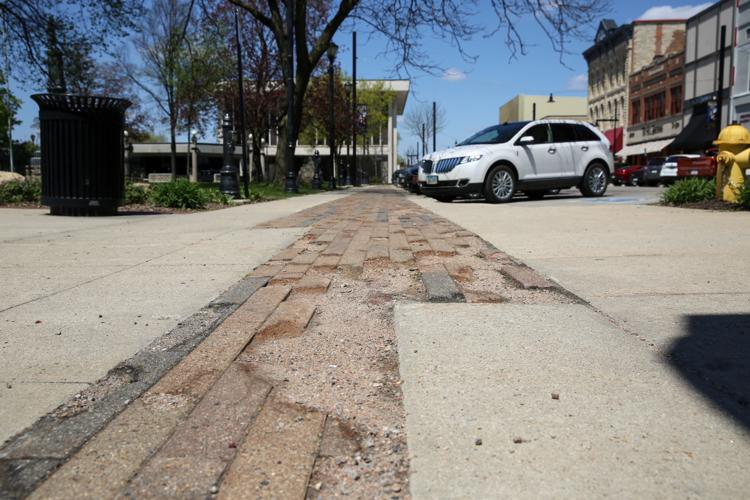 While there's some concern from business owners along the route that a possible disruption could deter business, Quarry co-owner Jon Holt isn't worried.
He said that the repairs aren't any cause for business concern and that, as far he's concerned, the city is doing its job and replacing the bricks that need to be done.
You have free articles remaining.
According to the memo that went before city council for approval on Tuesday night, "a paver much more suitable to freezing and thawing conditions, salt and sand applications was reviewed and selected."
The pavers, which are being purchased from Pfeffer Precast and Pfeffer Outdoor Living of Algona for $79,385.78, come equipped with 10-year warranties which is said to exceed industry standards.
That expense is accounted for in 2019-2020 budget for $200,000 which would cover the cost of the project.
To accommodate the maintenance, the city will likely need to set up some temporary lane closures and road closures as we're doing it.
In addition, Stangler said that they'll be letting businesses know that will potentially be impacted as the installation is happening. 
What a Globe Gazette News+ membership can do for you:
A deeper examination of local issues than you'll find anywhere else.
Two products in one – not everything that's in the print edition of the Globe Gazette is on our website, and not everything on our website is in the print edition.
Access to newspapers.com archives dating back two years.
The ability to carry your local news with you and receive alerts instantly as news unfolds.
Advertising that frequently gets you deals you won't find anywhere else.