If you were to ask Mason City resident Gary Wattnem about what it was like working for the Pentagon at the time of Sept. 11, 2001, he would tell you about the people who went to work immediately to protect others against terrorist threats.
Wattnem, a retired major general in the Army, spent 35 years in the military and served in Vietnam for about a year in 1970-1971. Both his time in Vietnam and experiencing the aftermath of Sept. 11 were learning experiences, he said.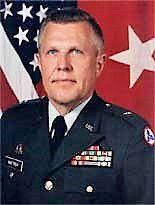 Wattnem was assigned to work for the Pentagon from June 1999 until he retired in November 2003. There he served as deputy chief of staff for logistics for the Army.
On the day that the Twin Towers were hit, Wattnem was scheduled to leave Mason City to go serve at the Pentagon.  
"I saw it on the television and then I got lots of calls wondering if I was at the Pentagon that day," said Wattnem.
Wattnem's boss, a three-star general, told him to come to the Pentagon when he could. Wattnem would arrive a week later and stay for a few months.
"Seeing that great building damaged and attacked made me angry and sad because of the lives lost with both the civilians on the plane and people who worked for the Pentagon," said Wattnem.
At that time, the part of the Pentagon that was hit was recently renovated and not a lot of people had moved back into that portion of the building, according to Wattnem. He added that this was part of the reason that the number who died wasn't higher.
Wattnem said the Pentagon had about 20,000 people work there in 2001 and that 125 military personnel and civilians lost their lives on Sept. 11.
After Sept. 11, Wattnem recalled going into his office area, which was 200 feet away from where the attack was, with fellow colleagues to collect items from their desks. In order to do this, all of them had to gear up in chemical suits.
Wattnam says the Pentagon became a somber place, but he and others immediately began planning Operation Enduring Freedom, which began on Oct. 7 that same year. Operation Enduring Freedom launched military operations in Afghanistan, lasting until 2014.
Wattnem said the military is a resilient force that had to quickly move past its grief in order to protect others from terror threats.
People from around the Mason City area asked Wattnem to speak about the attacks that had happened shortly after Sept. 11. Wattnem says the questions from community members revolved around his safety that day, how many were killed, and what he had to do.
"They wanted to know my opinion on what the military would do because we were attacked by terrorists," said Wattnem.
Former Trinity Lutheran Senior Pastor Jim Magelssen recalled having people coming together several times at the church shortly after Sept. 11.
"On the night of Sept. 11, we had a large meeting to talk about what does this mean for us," said Magelssen.
Magelssen had moved to Mason City shortly before the attacks on Sept. 11 and was still learning the community and church members. It was recommended to Magelssen to host Wattnem, who is a member of Trinity Lutheran, since he had a connection to the Pentagon.
"Gary was a good resource for us," said Magelssen.
Wattnem spoke on two occasions, according to Magelssen. The meetings  helped people to process what had just happened in America and to freely speak, says Magelssen.
"I think people were so frightened and so upset and wondering what it all means for us," said Magelssen. "It was just an opportunity to come together and have some reassurance."
The former senior pastor said he appreciates what Wattnem has done for the community and for the country.
Wattnem has since given a number of presentations to different groups and organizations about that day. He believes his story has helped younger generations understand Sept. 11.
"They don't have a concept about that day and what it did to our country," said Wattnem.
Today, Wattnem says he is more impressed with the soldiers who have joined because of Sept. 11. He added they have been better trained and are more willing to sacrifice themselves than ever before.
"I am a firm believer that our military is better than it has ever been," said Wattnem.
Abby covers education and public safety for the Globe Gazette. Follow her on Twitter at @MkayAbby. Email her at Abby.Koch@GlobeGazette.com