Before he passed away in March 2020 at the age of 68, former Four Oaks Mason City Program Director Mark Neibauer was working to create a place for kids at the behavioral health center to come outside and enjoy nature. 
Friday afternoon, on a clear, sunny day, that plan became reality as friends and colleagues unveiled the "Mark's Place" shelter house in Neibauer's honor.
"We've got a wonderful structure that's been built," Four Oaks President and CEO Anne Gruenewald said at the top of the event which she called a remembrance of how special Neibauer was. 
According to Kaci VanDeventer, who followed Neibauer as program director for the Mason City center, said that the kids who live at Four Oaks are already using the shelter house or "pole barn" as Neibauer called it. 
"They love to sit under it and journal or play games with their families," VanDeventer said.
Inside of the shelter, which is held up by six posts, there are two new wooden benches and metal lettering that runs around the rim with the following words: determined, joy, amused, proud, kind, laughter, inspire and creative.
Next to the shelter house is a small array of plants and a memorial stone for Neibauer which reads: "'Shelter from the Storm' ... Dedicated to Mark Neibauer 2021."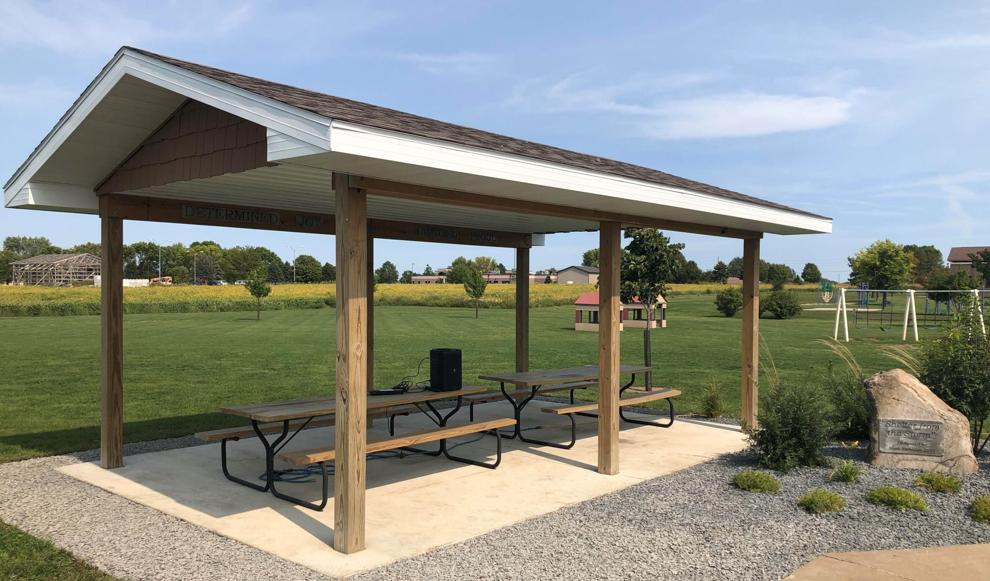 Near the start of Bob Dylan's poetic ramble "Shelter from the Storm" he mentions "blackness" as a virtue. The people who got up and spoke about Neibauer made it clear that one of his most obvious virtues was his sense of humor.
Dennis Renner, who knew Neibauer through the Mason City Sunrise Rotary Club, said that Neibauer never lost that fondness for comedy even when going through tough times.
"At one point, he came into a meeting and said: 'I went to take my driving test to get my license back but I didn't pass, I failed it. I didn't know they were paying attention to which way those arrows were going in the parking lot."
John Jaszewski, a member of the Mason City Council, said that he and Neibauer once did a video project about comedy that involved the two driving four or five students up to a comedy club in Minneapolis so that the kids could chat with comedians to get a better sense of how they got started.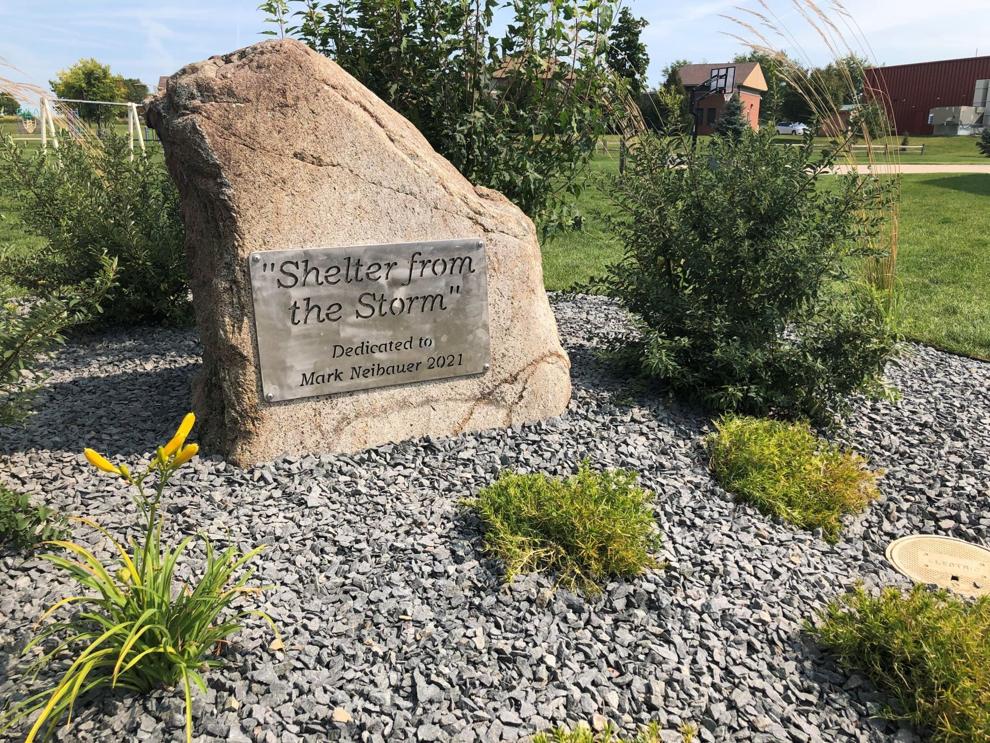 Others who spoke at the event at the North Eisenhower Avenue Campus mentioned that Neibauer's passion for helping kids didn't just stop at the edge of Four Oaks. 
Nutriquest President Steve Weiss shared that Neibauer served on the school board at Newman Catholic and actually stepped up to serve as the guidance counselor for the school.
When Frank Grijalva, the network director and founder of Midwest Trauma Services, took the mic he told people about how a certain image of Neibauer has never left his mind's eye even a year after Neibauer passed.
"When I see him, I see the twinkle in his eye," he said.
Editor's note: This piece was updated online, after it originally posted, to clarify Neibauer's work with Newman Catholic.
Jared McNett covers local government for the Globe Gazette. You can reach him at Jared.McNett@globegazette.com or by phone at 641-421-0527. Follow Jared on Twitter at @TwoHeadedBoy98.