Ho hum, another trip to Carnegie Hall.
Given the auspicious history of the Mason City High School Concert Choir, and the fact that this is the school's fifth trip to the iconic New York City music venue since 1995, this could really be viewed as no big deal.
You can tell by the sticky note "reflections" the students wrote about their trip and posted on their bus windows that now fully cover the window and office door of Joel Everist, MCHS director of choral activities.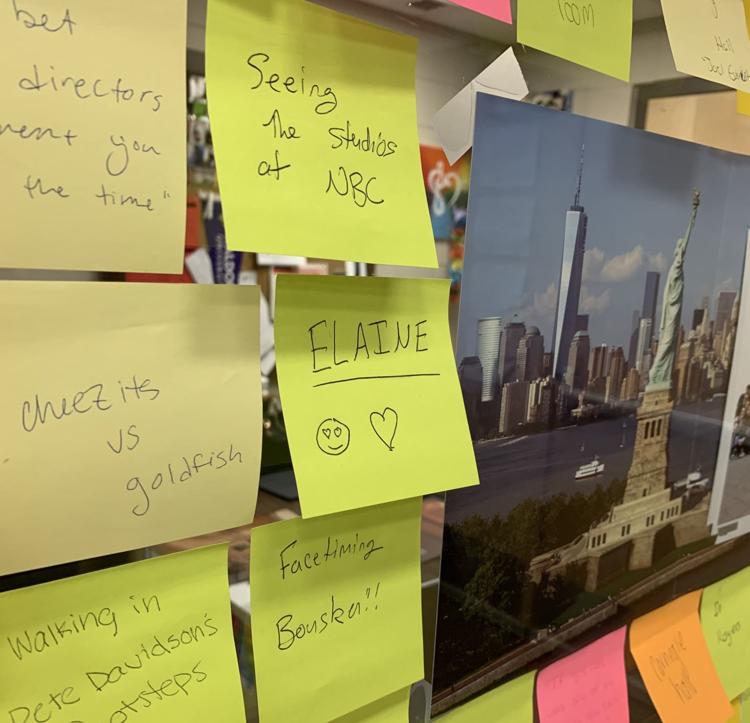 The 100 students returned early last week, their 24-hour bus trip home the culmination of a year's worth of auditions, fundraising, competition and rehearsing. 
Getting an invitation to perform in the world-famous Isaac Stern Auditorium at Carnegie as part of the Choirs of America Festival isn't a given. It's the choral equivalent of the Little League World Series. Choirs must attain a level of performance that goes beyond what's typically learned in a school year.
This year's invitation was a gift from last year's MCHS concert choir – and their stellar performance at the World Strides Music Festival in Chicago. Top choirs from all over the country go to the World Strides festival nearest to them where they are judged by a panel of academics and professional musicians on a national standard of performance. Only those who earn top honors are eligible for a Carnegie invitation.
The MCHS concert choir has never earned less than first place in the Chicago festival in the last 25 years.
They've never earned less than first place in any competition, anywhere in the last 25 years.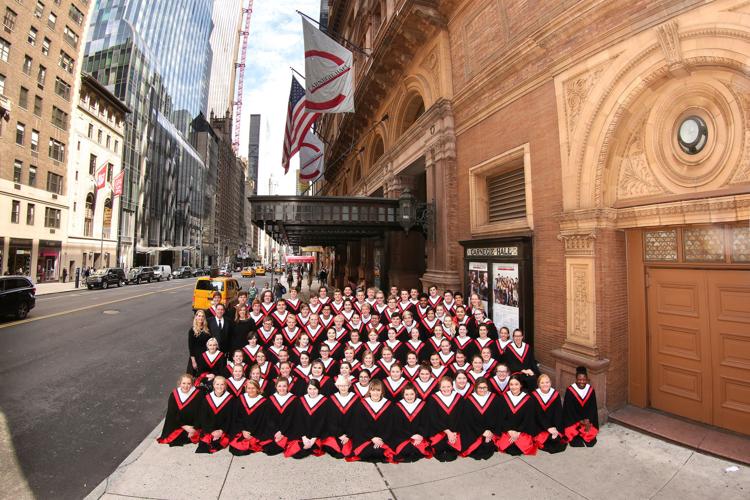 But that doesn't always cut it for the Carnegie crowd. Also factored in is the complexity of the music performed and the versatility of the performers. 
"They don't look at you and say, 'well it's been five years since Mason City has been here, so let's invite them again,'" Everist said. "You have to earn it every time." 
Seniors Marcus Buttweiler, Nathan Elsbernd and Trevontae Lewis all know this. They – and many of their counterparts – have been singing together since elementary school.
Their journey to Carnegie began with the announcement of the invitation at last spring's community concert, when Buttweiler, Ellsbernd and Lewis were juniors.
Buttweiler got excited. Then reality hit. 
"At first it was 'Great! Then, it was, 'it's gonna be a lot of money,'" he said.
Exactly $1,378 per student, with no contributions from the school district. And that's even with being pretty much the only choir that didn't fly to New York City.
Of course, nothing is taken for granted in the MCHS choir world, so the first hurdle was making the team. Every year, musicians must audition to be one of the 300 chosen for the school's 12 ensembles, including the concert choir. 
You have free articles remaining.
Then follows choir camp in August, class when schools starts in September and rehearsal on the students' own time as homework. In between that, students sold candy and household knick-knacks from a catalog and value cards that provided discounts to local businesses to offset the cost of the trip. The choir's booster club also fund-raised on behalf of the students.
Overachievers like Lewis, who raised more than he needed for his trip, contributed to a scholarship fund for other students who struggled to afford it, so everyone could go.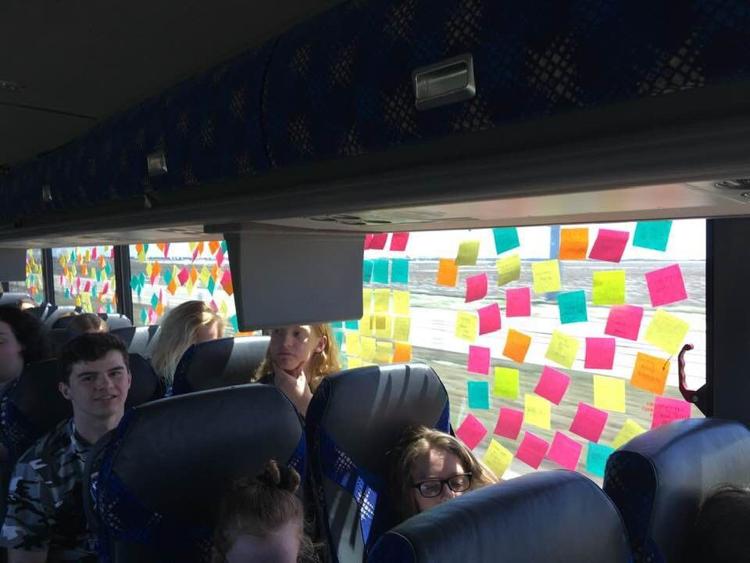 All of the long hours of work and bus-riding faded quickly into the background once the students stepped into the same auditorium where Duke Ellington, Judy Garland and Bob Dylan performed.
"It was so beautiful, with the background lights and the architecture, the famous ceiling 'halo lights,'" Lewis said. "And the acoustics were amazing."
They packed a lot into their three-day visit. They participated in workshops and classes with world-renowned artists such as Broadway performer Bre Jackson ("The Color Purple") and composers Stacey V. Gibbs, Timothy Takach and Elaine Hagenberg. They sang for and listened to the 1,100 other students set to perform with them at the mass choir concert on April 13. They saw three Broadway shows, toured Ellis Island and stayed in a hotel on Times Square.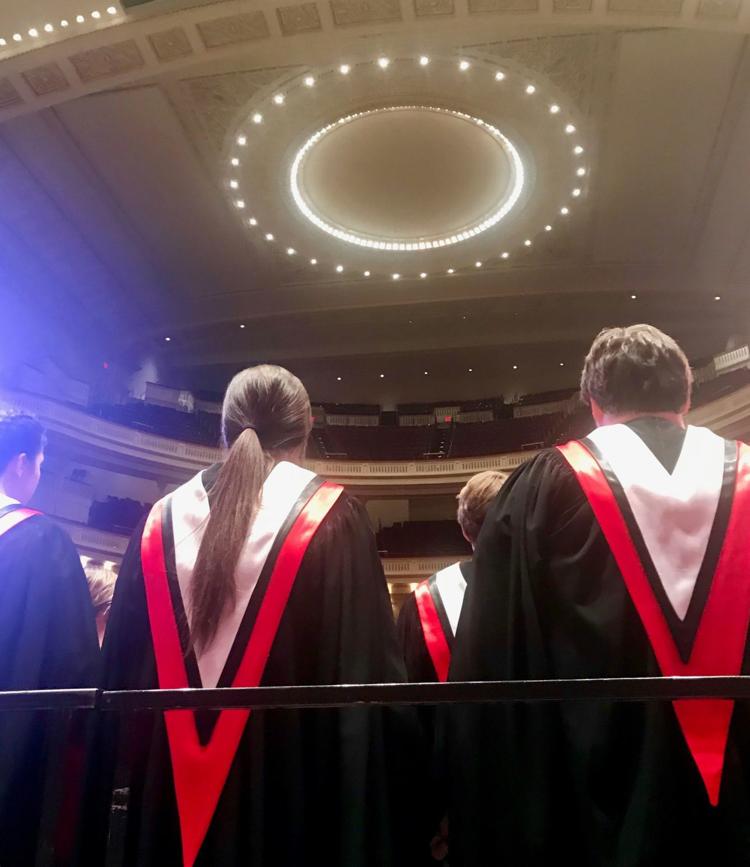 They also sang "Freedom Come" for a panel of judges, who gave the performance top honors. The choir received a "spotlight" position to sing the Ben Allaway piece that closes their annual spring concerts in the Saturday night performance.
And then there was Trevontae Lewis' solo. 
As part of the massed choir concert on April 13, the full group would perform a world premiere – a new arrangement by composer Gibbs of the Oscar-Award-winning song, "Glory," from the movie, "Selma." In the middle of the song comes a break that can either be sung or rapped.
Lewis beat out an unknown number of other students to rap that break during the live performance.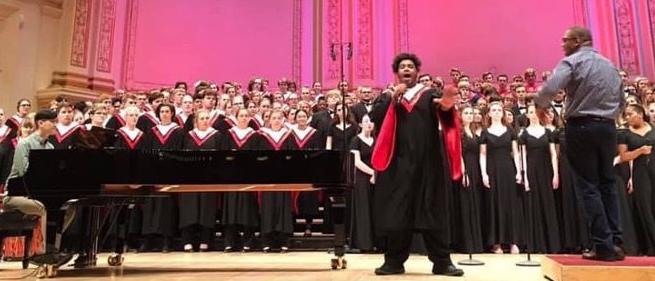 And he had one day and lots of help getting ready.
"I just walked around all day, playing that song over and over and over," Lewis said. "I would sing it every time I got on the bus and everyone sang it with me. I think we all memorized it."
It was a once-in-a-lifetime solo. Part of a once-in-a-lifetime performance on a once-in-a-lifetime trip.
Dare we even say a standout in the ho-hum life of extraordinary performance by the Mason City High School Concert Choir.