One day before her graduation from Buena Vista University, Molly Johnson found herself at Better Day Café in downtown Storm Lake, enjoying lunch with her children, Isabel and Xander.
"They're going to King's Pointe Waterpark this afternoon to play," Johnson said. "That's where we're staying tonight."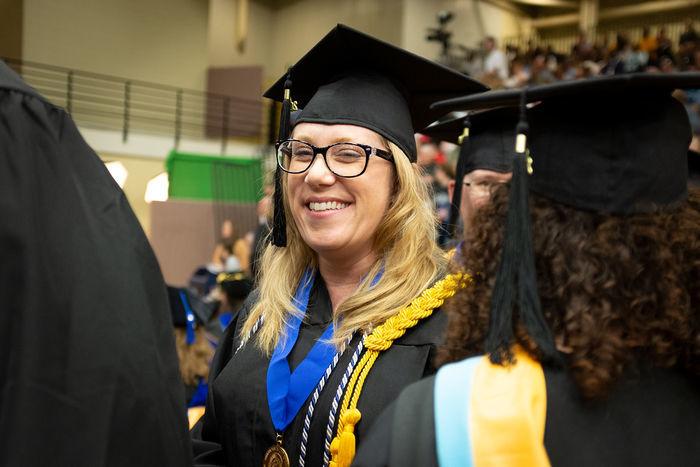 Johnson, meantime, went from picking up her cap and gown on a Friday to a training session that afternoon in the BVU Registrar's Office. Following her graduation that Saturday, Johnson was going to work at BVU's Mason City site as a student adviser for non-education majors.
The nontraditional student compiled a 4.0 grade-point average while earning a bachelor's degree in human services and psychology from BVU at Mason City.
"Going to work for BVU, in many ways, allows me the chance to give something back," Johnson says.
You have free articles remaining.
Johnson, a native of Clear Lake, earned a North Iowa Area Community College associate of arts degree as a medical assistant following her graduation from high school in 1996. After working for years and finding less fulfillment than she envisioned in her career, Johnson met a BVU Mason City adviser and inquired about returning to school for a bachelor's degree.
She was told that, based on her transcripts, a psychology degree would be well within her grasp in a matter of a couple of years. She enrolled at BVU in Mason City because it was close to Clear Lake, allowing her to return to college without relocating, an issue that could have proved difficult with two young children. BVU offered classes in a mix of face-to-face and online instruction, also a benefit.
"When I began, I was terrified of taking courses online," she says. "But I got over any fears very quickly and grew to really embrace the mix. I'll admit: It's pretty nice to have a class via (online) Zoom when the winter weather arrives!"
Johnson took in the scene during graduation weekend at BVU in Storm Lake. After training and enjoying some time at the waterpark, she joined her children and her parents at the Baccalaureate service, a brunch for grads and their families, and then the BVU Commencement Ceremony.
The weekend culminated with a drive home to Clear Lake and then a night spent packing.
"I bought a home in Clear Lake two days before my BVU graduation," she says with a wide smile. "We're going to go home and move, and then get started on my career."