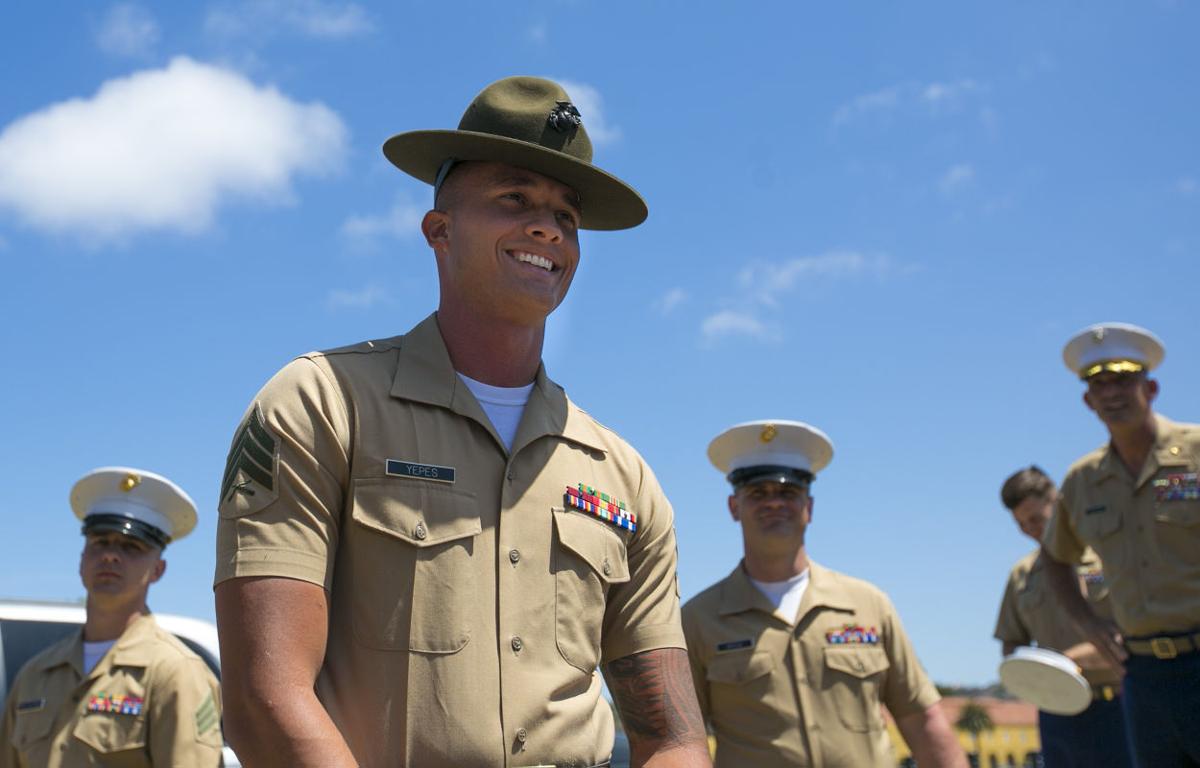 SAN DIEGO — When he's not in senior drill instructor mode, Sgt. Jorge Yepes is reserved and soft-spoken, especially when talking about his wife and young children with a group of teachers from Iowa and Nebraska.
But as the eagle-eyed Yepes walked the streets of Marine Corps Recruit Depot San Diego April 19, it didn't take long to find a pair of recruits who weren't up to code. The two — who weren't walking quickly enough — were ordered to run forward, backward and then the rest of the way to their destination.
As the recruits trotted away, Yepes turned his head back toward the group, resuming his conversation with the teacher next to him.
As a senior drill instructor — also known as a platoon's "daddy" — Yepes is responsible for training 60 or more recruits at a time and making his assistant drill instructors efficient. His black sword belt sets him apart from other junior drill instructors, who wear different colored belts.
"Once I got the belt, it's about making a bond," he said. "I'm a human being; I'm a father.
"I truly care about them, but I'm preparing them for Afghanistan or Iraq. I can't do that by being nice all the time."
Drill instructors like Yepes are known for their intensity as they crush and rebuild confidence, which they say prepares men and women for serving under pressure, especially in combat situations.
In situations like that, Yepes, who has served in Afghanistan, says attention must be caught the first time, because there is often no time to repeat orders or answer questions. A mistake could cost a recruit his or her life.
Yepes — tall, muscular, tattooed and in his mid-20s — is a native of Colombia and later of Atlanta, and joined the Marine Corps in 2008. He has been stationed in San Diego for 3½ years, previously serving in Hawaii, and is expecting orders soon for a new assignment.
You have free articles remaining.
Between boxing and soccer, he says he was always athletic growing up, something that benefited him in the military.
Besides being in peak physical conditions, drill instructor candidates must be at the top of their class, have a good record, be financially stable and be committed to the Marine Corps.
They attend 11 weeks of training and serve a three-year tour of duty, known as "Making Marines." Drill instructors have a demanding job that requires them to work up to 17 hours a day, and stay overnight with recruits every few days.
Each platoon has one drill instructor with them at any given time. Once the platoon graduates, drill instructors have anywhere from one to five weeks off.
Sometimes, Yepes says, he forgets to smile or have fun when he's not barking orders at recruits.
He cracked a smile April 19 as he criticized the teachers for their performance in a combat fitness test, which involved chest presses with 30-pound ammo boxes and a series of sprints and drills on a football field.
"If they (recruits) would have moved like you did, I would have made them run it 2,000 times," he said.
As for the teachers' accomplishments on the obstacle course, where they were wearing cammies, helmets, flak jackets and carrying a simulated rifle, Yepes said he would have "made them dress and undress for hours" if they were recruits.
Recruits can overcome these physical tests, Yepes said, and any other challenges boot camp throws at them.
"Your body can do a lot of things," he said. "It's so mental."