What will the weather look like in the year 2020? The answer might as well be one big shrug.
We do live in Iowa, after all.
As variable as the weather can be, however, experts have plenty of data on their side to gauge where our weather and climate may be headed.
And according to that data, Iowa is already seeing the impacts of climate change. According to the DNR, plants are "leafing out and flowering sooner," birds are flocking here earlier in spring and certain animals are being sighted farther north than they've typically been in the past.
Iowa Climate Statements from the Center for Global and Regional Environmental Research over the last several years paint a long-term picture of Iowa's climate becoming notably warmer and wetter with a longer growing season by mid-century, which is now only three decades away.
"In the Midwest states," the 2019 Iowa Climate Statement reads, "we have seen changes in the form of dramatic variability in rainfall, higher humidity, and warmer nights. The excessive moisture and cloud cover have so far thwarted substantial increases in daytime highs and heat waves that other regions have experienced."
The latest projections, however, indicate that will change as moisture patterns adjust over time. The report goes on to say, "The current greenhouse gas emissions growth rate is projected to raise the annual number of days above 90°F in Iowa from 23 to 67 by mid-century."
Weather in the year 2020
Looking at the National Weather Service's Climate Prediction Center weather outlook seasonal maps, a few local predictions for this upcoming year can be inferred. It should be noted, though, that these are general predictions and don't necessarily account for extreme weather events within the specified time periods.
From January to April 2020, temperatures look like they'll be generally colder than average.
From March and into August or September, temps have equally likely odds to be at the average temperature, above and below it. Meanwhile, much of the rest of the nation will likely experience above-average temperatures during this period.
Temperatures for the remainder of the year are then slated to be more above average in Iowa.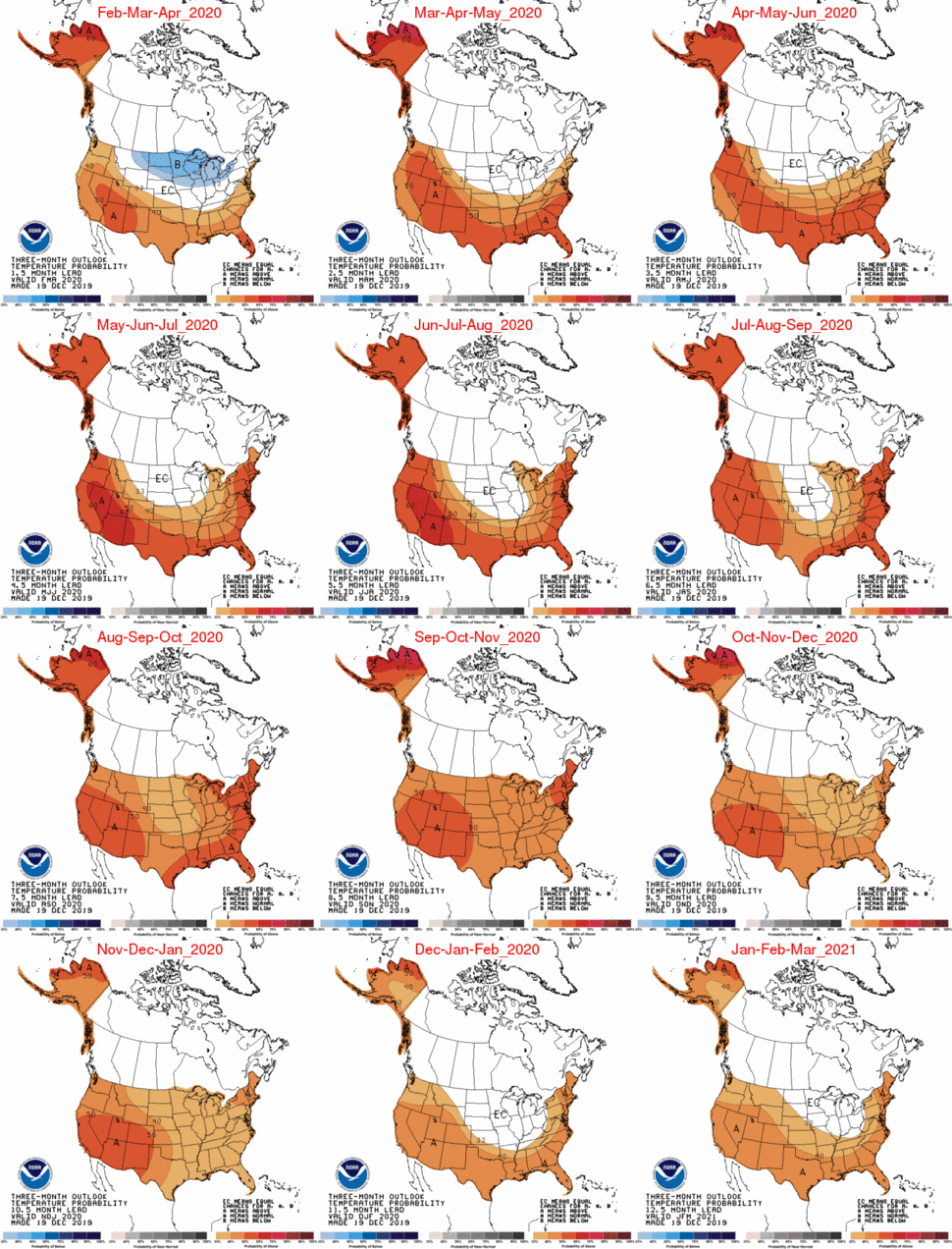 For precipitation, the first half of the year looks like it could be wetter than average, with the wettest range between the months of March and April.
From May onward, near-normal precipitation is anticipated for now. December into January 2021 looks like it may once again experience above-average precipitation.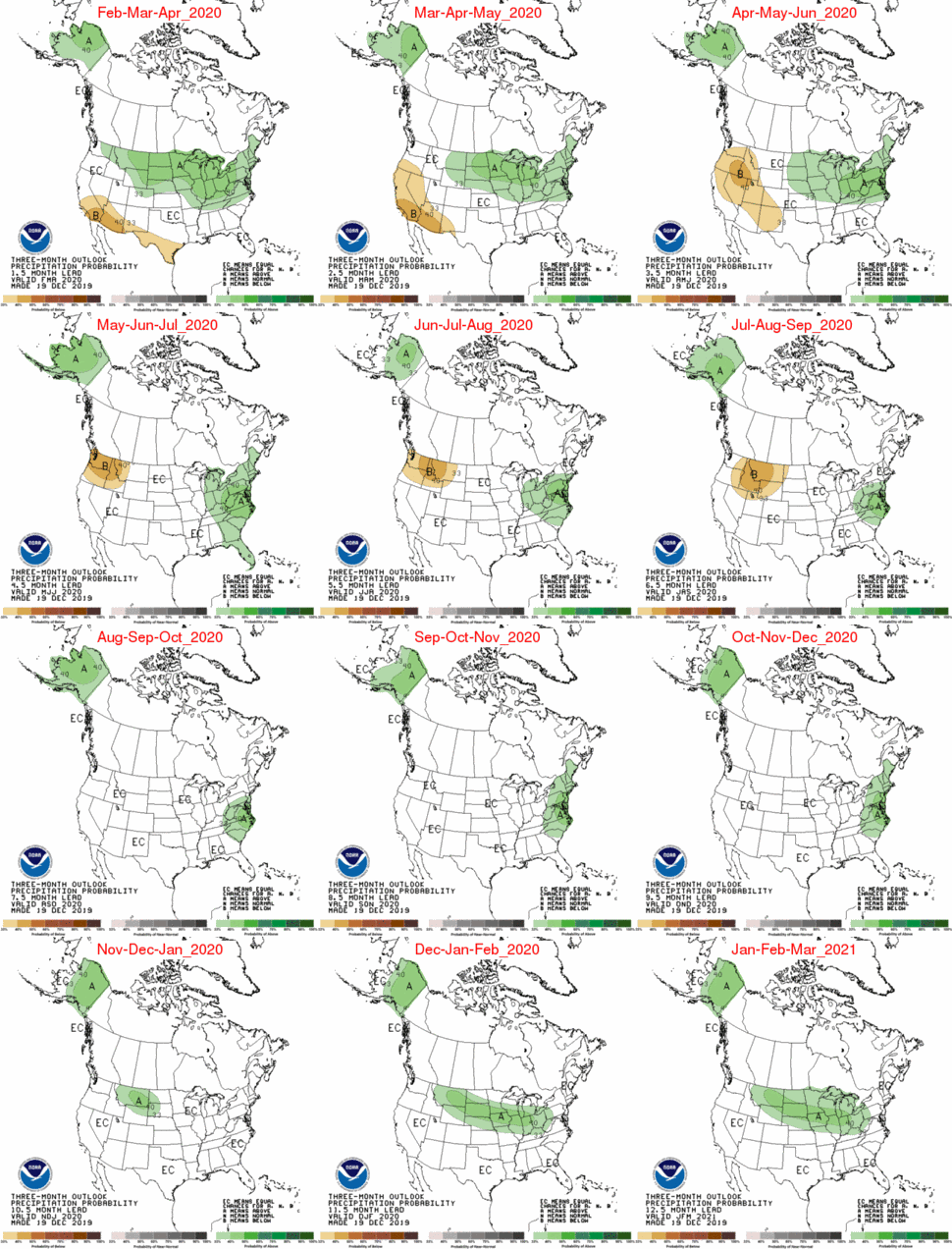 Mitigating, planning for future weather extremes
If Iowa continues to near its projections for mid-century, climate change will become a growing public health risk in Iowa. Increases in heart and lung issues because of increased pollutants as a result of higher temperatures are likely. Infectious diseases spread by insects who favor warmer, wetter climes is also a risk. Asthma and allergy prevalence will increase.
Agriculture, too, will face challenges as a result: weather extremes present risks to crops and livestock, as well as their productivity. Additionally, with increased precipitation comes increased soil erosion and water runoff, and additional water quality problems are created when manure is involved.
Could these effects be curbed? It'll take some big changes.
"Only by dramatic reductions in greenhouse gas emissions within the next 10 to 15 years will these effects be lessened," says the 2019 Iowa climate report.
Jerry Schnoor, co-director of University of Iowa's Center for Global and Regional Environmental Research, stated in the 2018 Iowa climate report, "…[A]daptation now is necessary in today's changed climate. Changing our built environment to be more sustainable and resilient can help reduce future climate change while protecting us from the changes that have already occurred. The time to act is now."
Got questions about climate change? Search for "Don Hofstrand series: Causes and consequences of a warming planet" on our site.
Don Hofstrand series: Causes and consequences of a warming planet
Don Hofstrand is a retired agricultural economist from Iowa State University Extension. During the last few years of his work life, he focused on renewable energy and climate change. This series looks at climate change and Iowa. Hofstrand and his wife live in Mason City.