CHARLES CITY -- Almost two years ago Charles City lost a child with promise. On Monday that child's memory was ingrained in history.
Logan's Law, named for Logan Luft, 15, who died from an ATV accident in July 2017, was signed by Gov. Kim Reynolds on Monday at the Charles City Middle School Gymnasium.
The new law allows for Iowa hunting and fishing licenses to have a spot designated for individuals to register their pledge to be an organ donor.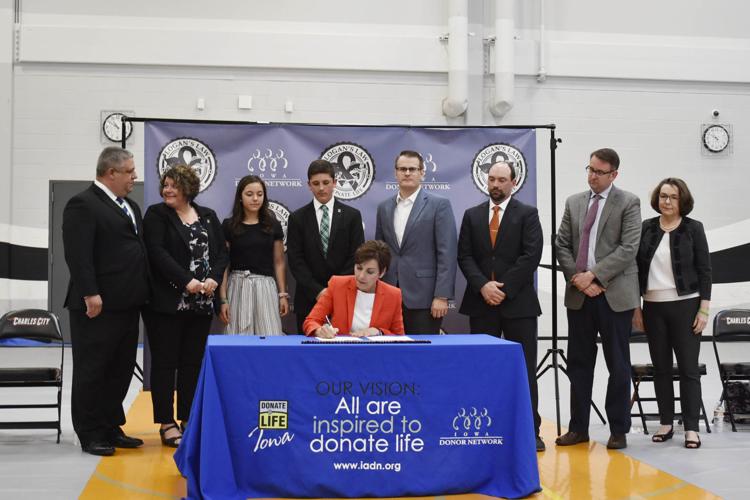 After his death, Logan's tissue and bone donations went to 21 people in over seven states.
"He saved lives," said his mother, Wendy Luft. "He didn't save just one life, he saved five. He gave the gift of life to five different people."
Reynolds signed the law with Rep. Todd Prichard D-Charles City, Sen. Waylon Brown R-St. Ansgar, Logan Luft's family and the Lt. Gov. Adam Gregg standing nearby.
"This is really a great day for Charles City," Prichard said. "Charles City has survived and really been at its best in dark times."
After Logan's death the city came together to honor his memory.
"North Iowa and rural Iowa is the greatest place to live, and this is a reason," Brown said.
The middle school gymnasium was full of classmates, students and Charles City residents, along with many of the city's officials, including Police Chief Hugh Anderson and Mayor Dean Andrews.
After Reynolds signed the law the crowd gave a standing ovation.
You have free articles remaining.
"This past two years you have loved, uplifted and encouraged us in our journey. Today is Logan Luft day, a day we honor and celebrate a 15-year-old boy from Charles City, Iowa, who has officially changed the world," said Wendy Luft. "We will share the importance of saving a life for the 600-plus Iowans who are currently waiting for an organ today."
Alec Staudt, 16, a classmate of Logan's, spoke to the crowd prior to the signing ceremony.
"Logan chose to give the gift of life without hesitation," Staudt said. "My dear friends, I ask you to consider being an organ donor by giving the gift of life."
Prichard and Brown crossed party lines to push Logan's Law at Iowa's Legislature and saw it pass unanimously in the Iowa House and Senate.
"What a way to honor Logan's life," Reynolds said. "It's a testimony that we do things differently here in Iowa. We're able to put Iowans first."
Reynolds said she would encourage Iowans to read about Logan's story.
"Logan has caused a movement in the state of Iowa increasing the awareness of organ donation," Wendy Luft said. "We have been given the awesome responsibility to educate on organ donation."
Logan's Law allows young people a chance to register themselves as donors, said Suzanne Conrad, CEO of the Iowa Donor Network. "It's less likely for a 14-year-old to be in front of a registry bureau, but through a hunting and fishing license you can."
The law is expected to come into effect July 1.
"This is for you, Logan, and we love and miss you every single day," Wendy Luft said to enormous applause.
What a Globe Gazette News+ membership can do for you:
A deeper examination of local issues than you'll find anywhere else.
Two products in one – not everything that's in the print edition of the Globe Gazette is on our website, and not everything on our website is in the print edition.
Access to newspapers.com archives dating back two years.
The ability to carry your local news with you and receive alerts instantly as news unfolds.
Advertising that frequently gets you deals you won't find anywhere else.