After an unplanned hiatus in Nebraska, the "Big Boy" will arrive in Mason City on Tuesday.
Union Pacific's Big Boy Steam Locomotive No. 4014 is on a tour of UP's rail system to commemorate the 150th anniversary of the transcontinental railroad and will arrive in Mason City for an overnight stop at 2 p.m. at Ninth Street Northwest and North Jackson Avenue, near the Union Pacific depot. It will depart the next morning at 8 a.m.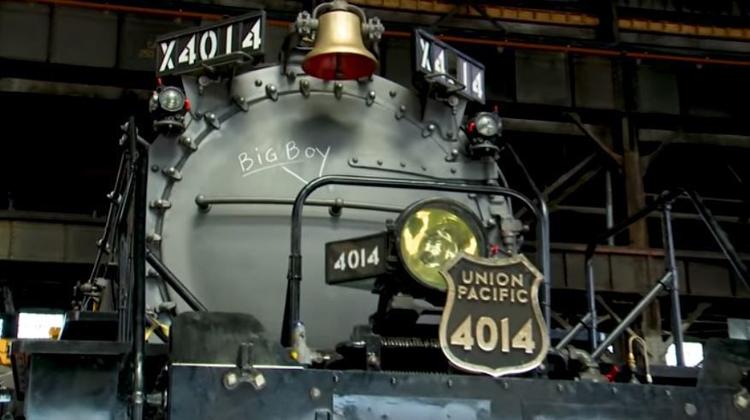 Thus far, according to UP's live tracking tool, it appears No. 4014 is on track to make its 2 p.m. arrival time in Mason City. 
Flooding had blocked the engine's progress on Friday in North Platte, Nebraska.
You can track Big Boy's progress here:
You have free articles remaining.
Twenty-five Big Boys were built exclusively for Union Pacific Railroad, the first of which was delivered in 1941, according to UP's website. The locomotives were 132 feet long and weighed 1.2 million pounds. Because of their great length, the frames of the Big Boys were "hinged," or articulated, to allow them to negotiate curves.
They had a 4-8-8-4 wheel arrangement, which meant they had four wheels on the leading set of "pilot" wheels which guided the engine, eight drivers, another set of eight drivers, and four wheels following which supported the rear of the locomotive. The massive engines normally operated between Ogden, Utah, and Cheyenne, Wyoming, according to Union Pacific.
Big Boy No. 4014 was delivered to Union Pacific in December 1941. The locomotive was retired in December 1961, having traveled 1,031,205 miles in its 20 years in service.
Union Pacific reacquired No. 4014 from the RailGiants Museum in Pomona, California, in 2013, and relocated it back to Cheyenne to begin a multi-year restoration process ahead of this year's tour.