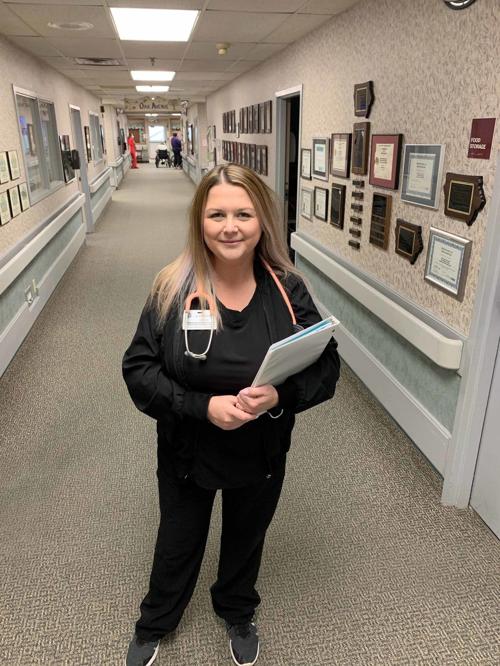 Lauren McWhorter, an LPN at Oakwood Care Center in Clear Lake, was certified as an infection control specialist in March 2019.
At the time she had no idea just how valuable that training would be.
When the COVID-19 pandemic hit a year later, McWhorter became responsible for keeping the virus under control at the nursing home.
She was in charge of COVID testing and reporting for Oakwood. McWhorter also helped implement the strategy on setting up an isolation area at the nursing home for those who were infected to keep them separated from the other residents.
"It's been a long year," she said.
It was stressful because things were constantly changing, according to McWhorter.
"One day was never the same as the next," she said.
The worst part of the pandemic was "not letting people see their loved ones," McWhorter said.
During the warmer weather, residents were allowed to sit outside the building with their loved ones as long as they stayed six feet apart and wore face masks.
However, those visits had to be discontinued during the winter.
But spring has brought good tidings, according to McWhorter.
Oakwood had its annual survey by state inspectors in March. The survey included asking questions of the residents
The facility was deemed deficiency free.
"The fact that we came out unscathed even with COVID was a huge deal," McWhorter said. "It says a lot about Oakwood. We kept people happy."
Sheri Weaver-Isvik, administrator of Oakwood Care Center, which is part of the ABCM Corporation, said McWhorter's role has been crucial since the facility closed its doors to everyone but employees in March 2020.
"From that time on, and still today, Lauren's main focus was, and is, infection control and keeping our residents, tenants and team members safe," she said.
McWhorter has remained instrumental in providing education to our team regarding all aspects of infection control, according to Weaver-Isvik.
"She has proven a primary player in updating facility information to the county, state and federal agencies who mandated continual updates," she said. "Communication with updates on policy and continual guidance from ABCM Corporation consultants were also vital as guidelines, policies and procedures changed sometimes daily."
McWhorter also was instrumental in establishing in-facility COVID-19 vaccination clinics, and continues to communicate with pharmacies to secure vaccine does when Oakwood has new admissions and employees who have not had the vaccine, Weaver-Isvik said.
Even with vaccination efforts underway, McWhorter said she still feels a little apprehensive about making big changes.
"I want so much more for the residents that we keep pushing forward even though we are a little nervous about things," she said. "It's not about my feelings. it's about the residents being happy."
McWhorter began working as an ABCM eight years ago as a CNA. She completed her LPN training at North Iowa Area Community College five years ago.
She loves working with senior citizens.
"You know how people are like, 'Oh, that baby's so cute?' I say that about old people," McWhorter said.
Her grandfather died when she was very young and she grew up far away from her other grandparents, so she never got to develop relationships with the elderly growing up, she said.
McWhorter is making up for it now.
"I just love the old stories, the old photos, the relationships," she said.
It's rewarding to be able to be another level of support for the residents, according to McWhorter.
"Their families aren't always able to be there every single day, but we are," she said.
The highlight of 2021 so far has been watching Olivia Myers, the activities coordinator at Oakwood, tell families who come in to visit that they can hug their loved ones now, according to McWhorter.