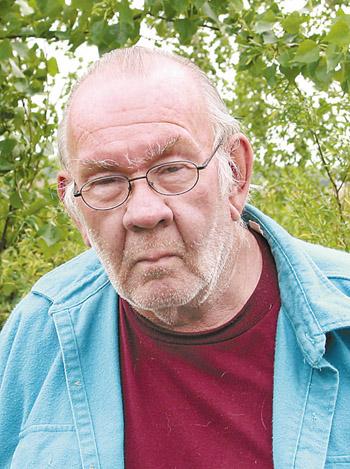 CANISTOTA, S.D. — Three computer monitors fill the desk space in Jim Feldhaus' office. The air smells of cigarette smoke.
Two of the three computers store information.  The third, which has a large monitor obviously is more powerful, is the workhorse — a unit designed to constantly search the Internet for information that might help him solve the case of Jodi Huisentruit.
Feldhaus, 70, never met Huisentruit. But few people know more about the missing KIMT-TV anchorwoman.
For nearly 10 years, the private investigator, who works out of a double-wide trailer he shares with four big dogs and numerous cats on the edge of a small South Dakota town, has studied her every move prior to her disappearance.
Feldhaus has contacted her family and friends, anybody who claims to know anything about the case. He maintains a constant dialogue with law enforcement officers about the case.
"I work on other cases," Feldhaus said. "But this is an obsession, I want to solve it."
A retired computer programmer for the University of South Dakota at Brookings and former researcher for the 3M Company in Minnesota, Feldhaus says he has dreamed about the case, contacted psychics and focuses on suspects who have been implicated in similar crimes.
Some weeks have gone by when Feldhaus said he only thinks about the case.
 "Other times I work harder," he said. "I suppose on an average about four or five hours a day."
He does it on his own. There is no financial backing for his work.
"It's all pro-bono," he said. "A few dollars came in early, but it's work I'm doing on my own."
Feldhaus believes he has an advantage over law enforcement in pursuing the case.
"The difference between law enforcement and me," he said, "is that they have dozens of cases to work on all at the same time. I can focus on one case — it's a terrible advantage."
Feldhaus, as well as law enforcement personnel, have interviewed and obtained information on hundreds of people and tracked information from across the Midwest.
Feldhaus runs an automated Google search on his computer. If there's information regarding abductions, sex crimes or murders — anything remotely similar to the Huisentruit case — it shows up on his computer screen.
"The media is a very valuable source," he said. "I think I have everything that has ever been published in the Mason City Globe Gazette."
After reviewing hundreds of potential suspects, Feldhaus believes he is in the middle of investigating a very strong suspect.
"What we do is eliminate one suspect and move on to another," he said. "It's just like the last resort in code breaking."
Feldhaus believes the person or persons responsible have been on his suspect screen at one point or another.
"If I've had them on my screen, they've been on the radar of law enforcement,  too," he said.
Bill Basler, Iowa Division of Criminal Investigation agent in charge, says Feldhaus has been far and away the most active private investigator in the case.
"We have been inundated with suspects from Jim Feldhaus," Basler said. "Nobody else is close to the number of suspects he has suggested."
While Basler admits that while some of the Feldhaus suspects have had no conceivable link to the case, some are people law enforcement have considered.
"We pursue all the leads we receive," Basler said. "There is never a down side to having people give you information. It does no harm."
Speaking specifically about the South Dakota private investigator, Basler said, "He certainly is fascinated with the case."
And Feldhaus doesn't plan to stop until he, or someone else, solves the case.
"We're going to win," Feldhaus said enthusiastically.
"We're not going to stop until we find Jodi and find out who did it."