Jessica Lynn always dreamed of being a singer.
And that dream's become a reality.
Within the past five years, Jessica Lynn's music has climbed music charts, she's performed with country and rock 'n' roll artists like Keith Urban, Kelsea Ballerini and ZZ Top, and she's recorded and aired two full-length TV concert specials.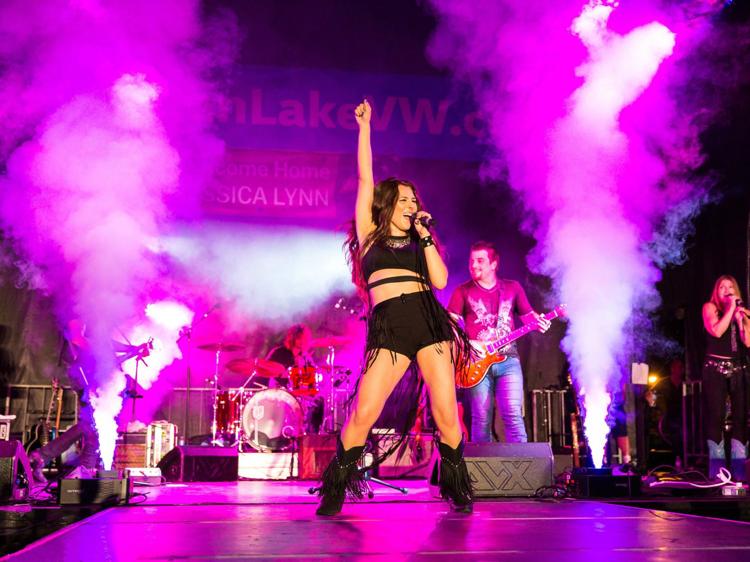 "I always knew this is what I was meant to do, but really I feel so grateful and lucky that the hard work we've put in to get to where we are has paid off," she said.
Earlier this month, Jessica Lynn announced her third TV concert special will air nationwide on PBS in August, and she launched a three-month international tour, including a show in Clear Lake.
She will perform at 7 p.m. Thursday at the Surf Ballroom & Museum, 460 N. Shore Drive, in Clear Lake as part of the historic rock 'n' roll venue's Summer Showcase Series.
The series features live performances from local and regional entertainers Thursday evenings in June and July. Admission is a suggested $5 donation, which goes toward the Surf Ballroom's education programs.
"They can expect a lot of energy," Jessica Lynn said, noting she travels with a seven-piece band. "I'm a big believer if you go to a concert, you want to see a show, so there will be dancing, crowd participation and covers you'd never expect."
Jessica Lynn, who has drawn comparisons to iconic female country singer Shania Twain, said her sound is a "mix of everything" and is different from what's coming out of Nashville.
You have free articles remaining.
A New York native, she draws musical inspiration from rock 'n' roll, rhythm and blues, rap and country music.
"Our live show is very rock 'n' roll, even though I'm country," Jessica Lynn said. "That sets us apart."
Her Clear Lake show will be followed by stops in Ankeny and Itasca, Illinois; Fort Wayne, Indiana; Cleveland, Ohio; and Cortland, New York.
Jessica Lynn has been seen by millions on the road and in her concert TV specials, "Jessica Lynn – This Much Fun," and "Jessica Lynn – Takin' Over."
In March, she joined the Allman Betts band, the sons of the original Allman Brothers, for the debut of their world tour.
Jessica Lynn has written songs with some of today's top hit writers with her last two singles "Crazy Idea," and "Let's Don't" climbing the charts. Her first single to country radio, "Crazy Idea" broke the Top 50, and "Let's Don't" recently peaked in the Top 40 on the MusicRow Country Breakout Chart.
Her third TV concert special — first acoustic one — will begin airing nationwide on PBS in August.
"It's a totally different, stripped down, storytelling special," she said. "I can't wait for people to see me this way. It really shows into my soul and who I am as a person."