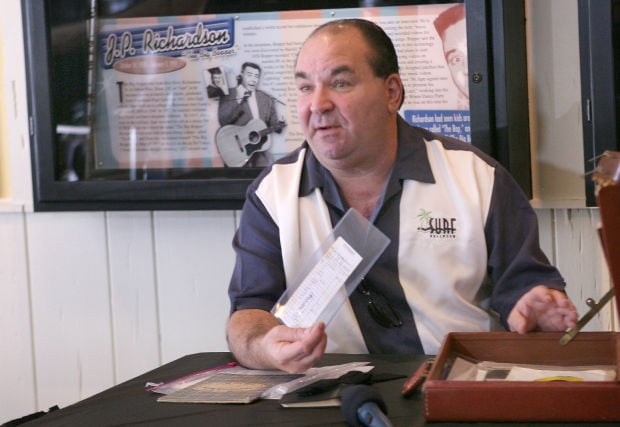 Jay P. Richardson, son of rock 'n' roll icon The Big Bopper and frequent performer at the Surf Ballroom, died Wednesday morning in Katy, Texas, according to the Surf Ballroom staff. He was 54.
Richardson was known as Big Bopper Jr. His father, The Big Bopper, was killed in a plane crash on Feb. 3, 1959 in Clear Lake, along with fellow rock 'n' roll performers Buddy Holly, Ritchie Valens, as well as pilot Roger Peterson.
The men's last performances were the night before at the Surf Ballroom.
According to the Surf Ballroom, Richardson was born on April 28, 1959, in Houma, La. His birth came less than 90 days after the plane crash.
Richardson has made numerous appearances at the Surf Ballroom over the years, including his last one in 2012.
"He was definitely part of our family," said Laurie Lietz, the Surf's executive director. "We've had him here a number of times and considered him family."
Lietz said Richardson was instrumental in promoting his father's legacy, which included the Surf.
"We appreciated being able to work with him," she said.
You have free articles remaining.
In 2011 Richardson and his family loaned a briefcase owned by The Big Bopper to the museum for display. The briefcase survived the plane crash.
"A lot more people are going to see it here than in the closet at my house. And so anyway, this briefcase survived the plane crash. It has Dad's initials on the front of it," Richardson said at the time.
A notebook filled with songs The Big Bopper was working on at the time of his death was found inside the briefcase.
Richardson also donated a notebook filled with songs his father wrote as a boy.
The memorabilia also included a hotel receipt for $3.75 from Ironwood, Mich., for the night of Feb. 1, 1959.
"I tell people, you know my dad's hometown that he was so proud of, has zero memorials in his honor. And a town of of 8,000 people where he spent eight hours maybe in his entire life has done the things that you all have done for him," Richardson said at the time.
According to the Surf, Richardson is survived by his wife Patty, sons Jay Jr. and Thomas, along with daughter Ashlyn, her husband Kevin Ray Adams, and their daughter Hadley.
"We're going to miss him," Lietz said. "He was a big part of our family.
"He was just a good guy and everybody liked him," she added.
People can send their condolences or memories to: Big Bopper Music, P.O. Box 6926, Katy, TX 77491.