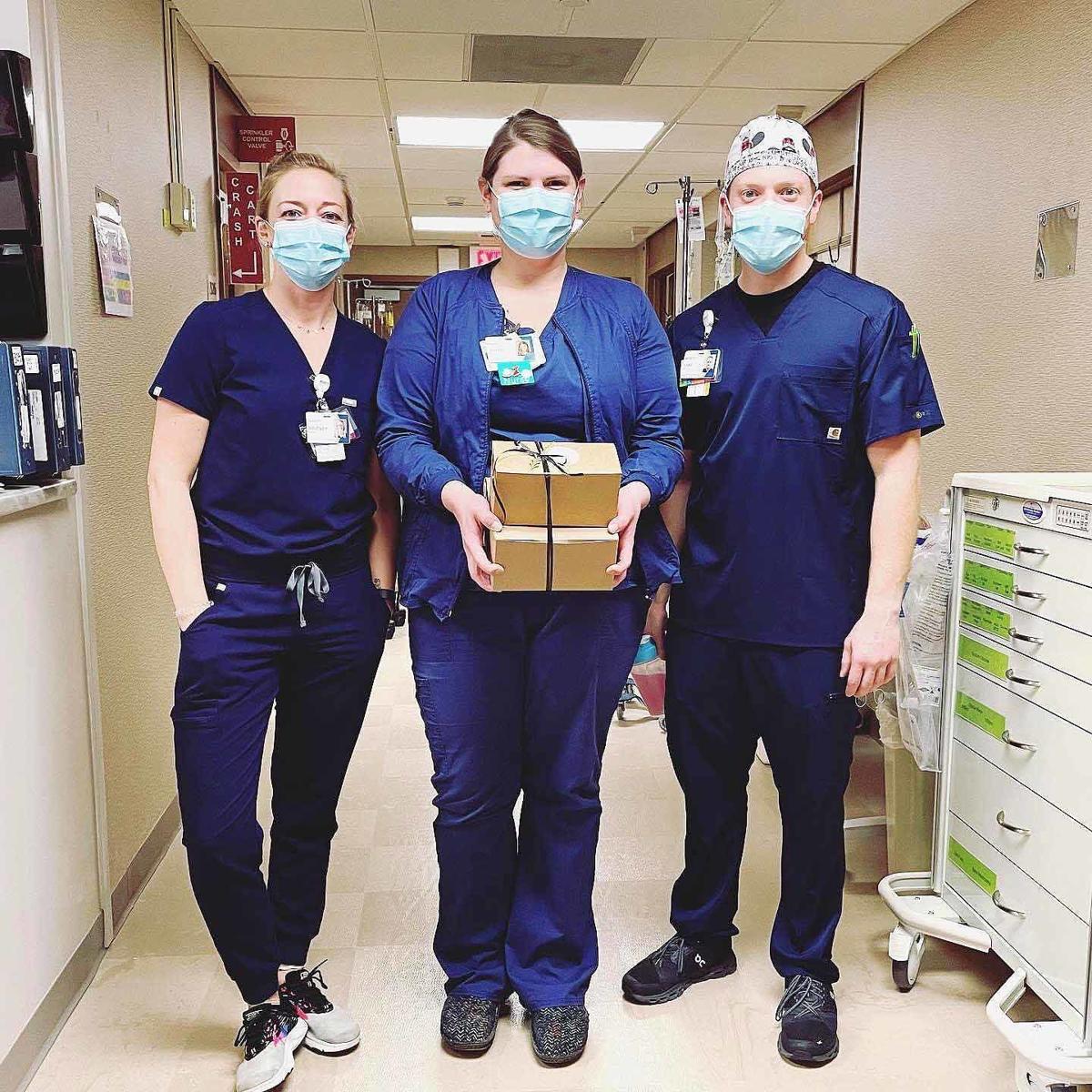 When Jake Tefft was hired for his first nursing job by MercyOne North Iowa in January 2020, he had no idea what was coming.
The 27-year-old Mason City resident was still in training a few months later when the first COVID-19 patients arrived.
"It makes it a whole different learning curve," said Tefft, who works in the hospital's critical care unit. "You are working on your own pretty quick."
He also had to do things he normally wouldn't as part of his training.
"It was kind of a blessing in disguise," Tefft said. "Having to hit the ground running, I gained a lot of experience and skills very quickly."
Although the death of patients is something all critical care nurses experience, the COVID-19 pandemic was an especially trying time to begin working in the CCU.
"I had to deal with a lot of death and dying," Tefft said.
He once saw four patients die on the same day.
Family members weren't allowed to visit the hospital because of the virus, so as a CCU nurse "you are the only one there with that person as they are passing on," Tefft said.
Nurses acted as the liaison between the family and the patient, helping to facilitate Zoom and Facetime visits, he said.
The public showed its appreciation for the hospital staff by donating cookies and other treats, according to Tefft.
"That really helped boost morale a little bit," he said.
Tefft's supervisor, Emily Orton, critical care director at MercyOne North Iowa, said he is "just a fantastic new CCU nurse, just so eager to learn, just so caring and considerate of his patients."
Orton noted one example that stood out to her: If a female patient with long hair is being intubated, he will braid her hair for her.
"He just goes the extra mile for his patients," Orton said. "I'm so proud of him."
Patients at MercyOne can now have one support person visit them per day.
"It makes a huge difference," Tefft said, especially for patients on a ventilator. Family members can actually see their loved ones and make better decisions for their care, he said.
Staff morale has also improved, according to Tefft.
During the height of the pandemic, the nurses had to work by themselves and wear a lot of PPE, he said.
Now that the staff can interact more, "It's just much easier," Tefft said.
Although everyone is still busy, "I think people are a lot less stressed out," he said.
Tefft graduated from the RN program at North Iowa Area Community College. Before that he worked as a corrections officer with the Cerro Gordo County Sheriff's Office for three years.
He said a career in law enforcement is rewarding in many ways, but "I didn't get that sense of satisfaction that I do now."
Working in a jail setting is what sparked Tefft's interest in the health care field.
The Cerro Gordo County Jail only has a nurse on site during the day, and Tefft worked second shift. If an inmate had a medical issue while he was on duty, the staff had to contact the nurse or her boss, a nurse practitioner.
Tefft said he was impressed with how the medical professionals were able to make a difference for the inmates, not just physically but also in their mood.
Now that he is a nurse, his favorite part about it is seeing the turnaround in the patients.
"You see them at their very, very worst and then you are able to get them back from that and see them progress until they can graduate to a different floor, a lesser level of care," Tefft said.
Tefft enjoys it when families will reach out to him later to tell him their loved one is home now and doing a lot better.
"It's really rewarding to see that turnaround in people's lives from the point that they could have easily died to being able to see them enjoy the rest of their life," Tefft said. "That's really cool."