Joe Biden. Elizabeth Warren. Kamala Harris. Julián Castro. Cory Booker. Beto O'Rourke.
Those are just a few of the 2020 Democratic presidential candidates slated to appear at the 16th annual Iowa Democratic Wing Ding at the Surf Ballroom in Clear Lake on Aug. 9. 
According to Iowa Wing Ding Chairman and organizer Randy Black, there are 18 confirmed candidates for the event (as of now).
"By the time I'm done, if everything goes well, it'll be 20," Black said.
The Wing Ding will take place a little more than a week after the second Democratic presidential debate on July 30-31 at the Fox Theatre in Detroit, Michigan.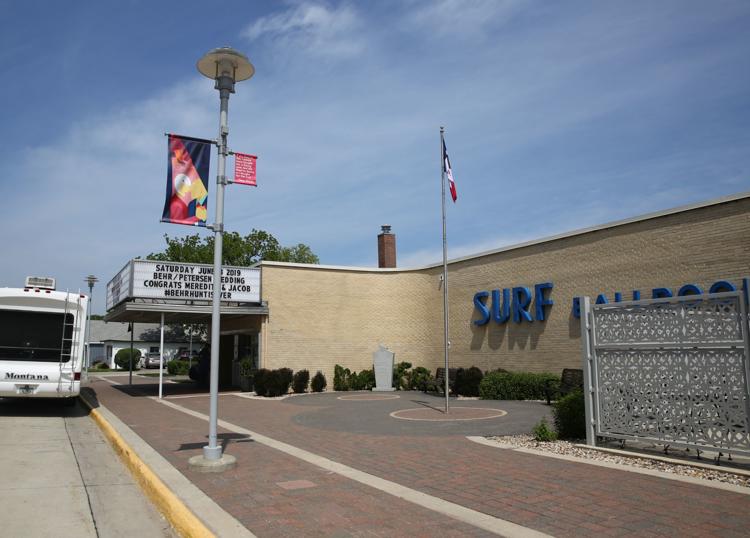 Candidates there will need to either have at least 1 percent support in three qualifying polls or provide evidence of at least 65,000 individual donations from a minimum of 200 different donors in at least 20 states.
While there aren't such specific qualifications for candidates to attend the Wing Ding, most of the guest list has been to the Mason City-Clear Lake-area at least once in the past year.
Senator Elizabeth Warren (Mass.), Mayor Pete Buttigieg (South Bend, Indiana), Sen. Cory Booker (N.J.), Rep. Beto O'Rourke (El Paso, Texas), Sen. Kirsten Gillibrand (N.Y.), Gov. John Hickenlooper (Colo.), Marianne Williamson, Gov. Steve Bullock (Mont.), Andrew Yang and Rep. John Delaney (Md.) have all swung through on campaign stops.   
You have free articles remaining.
On Monday, Rep. Eric Swalwell (Alameda County, California) became the first candidate from the Democratic debates to drop out after fundraising numbers from the second quarter were released. 
As Axios points out, Buttigieg lead all candidates with $24.8 million from 294,000 donors. Vice President Biden took in $21.5 million from 256,000 donors. Warren received $19.1 million off of 384,000 donors and the Sanders campaign got $18 million.
At the same time that donation numbers are being announced and candidates are considering dropping out, there is reporting from multiple outlets that Democratic billionaire Tom Steyer is considering a run for the presidency but that has yet to be announced. Currently, Steyer isn't a name on the Wing Ding's official website.
In past years, political figures such as President Barack Obama and Secretary of State Hillary Clinton have spoken at the event.
Black pointed out that the Wing Ding differentiates itself from other prominent Democratic party events in Iowa, such as the Tom Harkin Steak Fry or the Jefferson-Jackson Dinner, by giving money raised at the event to the county Democratic parties across the state. In fact, the website lists that 100% of the funds raised by the Iowa Wing Ding go to local county parties.
Doors for the event are set to open at 5 p.m. and the Wing Ding kickstarts at 6 p.m. Tickets are on sale at the website now.
Continue to check back with the Globe Gazette for more coverage on this year's Wing Ding.
What a Globe Gazette News+ membership can do for you:
A deeper examination of local issues than you'll find anywhere else.
Two products in one – not everything that's in the print edition of the Globe Gazette is on our website, and not everything on our website is in the print edition.
Access to newspapers.com archives dating back two years.
The ability to carry your local news with you and receive alerts instantly as news unfolds.
Advertising that frequently gets you deals you won't find anywhere else.
Democratic Wing Ding 3
Democratic Wing Ding 1
Democratic Wing Ding 2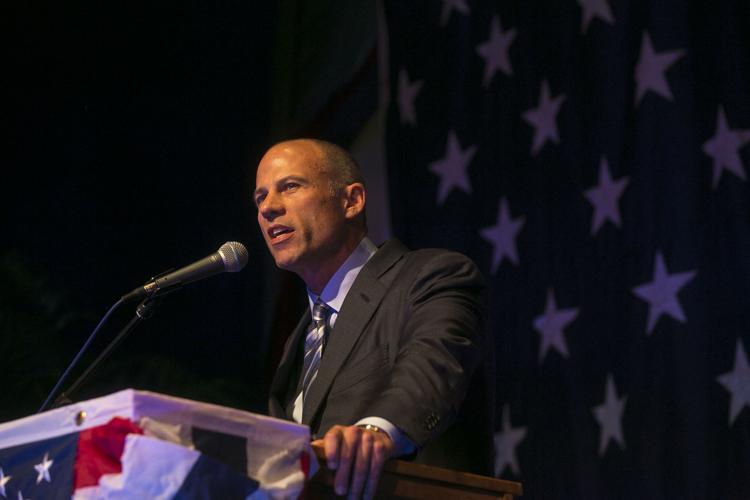 Democratic Wing Ding 4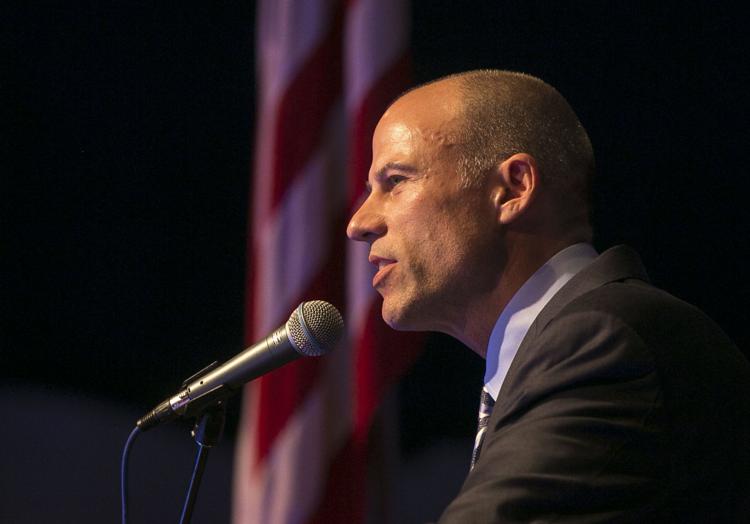 Democratic Wing Ding 5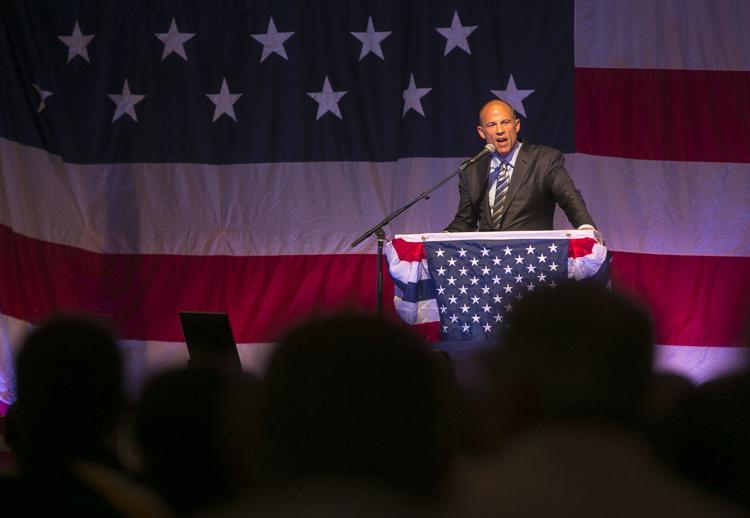 Democratic Wing Ding 6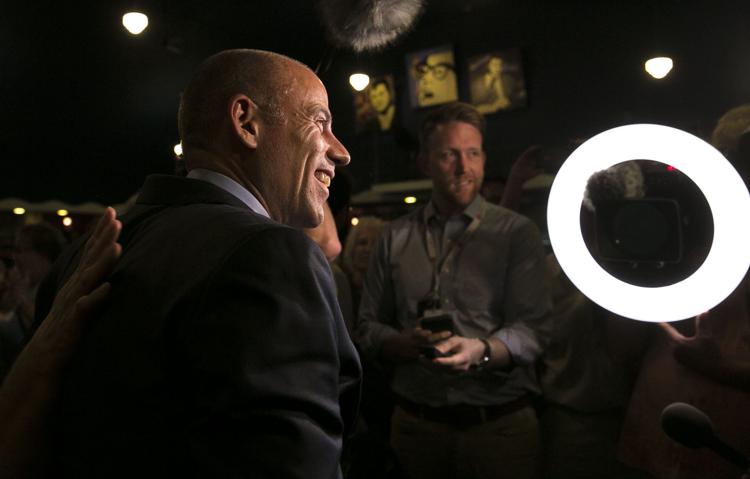 Democratic Wing Ding 7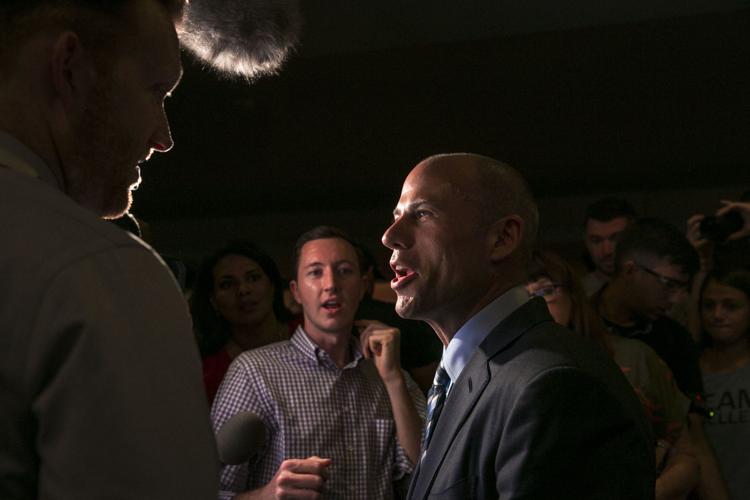 Democratic Wing Ding 1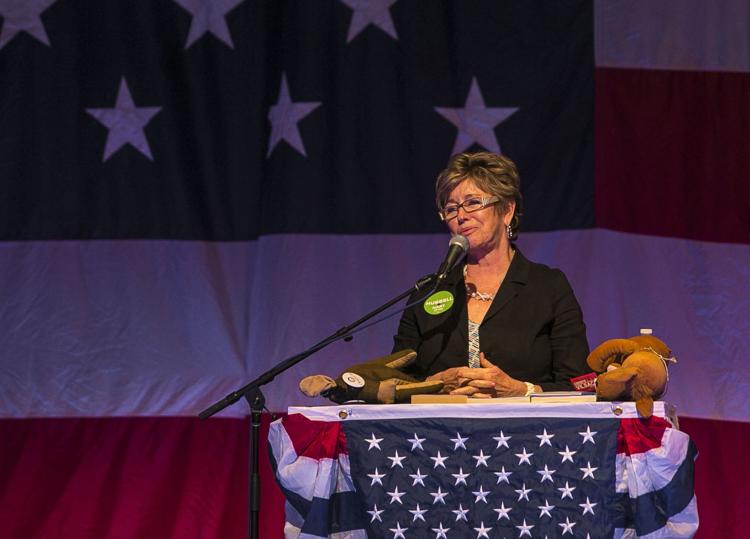 Democratic Wing Ding 2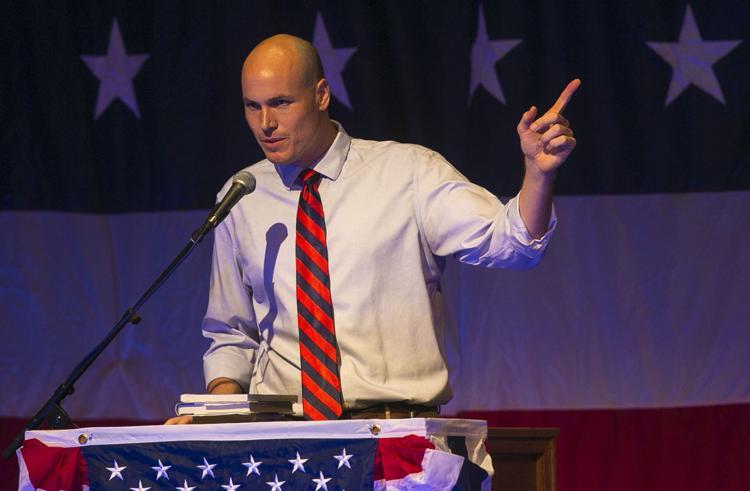 Democratic Wing Ding 3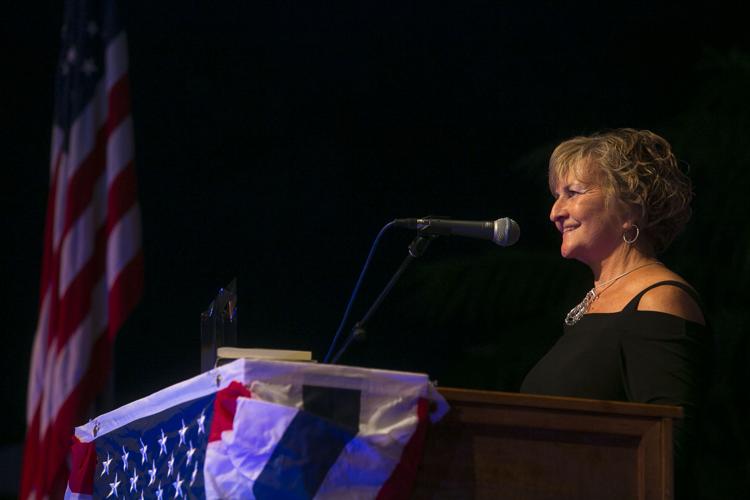 Democratic Wing Ding 4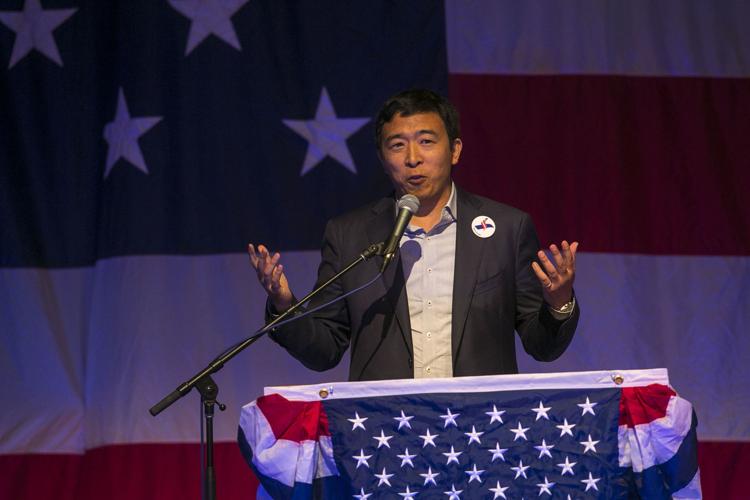 Democratic Wing Ding 5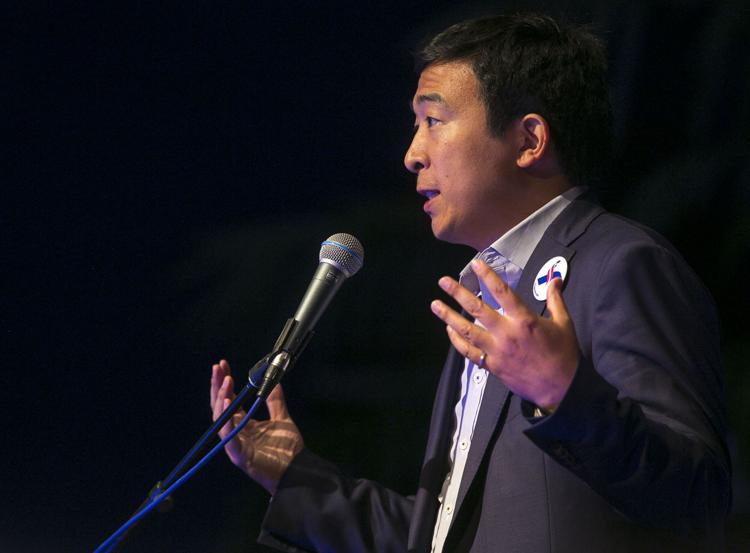 Democratic Wing Ding 6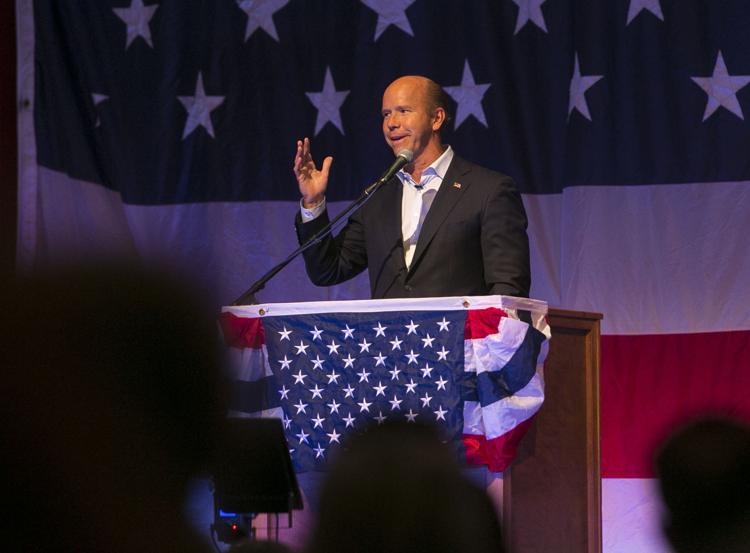 Democratic Wing Ding 7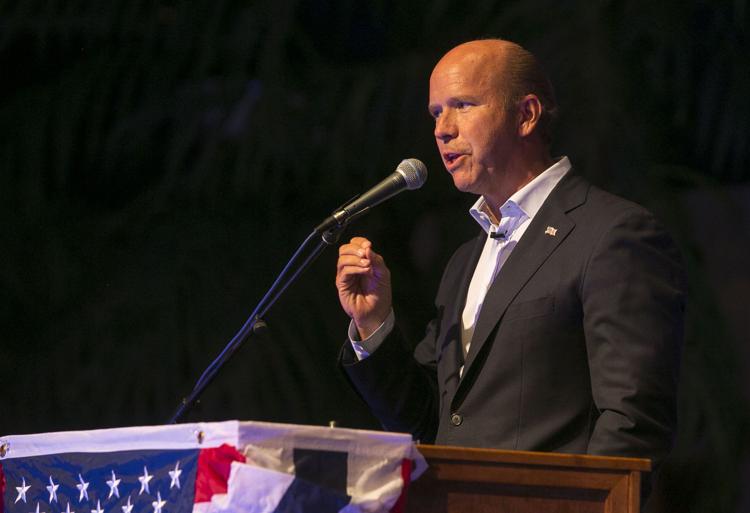 Democratic Wing Ding 8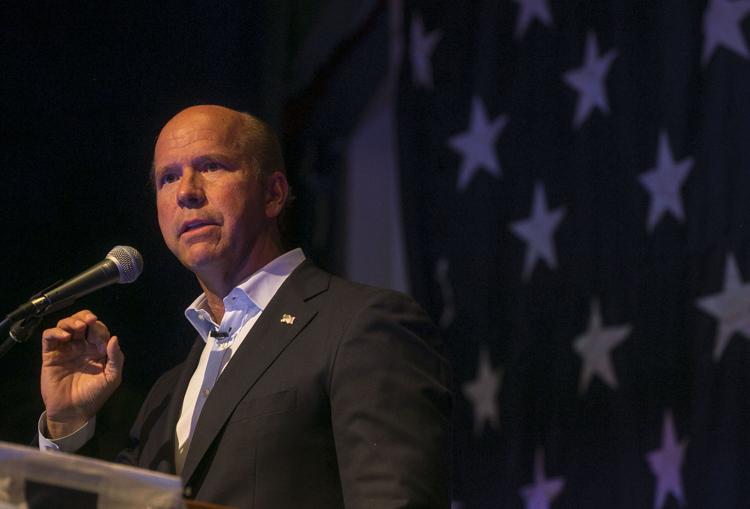 Democratic Wing Ding 9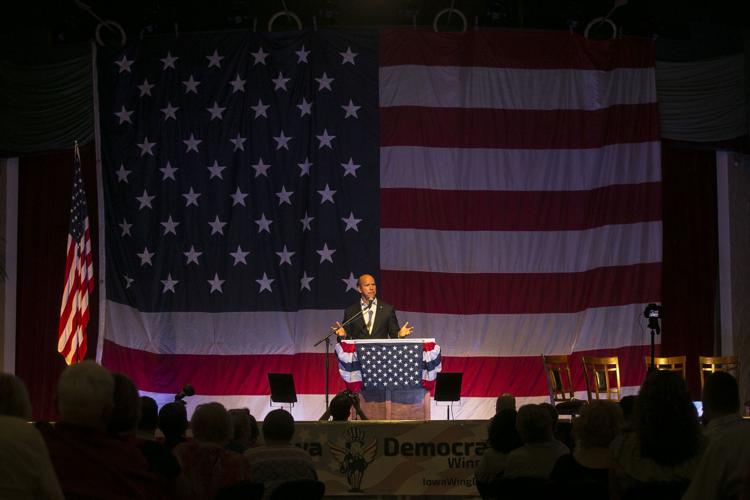 Democratic Wing Ding 10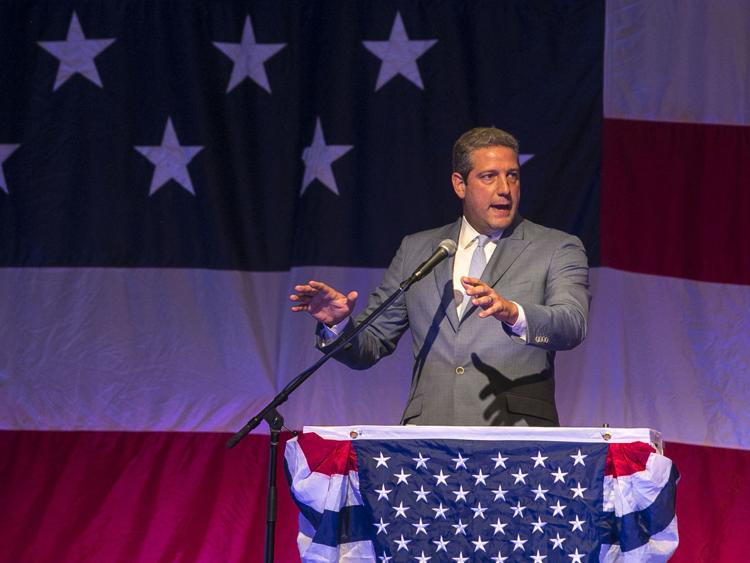 Avenatti a hit at Democratic party fundraiser in Clear Lake (with photos)
CLEAR LAKE -- If this was an early glimpse into what the race to the 2020 caucuses is going to look like, buckle your safety belts, Iowa.
The featured speakers at the 2018 Iowa Wing Ding, an annual fundraiser hosted by a coalition of northern Iowa Democratic county parties, included two Congressmen, a former tech executive proposing a government-funded base salary for every American adult, and the attorney to the former adult film star who is suing and had an alleged affair with Donald Trump before he was president.
The 2020 Iowa caucuses are roughly 18 months away.
Roughly 1,000 Iowa Democrats came to the Surf Ballroom, organizers said, to hear from the aforementioned group of current and potential 2020 presidential candidates.
The highest interest was in Michael Avenatti, who rose to prominence as the attorney to Stormy Daniels. Organizers said ticket sales to the event soared after Avenatti's appearance was announced.
Avenatti's remarks also drew the most vocal responses from the audience. He called on Democrats to fight fire with fire, saying the party must fight during the campaign in order to defeat Trump and deliver the kind of government they believe in.
"When they go low, I say, we hit harder," Avenatti said, playing off former first lady Michelle Obama's famous quote, "When they go low, we go high."
"I know some of you may disagree with me," Avenatti continued. "The answer to Donald Trump, you may say, is being the opposite of him. Being noble, being kind, being classy. And I am all for those things. But tonight, with our country under an unprecedented assault by a con man who fights only for himself and degrades the vulnerable and the powerless and regular hard-working people, I believe that we must honestly ask ourselves as a party whether the folks we are fighting for can afford our gentleness."
Avenatti stayed after the event and greeted dozens of people who huddled around him and had their picture taken with him.
Avenatti said he feels called to action, although he does not yet know "in what way" he will step up. But in true candidate-in-waiting form, he noted his Iowa connection: he said he worked on Bonnie Campbell's 1994 campaign for Iowa governor.
John Delaney, a Congressman from Maryland who has been actively campaigning in Iowa for roughly a year, called on Democrats to establish a broad coalition of voters: progressives, centrist Democrats, independents and disaffected Republicans. He said those voters have in common a desire for their representatives to work together to create a government that has a positive impact on their lives.
"They want us to focus on the basic things that matter to them," Delaney said. "They want us to actually come together to get things done for the American people."
Tim Ryan, a Congressman from Ohio who has been a frequent visitor to Iowa, decried what he said were rigged and broken economic and health care systems, and said Democrats must fight not only for a higher minimum wage, but for higher middle-class wages.
"If we're going to be an aspirational party, we need to be the party that is working for $30 and $40 per hour jobs," Ryan said.
Andrew Yang said the rapidly expanding technology economy will continue to eliminate certain jobs, including in manufacturing, so the country must change the way it operates. He said those job losses are a big reason Trump won in 2016.
"I'm an entrepreneur and a problem-solver who likes math," Yang said. "I say that because people have told me the opposite of Donald Trump is an Asian man who likes math."
Yang has proposed a universal basic income: $1,000 per month for every U.S. adult paid for by a tax on companies that benefit from automation.
Photos from the annual Iowa Democratic Wing Ding held Friday at the Surf Ballroom in Clear Lake. Speakers included presidential candidates Tim…
Some North Iowa elected officials 'uneasy' about porn star's attorney at Wing Ding (with photos)
CLEAR LAKE – There was one big question on the minds of many North Iowans attending the Democratic Wing Ding at the Surf Ballroom Friday night.
What could they expect from Michael Avenatti, lawyer to a porn star, who was to speak that night as a potential presidential candidate?
"I didn't know what to think but a lot of tickets were sold because of him coming," said Steven Juhl of Mason City. "And lot of women bought them."
After Avenatti spoke, Juhl had his answer. "I think he rocked it pretty good tonight," he said.
Avenatti is best known for being the attorney representing Stormy Daniels, a porn star who reportedly had a relationship with President Donald Trump. But in his speech, Avenatti outlined his long background in Democratic politics including coming to Iowa in 1994 to work on Bonnie Campbell's campaign for governor.
Jim Kuhlman of Mason City said he doesn't know whether he would support Avenatti for president but he was impressed with his speech. "People kind of laughed when they heard he was coming," said Kuhlman. "They're not laughing now. He might have lit a match."
John Justin of Mason City said he came Friday night to hear all the speakers – Avenatti; businessman Andrew Yang; Congressman John Delaney of Maryland; and Congressman Tim Ryan of Ohio. Asked if the next president was in attendance, Justin smiled and said,"We'll see."
Not everyone was thrilled that Avenatti was invited to the Wing Ding, which has become a launching pad for presidential hopefuls. Dean Genth, vice chairman of the Cerro Gordo County Democrats, said reaction was mixed. "Elected officials were a little uneasy about it. The people on the street have been excited," said Genth.
Randy Black, Wing Ding chairman, talked afterwards about the reluctance of some public officials to come to the event once it was announced that Avenatti would be one of the speakers.
"We had a lot more officials who signed up to come and then, all of a sudden, they all had calendar screw-ups and couldn't make it," said Black.
Of the four speakers, Avenatti was the only one to receive a standing ovation from the crowd of about 1,000 when he was introduced – before he had spoken his first word.
Avenatti was the final speaker of the night. When the festivities were over, he was mobbed by the public and the media while the other three candidates mingled with much smaller groups of supporters.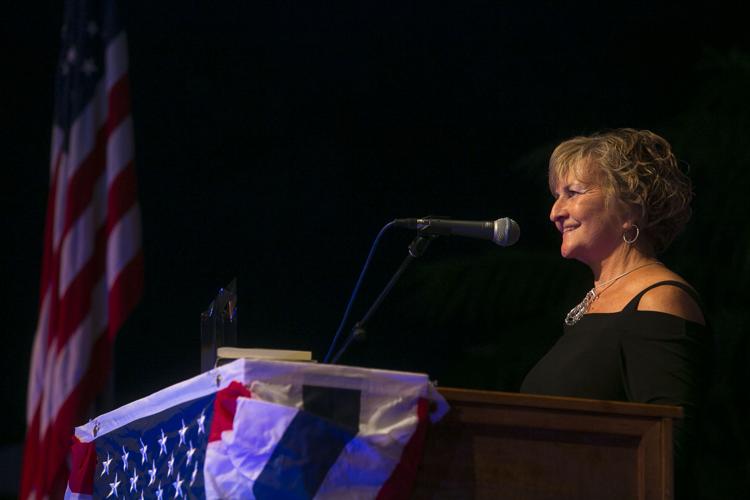 There were several special presentations made during the main program. State Rep. Sharon Steckman of Mason City was presented with the Wing Ding's Beacon Award, given each year to an individual in recognition of longtime service to the Democratic Party.
Also, Denise Counsell of Mitchell County, Charlotte Christie of Hancock County and John Stone of Cerro Gordo County received tributes. All were Democrat activists who died within the last year.
Stone was a longtime chairman of Cerro Gordo County Democrats and was one of the founders of the Wing Ding. A plaque was presented to his family members.
Black said Stone will long be remembered for his energy in taking on Democratic projects. "Onward and upward, he would always say," said Black. He added that after a project was completed or an election was over with, Stone would usually say, "There's tomorrow. We'll start again tomorrow."
Tickets for the Wing Ding were $30 and included a chicken wing dinner – hence, the name of the event. Proceeds go to support the campaigns of local candidates.
Photos from the annual Iowa Democratic Wing Ding held Friday at the Surf Ballroom in Clear Lake. Speakers included presidential candidates Tim…