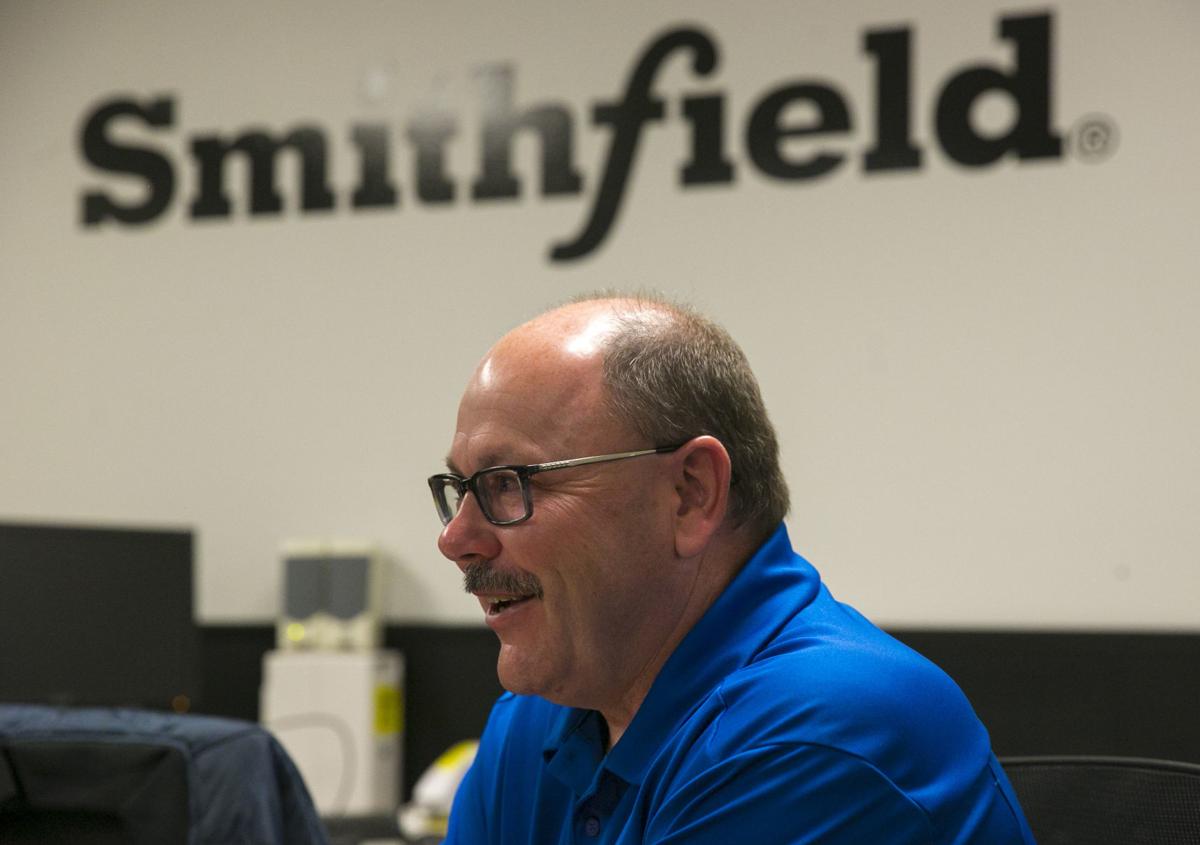 MASON CITY | A lot of things have changed in the 40 years since Smithfield Foods opened in Mason City.
The products, the technology and even the name.
And Jacque Huesman, Chuck Bennett and Tim Meyer, as well as many other longtime employees, have seen much of it.
"There's been a lot of changes," said Bennett, a Smithfield controller who's been with the company for 37 years.
This year, Smithfield Foods, a meat processing plant that employs nearly 300 North Iowans, is celebrating its 40th anniversary at its location on South Eisenhower Avenue in Mason City.
The company will host an anniversary celebration Saturday at the North Iowa Events Center, 3700 Fourth St. S.W., in Mason City. Local retired employees of the facility are invited to attend from 2:15 to 4 p.m. for refreshments and socializing.
"There's been so many employees over the 40 years who have truly contributed to the success of this facility," said Huesman, a human resources manager who's worked for the company for more than 39 years.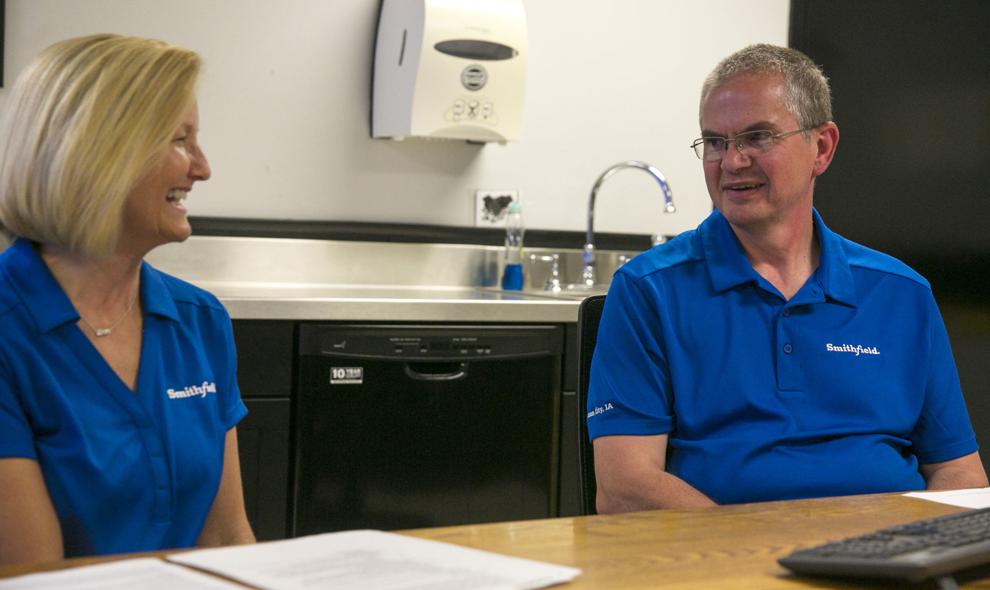 Smithfield, which was owned by ConAgra Foods until 2006, produces lunch meat, smoked hams, cook-in-water deli hams and turkey. It's one of eight company facilities in Iowa.
ConAgra Foods acquired the plant – then known as Armour – in 1983 from Greyhound Corp.
Greyhound Corp. reopened Armour Food Co. on South Eisenhower Avenue in Mason City in 1978 — about three years after the Armour plant on the North End closed.
The Armour plant was opened as Jacob E. Decker & Sons Meat Packing Co. in 1901.
In 1935, the Deckers sold the multi-story plant to Armour, and it remained the hub of the North End community for many years, employing more than 1,000 until it closed in 1975.
"We've had a presence in Mason City for well over 100 years," Huesman said.
Earlier this week, Huesman, Bennett and Meyer reflected on their years at the plant.
Meyer, who has been at the plant for 39 years and is currently an accounting specialist, said he started working at Armour Food Co. right after graduating from North Iowa Area Community College.
"I came in, in my blue jeans and shirt and interviewed," he said. "It went well, and I got a call that night that they wanted to hire me."
Meyer started in the mailroom.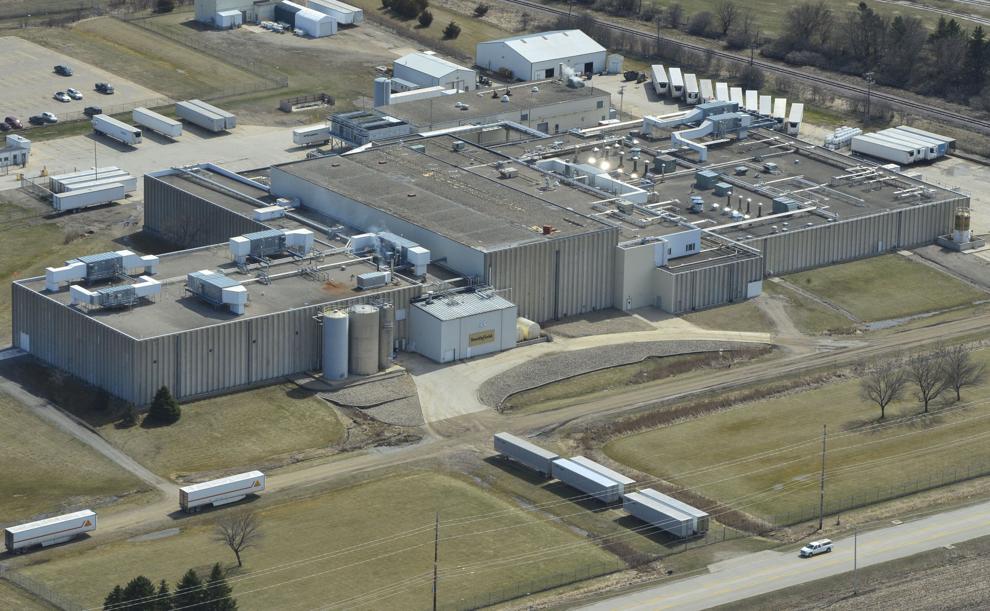 "That was probably the position that was the greatest because you got to see everything," he said. "You interacted with just about everybody."
Meyer said the people, the challenges and the opportunities have kept him at Smithfield.
"It's never boring," he said. "You don't have to look for anything to do."
The mailroom was also Bennett's first job out of business school.
He started as a fill-in for the mail clerk and became the full-time clerk a few months later.
"I've been here ever since," Bennett said.
He credits it to the people and the opportunities.
"It's just a good place to work," Bennett said. "People are friendly. I like Mason City."
Huesman, who was looking to relocate to Mason City with her husband, applied to Armour to be a switchboard specialist, a job that no longer exists today. 
Over the years, she worked her way up through the company's personnel and payroll department to manager.
Huesman said the "consistent income," "great benefits," "the working relationships" and "great bosses" are what's kept her at the plant for nearly 40 years.
"That's always meant a lot," she said.
Bennett said the products have also changed over the years. When he started at the company, the plant produced hot dogs, bacon and dry sausage, and now, those are gone.
"Ham's the big thing now and lunch meat," he said.
Huesman said in her job, she's seen a change in Smithfield's workforce demographics.
"We have folks from different countries, different cultures, different traditions and you know, I got to tell you, we've all learned from one another," she said. "It's a pretty beautiful thing."
"There's a lot of friendly, hardworking people here," he said.
In addition to the time Smithfield employees give at the plant, many also volunteer throughout the community.
Within the past four years, Smithfield employees have volunteered nearly 80 hours at the Community Kitchen of North Iowa preparing meals, the Salvation Army Adopt-A-Kettle program and supported the Iowa State Envirothon Competition, an annual academic challenge that engages 50,000 high-schoolers in real-world environmental problem-solving across the country, according to the company. 
"We're pretty community-minded," Huesman said of the company and its employees.
The company has donated more than 1.5 million servings of protein to local food banks, hunger-relief organizations and community groups to help food insecure people.
In Mason City, Smithfield donates hams to the popular community Thanksgiving dinner. Hams are also distributed to needy families around Christmas through a partnership with the North Iowa Youth Center. Freewill donations for the hams admit children to the youth center whose families can't afford the daily or yearly membership fee. 
Photos: Meat packing in Mason City
Reach Reporter Ashley Stewart at 641-421-0533. Follow her on Twitter at GGastewart.