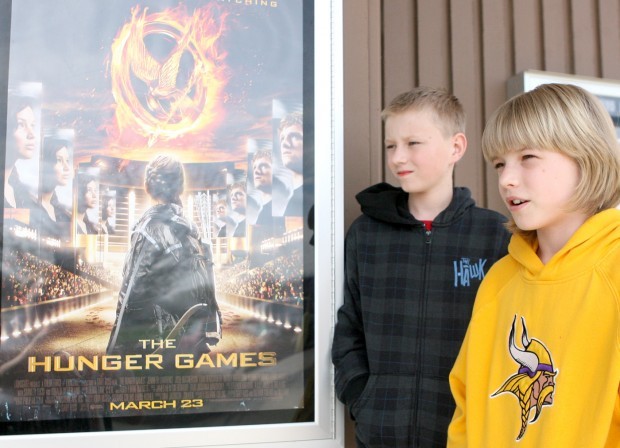 MASON CITY — Fans of "The Hunger Games" trilogy were pleased with the first movie during opening day on Friday.
"It was awesome," said Jacob Schmidt, 11, Klemme.
"It was really good," said his twin sister, Makenzie.
The brother and sister, and their mother, Lisa Brighton, went to the movie Friday afternoon at Cinema West in Mason City. It was their first day of spring break.
"I said, 'Let's go to a movie,' " Brighton said. "I thought we'd go to 'The Lorax,' but they suggested 'The Hunger Games.'" "They were so excited," she added.
Both Jacob and Makenzie were looking forward to the movie because their fifth-grade teacher had read the first book to them during class. Makenzie has already started reading the second book, "Catching Fire."
You have free articles remaining.
The best-selling book, by Suzanne Collins, tells the story of a future version of the United States with a totalitarian government that once a year sends one boy and one girl from 12 different regions to fight against each other in gladiator-type battles called The Hunger Games.
The children, ages 12 to 18, are selected through a lottery and must fight to the death.
The heroine, Katniss Everdeen, steps up to replace her younger sister, Prim, who was chosen to compete.
The story continues in the second book, "Catching Fire" and the last book "Mockingjay."
The movie has been doing well at Cinema West, said Paul Norris, assistant manager.
"It was nearly a sell-out," he said referring to a Friday midnight showing.
A total of 717 tickets were sold for the midnight showing, which included five screens. Norris said it was about 100 tickets short of being sold out.
Ticket sales continued to be strong Friday afternoon considering it was a weekday afternoon, and a 7:30 p.m. showing was almost sold out by 3:30 p.m., which is early to be almost sold out, Norris said.
Even more moviegoers are expected Saturday and Sunday.
"We're expecting a pretty big crowd for this," Norris said. "People are coming to see what this movie is about."