Parts of North Iowa are still without power Friday following Wednesday and Thursday thunderstorms with high winds.
A warming center has been opened at the Kensett Community Center in Kensett for Worth County residents who are still without power.
According to Alliant Energy, 2,315 customers are still without power across the state. Near Kensett, 77 are without power and have been since 8:37 a.m. Thursday.
Since Thursday at about 8 a.m., about 325 customers in the Crystal Lake and Woden area have been without power.
About 335 Thompson customers have been without power since 7:55 a.m. Thursday.
Alliant estimates that those customers in Kensett, Thompson, Crystal Lake and Woden will not have power restored until 11 p.m. Saturday.
About 140 customers near St. Ansgar and Mitchell are without power and have been since 11:47 p.m. Wednesday. Alliant estimates power there will be restored buy 11 p.m. Friday.
In the Forest City ares, 213 have been without power since 3 a.m. Thursday. Current Alliant estimates say power will not be restored until midnight Sunday.
Power outages, downed power lines and road closures occurred across North Iowa Thursday following overnight and morning thunderstorms.
High winds, heavy rains and hail pummeled North Iowa Wednesday into Thursday.
A high wind warning was in effect for Cerro Gordo, Kossuth, Winnebago, Worth, Hancock, Wright and Franklin counties. Winds increased to 30 to 40 mph with gusts of around 60 mph. Winds this strong can make driving difficult, especially for high profile vehicles.
High winds also blew the roof off a building on Second Street Northwest in Britt.
At 9:53 a.m. Thursday, a 63 mph wind gust was reported at Mason City Municipal Airport.
In Lake Mills, the canopy over the gas pumps at Casey's was toppled by high winds.
Hancock County Emergency Management and Worth County Sheriff's Office announced on Facebook that there were several downed power lines and poles through the counties.
Temperatures are expected to drop to 29 degrees Friday into Saturday. The sun will begin to peak out and will continue to shine through the weekend as temperatures rise to 57 degrees Monday.
The National Weather Service expects the warm up trend to continue through next week with a high of 62 degrees Tuesday.
I-35 at Dows Webcam
I-35 at Clear Lake Webcam
I-35 at Clear Lake Webcam 2
I-35 at Clear Lake Webcam 3
I-35 Rest Area North of Clear Lake
I-35 at Joice Webcam
I-35 at Northwood exit
I-35 at Ames
US-18 at Spencer
US-18 near Mason City
US-18 near Floyd
US-218 near Plainfield
Highway 9 near Decorah
Highway 9 near Estherville
I-35 south of Albert Lea, Minnesota
I-35 at Owatonna
Cape Canaveral Florida Webcam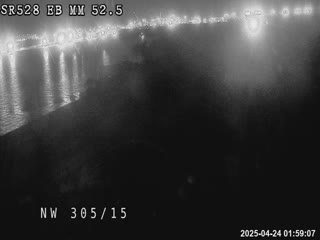 Highway 52 Rochester