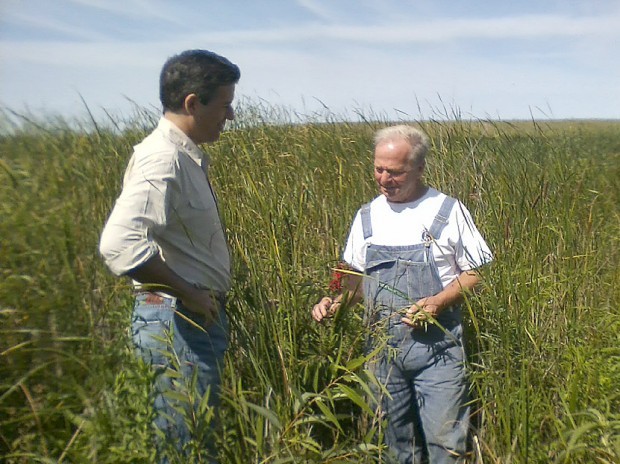 THORNTON — Native prairie grasses dance in celebration on Paul and Phyllis Willis' 140-acre "Dream Prairie." You can see practically forever from the top of green, rolling hills.
Ages ago the region was all prairie, of course. And, not so long ago, pigs and chickens roamed freely on family farms — just as they do today at Niman Ranch, a free-range pork production site which Willis manages near Thornton.
It's quite a sight, said Wayne Pacelle, president and chief executive officer of the Washington, D.C.-based Humane Society of the United States (HSUS).
Pacelle visited Saturday during a Midwest tour in support of farmers and ranchers who practice and promote humane and environmentally-sustainable agriculture.
"It was really great to be on his farm, to see pigs that are allowed to act and behave like pigs, in pastures and hoop barns, not confined in very small and needlessly restrictive gestation crates," Pacelle said.
"He's showing, really, the future of pig farming. But ironically, it's the tradition of pig farming. These intensive confinement operations, I hope, just prove to be an historical aberration. And going onto the prairie was a great example of the beauty of this original landscape."
Pacelle said the HSUS is developing a system of state agriculture councils led by farmers like Willis. Both men serve on the board of directors for the Global Animal Partnership, a non-profit charitable organization aimed at improving the welfare of livestock (see www.globalanimalpartnership.org).
Pacelle said the HSUS has more than 11 million members and constituents and is collaborating with the Nebraska Farmers Union.
The goal is to develop markets and grow the HSUS membership.
"We're connecting their farmers to our consumers, and trying to figure out ways to build that bridge," he said. "We are connecting with farmers who are showing the right way forward, in terms of the humane treatment of animals.
"And as more people learn about some of the intensive confinement practices, they're turning away from them and turning more toward operations like Paul's.
"People are really connecting to farmers and their food," Pacelle said, "and they may be physically removed from the food that they're eating, in terms of its origins, but people are now connecting down the supply chain.
"This is one of the most important things happening with animals in society. I mean, we raise 9 billion animals a year in the United States for food. And how they're treated says a lot about us, and it also has enormous consequences for these living, feeling beings."
Pacelle was joined Saturday by Kevin Fulton, a member of the Nebraska Agriculture Council; Dane Waters, political director for the Humane Society Legislative Fund; Joe Maxwell, a Missouri hog farmer and director of Rural Development and Outreach for HSUS; and Willis' daughter, Sarah Willis, a sustainable agriculture and family farming advocate with Niman Ranch.
Paul Willis said he was honored to host the contingent in Iowa.
His production site is among about 700 within the Niman Ranch Pork Co., based in San Francisco (www.nimanranch.com).
"I think it was an opportunity to show, at least, how we raise livestock," Willis said. "Animal welfare issues are the trend, and the public is paying attention to these things. It's not going away. It's going to be part of our food chain in the future, and everybody needs to pay attention to this. There are better ways to do things."
Richard Johnson is a Globe Gazette correspondent from Mason City.