Power outages, downed power lines and road closures occurred across North Iowa Thursday following overnight and morning thunderstorms.
According to Alliant Energy, more than 18,900 customers were without power as of 11 a.m.
By 3:30 p.m., only 7,680 were without power Thursday across the state. Most of the outages seem to be concentrated in the northern half of the state.
High winds, heavy rains and hail pummeled North Iowa Wednesday into Thursday.
A high wind warning was in effect for Cerro Gordo, Kossuth, Winnebago, Worth, Hancock, Wright and Franklin counties until 1 p.m. Thursday.
Winds increased to 30 to 40 mph with gusts of around 60 mph. Winds this strong can make driving difficult, especially for high profile vehicles.
Interstate 35 was closed northbound near Latimer on Thursday morning after a tractor trailer blew over.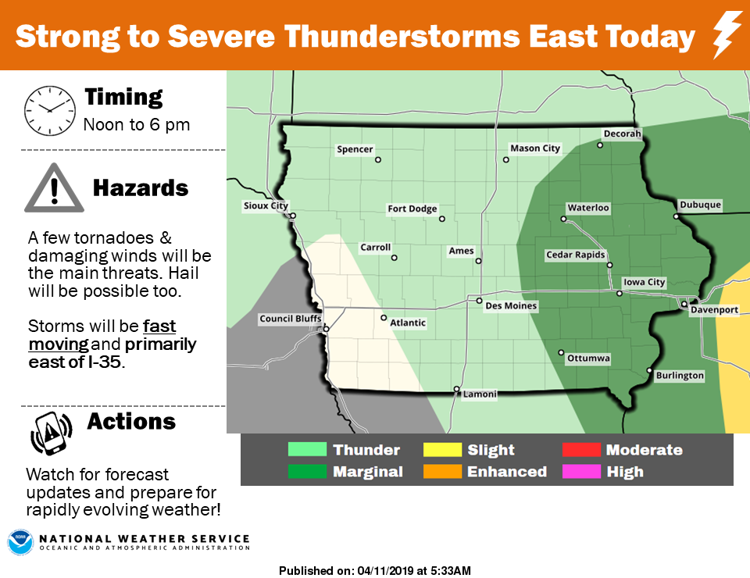 Iowa State Patrol also reported an overturned semi on I-35 in Franklin County.
"Extreme high wind warning," the Iowa State Patrol Facebook post said. "Please drive careful - minor injuries sustained to this driver."
High winds also blew the roof off a building on Second Street Northwest in Britt.
At 9:53 a.m. Thursday, a 63 mph wind gust was reported at Mason City Municipal Airport.
In Lake Mills, the canopy over the gas pumps at Casey's was toppled by high winds.
There were a handful of outages in Ventura, Clear Lake, Mason City and Kensett.
• About 200 customers were out of power north of Forest City. The outage there began at about 3 a.m.
• By 3:30 p.m., more than 200 were still without power.
Britt and Garner also faced outages.
• In Britt, 1,178 customers were without power and 1,600 in Garner.
• By Thursday afternoon, more than 1,300 were without power in the Northwood area.
• More than 850 were without power in the St. Ansgar and Mitchell areas.
• MidAmerican Energy reported nearly 700 customers without power in and around Hampton.
• More than 300 were without power in Nora Springs.
You have free articles remaining.
Hancock County Emergency Management announced on Facebook that there were several downed power lines and poles through the county.
As of 8:53 a.m., the following roads were closed due to down lines:
• Hill Avenue between 310th Street and 320th Street
• 330th Street to Crystal Lake campground
• Oak Avenue between 260th Street and 270th Street
Worth County Sheriff's Office reported downed power lines and poles across the county.
"We have power crews/deputies and road crews all out trying to assess the situation," the Facebook post said. "If you see road closures please do not go around them as there are live wires."
U.S. 218 was blocked near St. Ansgar between County Road T30 and County Road A23 due to downed power lines.
According to Worth County alerts, there was no power at Central Springs High School in Manly, and partial power at the Manly campus of Central Springs Middle School.
Reports also say that there was no power at Northwood-Kensett Schools. Students at those schools were kept at the schools until regular release times.
Rain turned to snow overnight. Snow is expected to continue through Friday morning before turning to rain after 11 a.m. as temperatures rise to about 40 degrees.
Little to no accumulation is expected.
Temperatures are expected to drop to 28 degrees Friday into Saturday. The sun will begin to peak out and will continue to shine through the weekend as temperatures rise to 56 degrees Monday.
The National Weather Service expects the warm up trend to continue through next week with a high of 62 degrees Tuesday.
I-35 at Dows Webcam
I-35 at Clear Lake Webcam
I-35 at Clear Lake Webcam 2
I-35 at Clear Lake Webcam 3
I-35 Rest Area North of Clear Lake
I-35 at Joice Webcam
I-35 at Northwood exit
I-35 at Ames
US-18 at Spencer
US-18 near Mason City
US-18 near Floyd
US-218 near Plainfield
Highway 9 near Decorah
Highway 9 near Estherville
I-35 south of Albert Lea, Minnesota
I-35 at Owatonna
Cape Canaveral Florida Webcam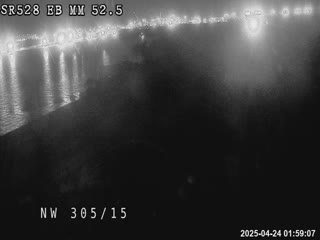 Highway 52 Rochester