Tom Jolas, who played a part in North Iowa politics and development for more than a half century, died Monday night at the age of 87.
Jolas, who started a career in government as a U.S. Commissioner in January 1960, ran as an independent candidate for mayor of Mason City in 1969 with the idea that he was a "Man with Vision." He won his race and served until his resignation in 1973 to pursue a business opportunity that required an immediate decision.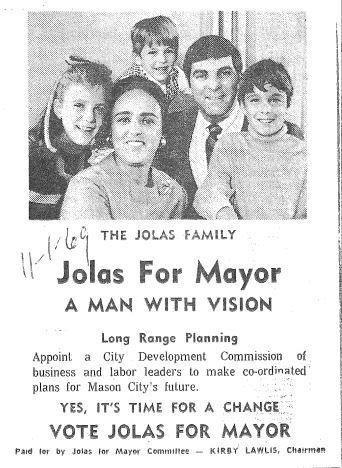 His first act as mayor on Jan. 2, 1970, was to recognize outgoing Mayor George Mendon for his 16 years of service to Mason City.
While in office he pushed for housing assistance, oversaw the formation of a "redevelopment board," helped secure new facilities for emergency services, lobbied for additional state money to Mason City and is said to have had an effective work relationship with the city council and city departments. 
At a farewell event for former Mason City Community Development Director Jack Leaman in February 1973, Jolas was referred to as "the Moses for Mason City and North Iowa."
Current Mayor Bill Schickel said that Jolas loved Mason City and was a fervent believer in the idea that jobs follow transportation which is why Jolas fought so hard for I-35 to move near Clear Lake and for the Avenue of the Saints to run through areas of North Iowa.
According to Schickel, as much as anything, Jolas led by example.
"It's the job of a mayor to have a vision and to be enthusiastic and passionate about your city and I've tried to follow in his footsteps."
Jolas, the business developer
Jolas stayed plenty busy in more than just politics.
He served as deputy director of the state Department of Economic Development in the second term of former Gov. Terry Branstad where he helped formulate Iowa's first comprehensive blueprint for economic development.
Even then, Jolas made a point of continuing to live in Mason City and commuting to Des Moines for his work with the state.
At one point, in 1987, Iowa ranked 49th among states for job growth over the past decade. As was the case with so many things, Jolas had plans and policies for the problem.
You have free articles remaining.
Part of the multi-point blueprint involved increasing a state grants program to assist business expansion and it also called for funding for the Small Business Job Training Program.
Jolas brought a division of General Foods to Mason City in 1986, spearheaded a municipal airport campaign to land another airline and once owned Mason City Brokerage, which distributed the Olympia Brewing Co. brand and Hamm's Brewery brand.
And he served as president and did consulting for the Economic Development Corporation of Mason City. While working for them, Jolas once joked that comparing a surging Mason City to Sioux Falls wasn't accurate because Mason City had "more pizzazz." For a time, as Jolas was in recruiting overdrive, Cerro Gordo County as a whole actually topped Iowa's 98 other counties in attracting new manufacturers.
Mayor Bill Schickel said that Jolas loved policy and loved people but, more than that, he loved Mason City.
And one anecdote, in the wake of his passing, bolsters that idea.
Mason City resident Stephanie Michelle Broege commented on Facebook that Jolas spent time with her and her family almost everyday for almost 3 years straight while they looked for a new house after the city bought them out due to the 2008 flood.
"Tom did a lot for me and my family and for that I am forever grateful and will miss him dearly since to me he wasn't the former mayor, economic developer, business owner or whatever people have coined him to be over the years...to me he was a friend, a mentor and a good guy who I thought of as family!"
According to the Rev. Father Joseph Mirowski of Holy Transfiguration Greek Orthodox Church in Mason City, Trisagion Prayers will be offered for Jolas at 6 p.m. on Friday, Aug. 23, at Hogan-Bremer-Moore Funeral Home.
The Requiem Funeral Service will be celebrated at 10 a.m. on Saturday, Aug. 24, at the church. A mercy meal will follow at the Prime N' Wine Restaurant following the committal.
Photos: Mason City in its heyday
What a Globe Gazette News+ membership can do for you:
A deeper examination of local issues than you'll find anywhere else.
Two products in one – not everything that's in the print edition of the Globe Gazette is on our website, and not everything on our website is in the print edition.
Access to newspapers.com archives dating back two years.
The ability to carry your local news with you and receive alerts instantly as news unfolds.
Advertising that frequently gets you deals you won't find anywhere else.