MASON CITY | For his first campaign stop in Iowa as a candidate for president, Sen. Cory Booker (D-N.J.) had a lot to say on a whole lot of issues. 
During the course of his two-hour meet and greet in the basement of the First Congregational United Church of Christ, Booker spoke to: farm monopolies, single-payer health care, environmental justice, student debt and old threats from the current President of the United States while offering anecdotes about Martin Luther King Jr., Fredrick Douglass, Abraham Lincoln and folks from his hometown of Newark, New Jersey.  
Booker mentioned the need to "Rekindle the idea that this is about more than an election, this is about the cause of our country" and often returned to his theme of "radical love." 
Farm monopolies and the dominance they have of food systems was one such cause that Booker expounded on. 
He was quick to bring up the 2018 farm bill he introduced that would place an "18-month moratorium on large agribusiness, food and beverage manufacturing, and grocery retail mergers and acquisitions."
"Folks are sometimes paying more for a tomato than a Twinkie," Booker remarked to the attentive crowd of 90 or so people.
To Booker, the "original entrepreneurs" of America were family farmers but the country had drifted away from that because of consolidation and the emergence of foreign-owned companies such as Smithfield (which is controlled by Chinese meat processor Shuanghui International Holdings). 
"What's happening in the agricultural industry is hurting all of us," the 49-year-old Booker said.
Another source of pain Booker identified at the event was the issue of health care which the one-term senator called a universal "right." "It's gotta be," Booker proclaimed. "Can't have life, liberty and the pursuit of happiness without it." 
One example of this "hellness" instead of "wellness" system that Booker, who has backed Sen. Bernie Sanders' Medicare for All proposals, brought up was the issue of infant mortality.
Though the infant mortality rate in the United States has fallen in the past decade, by as much as 15 percent (according to the National Center for Health Statistics), America continues to hover around 5.82 infant deaths per 1,000 live births (which would put it ahead of countries such as: Cuba, Serbia, Canada, the United Kingdom, Taiwan, Israel and Germany).
For Booker, one issue causing those health problems is an unstable climate constantly being shook by massive, polluting companies. Though specific industries were readily singled out as culprits.
He rattled off that it's hurting the fishing industry (rising temperatures send the fish elsewhere), costing taxpayers "billions" and "affecting our most vulnerable." 
"We need to be bold," Booker emphasized. Concerns of "impracticality" are beside the point to him. "If we used to govern our dreams that way, we would have never gone to the moon." 
And if pollution is a major source of blame for the environmental issues stemming from climate change, Booker also worked to highlight how it can interrupt the education system.
An image Booker painted was of children with asthma having to miss class because they're having attacks that are triggered by poor air quality. 
But that wasn't the only schooling hurdle Booker mentioned kids having. 
You have free articles remaining.
Cost issues, lead in the water of impoverished urban and rural areas forcing sick days and charter schools not working in the best interest of the community as a whole all came up as well.
"I believe that local communities should design their own public schools, one-size fits all doesn't work for everybody. The federal government shouldn't be telling folks what to do," Booker said. "Even in Newark, I fought to close charter schools that were not serving our kids because they should be schools of accountability."
Booker commented that if he was President of the United States he would commit to a massive reinvestment in public education. "We'll give a 25-year-old stockbroker better tax treatment than we'll give a 55-year-old teacher," Booker said.
His other solution to revitalizing the public education system was having universal preschool so that American children aren't behind before they even hit kindergarten.
"We live in a nation where the only way to have great democracy is to have great public schools."
Citizens who came said they had shown up to "hear Booker out" and "enjoy the chance to shine as Americans." 
Robin and John Bratvoid agreed that their most pressing concern was finding a candidate that could "bring the country together as a whole."
Deb Banicki said she wanted to "learn as much as I can where each candidate stands" and was most concerned with "finding someone who can win." 
"I'll support whoever the nominee is," Banicki said.
Trisha Howe, who brought her daughter to the event, said she missed taking part in much of the 2016 cycle because she was "having a baby at the time."
"I'm interested to see what Cory has to say," Howe said. 
Howe expressed that she was most concerned with health care costs and would "most likely" support whomever the nominee was.
Local representative Sharon Steckman, who helped introduce Booker at the event, said that the former Newark mayor did "an awesome job" and was "sincere in his answers." 
"He wasn't just giving soundbites," Steckman said.
But not everyone was as pleased with the tour kickstart, which Booker said he began in Mason City because he "wants to run a campaign that doesn't just go to big cities."
In a press release, Iowa GOP Chair Jeff Kaufmann stated that Booker likes to tell folks like the Bratvoids what they want to hear.
"Cory Booker will say just about anything to stand out in the Democrats' crowded field of coastal liberals," Kaufmann said.
"Iowans can see through his theatrics and still reject his policies - like his embrace of trillion dollar government programs, burdensome regulations for Iowa farmers and his plan to eliminate private health insurance."
Booker's "Iowa Rise" tour wraps up Saturday afternoon at the Kum and Go Theater in Des Moines. 
Drug Prices by Bob Englehart, Middletown, Conn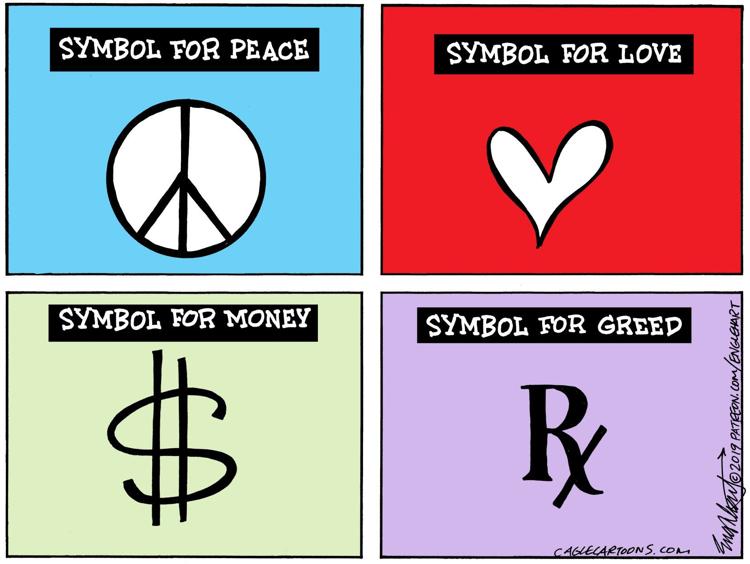 Democrat Resolutions by Rick McKee, The Augusta Chronicle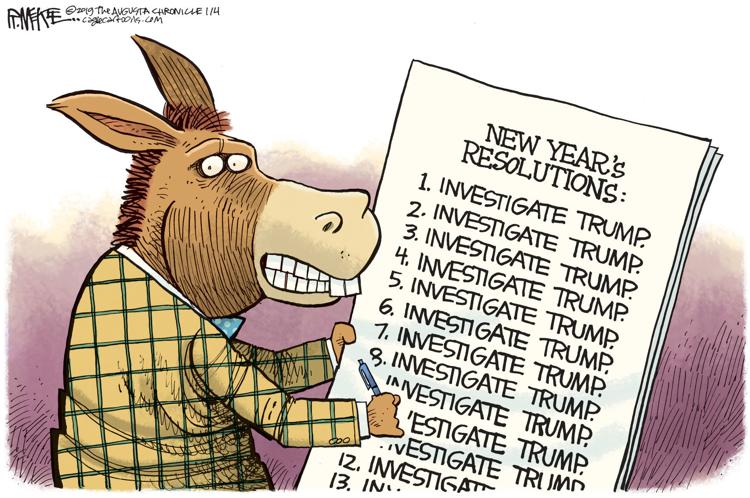 Markets by Rick McKee, The Augusta Chronicle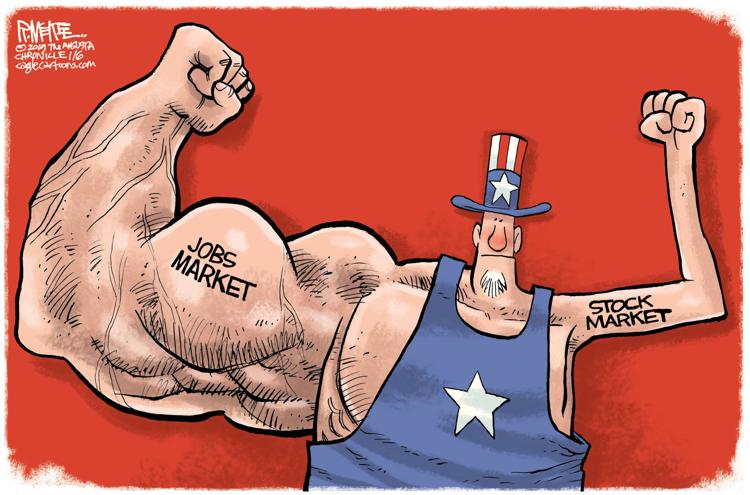 Nukeopoly by Steve Sack, The Minneapolis Star-Tribune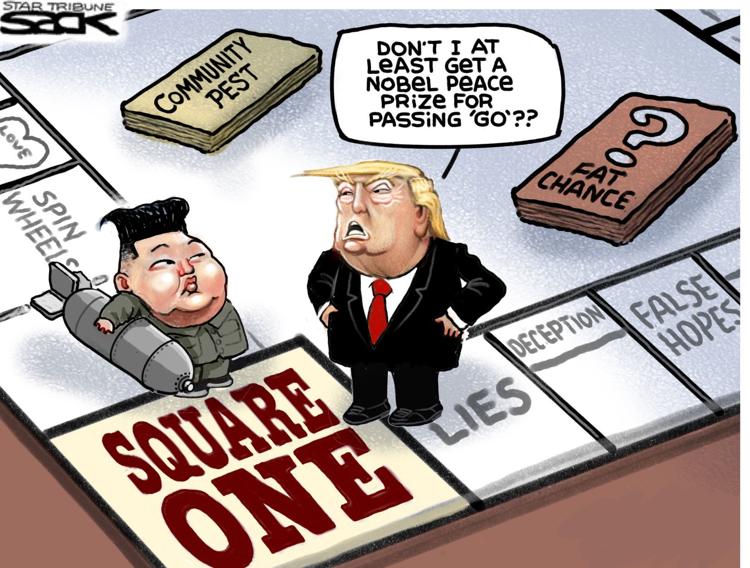 Border crisis by Adam Zyglis, The Buffalo News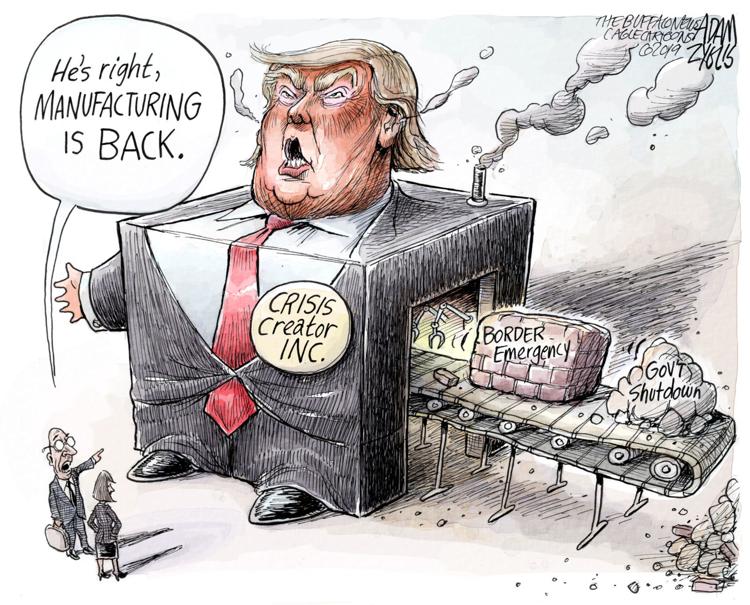 Wall Rick McKee, The Augusta Chronicle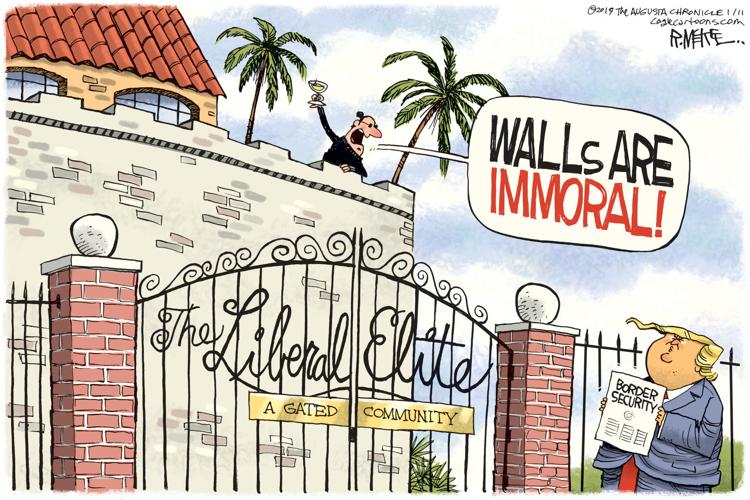 Award Season In Full Swing by Rick McKee, The Augusta Chronicle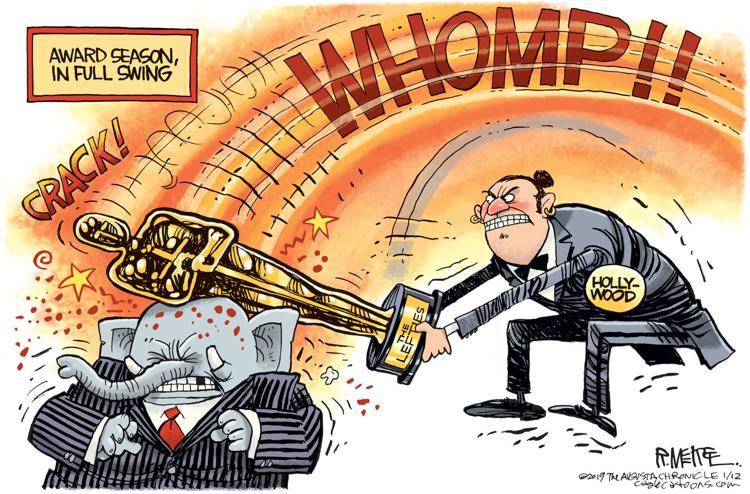 Man Behind the Curtain by Ed Wexler, PoliticalCartoons.com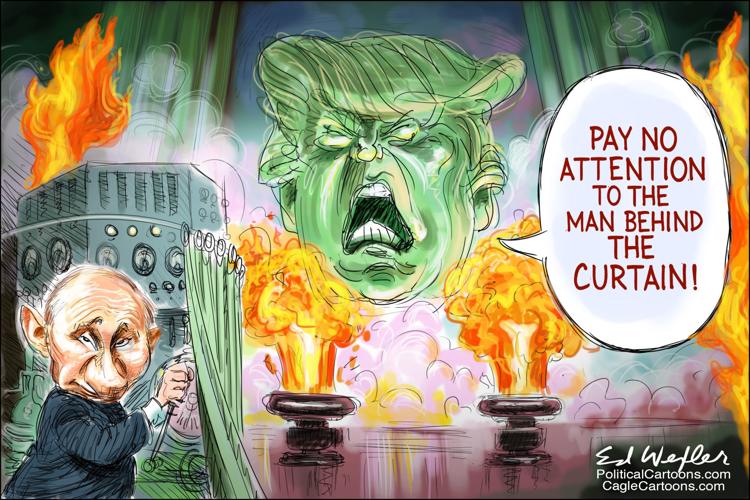 Uncle Sam's winter 2019 by Dave Granlund, PoliticalCartoons.com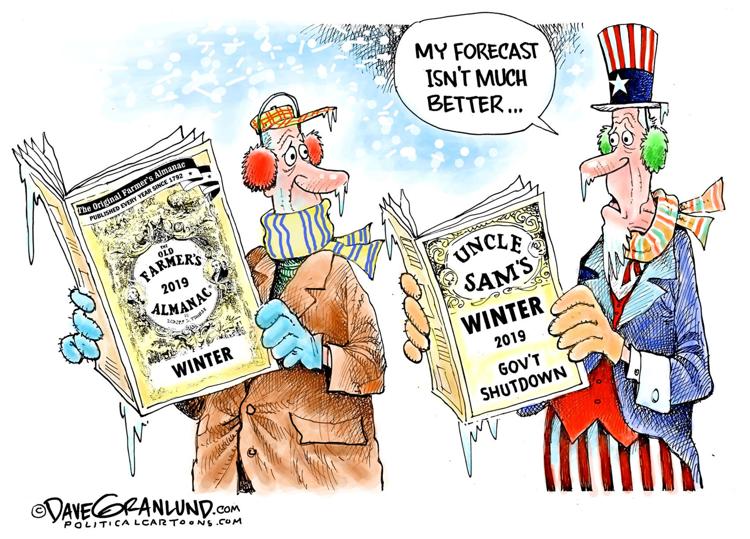 I Have a Dream by Bill Day, Tallahassee, Florida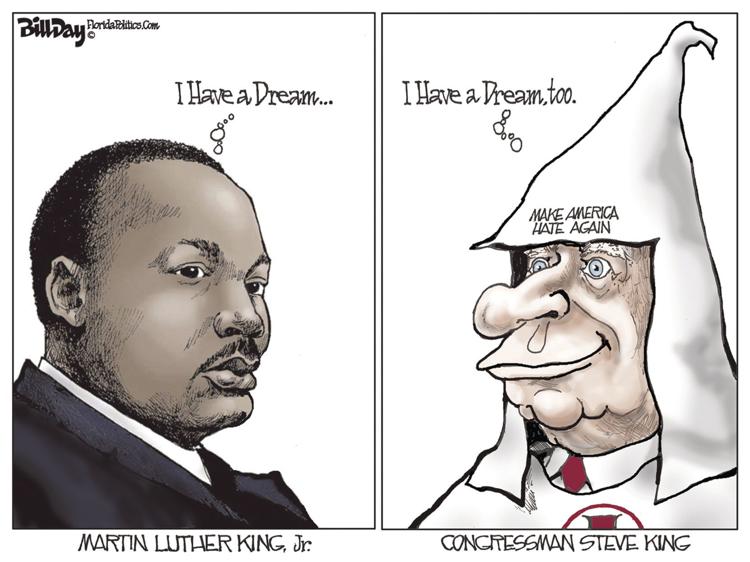 Schumer Pelosi Wall by Sean Delonas, Easton, Penn.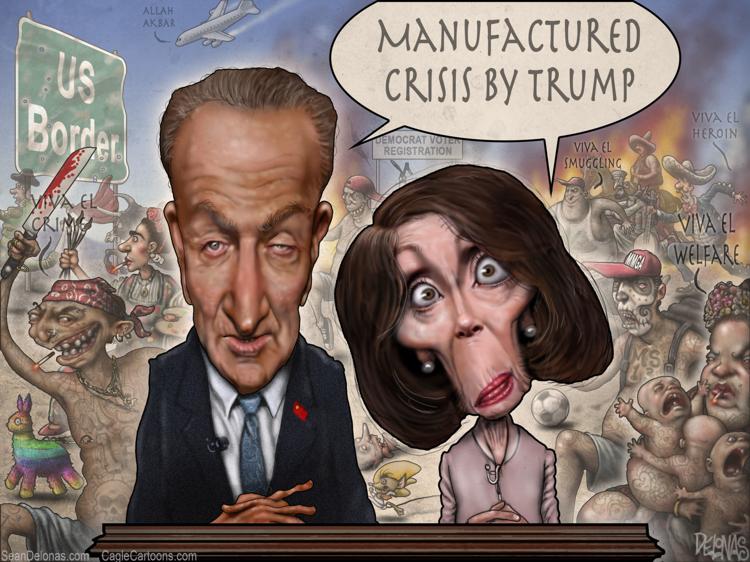 Nancy v Donald by Steve Sack, The Minneapolis Star-Tribune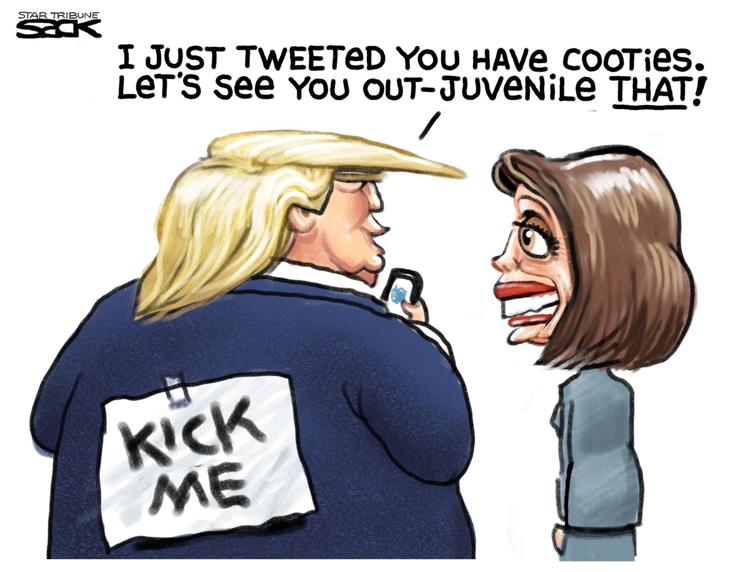 Dem candidates 2020 by Dave Granlund, PoliticalCartoons.com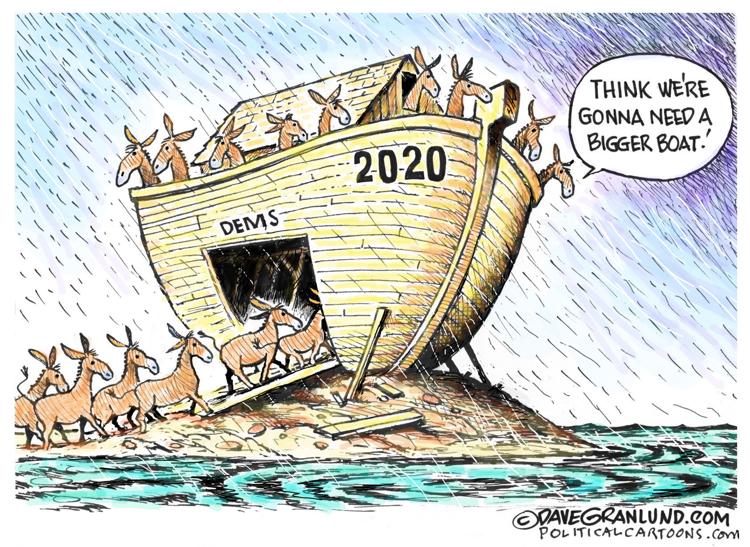 Mitch McConnell by Steve Sack, The Minneapolis Star-Tribune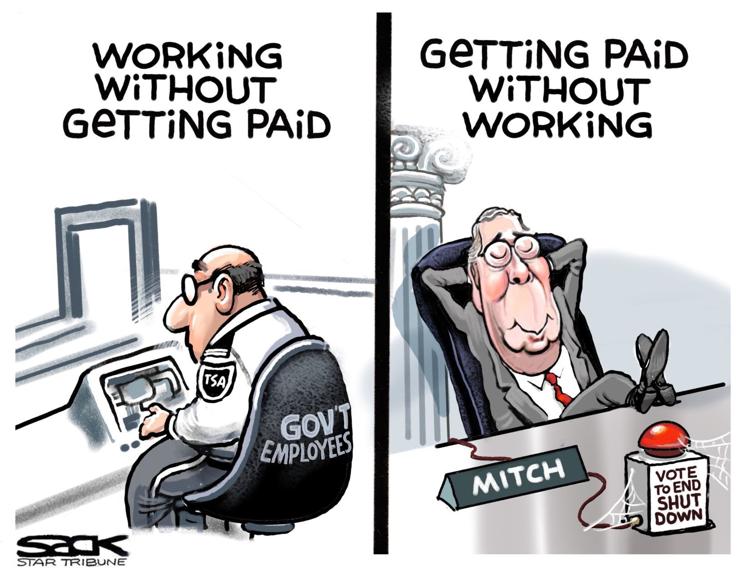 Shutdown Cake by Nate Beeler, The Columbus Dispatch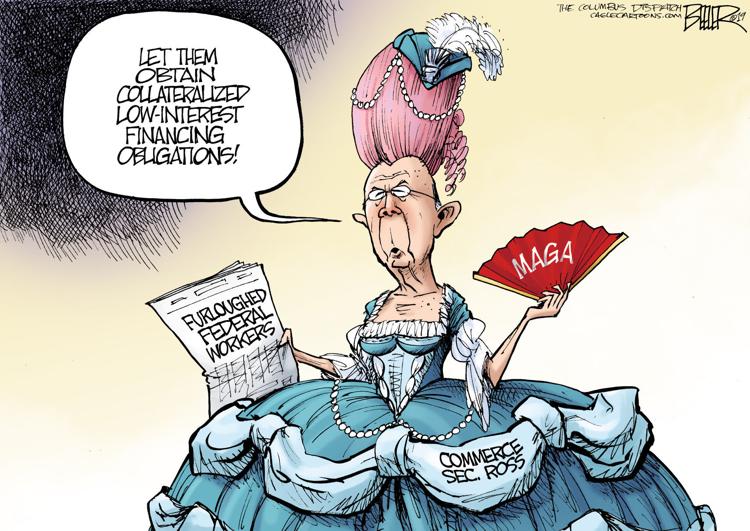 Trump Hate by Nate Beeler, The Columbus Dispatch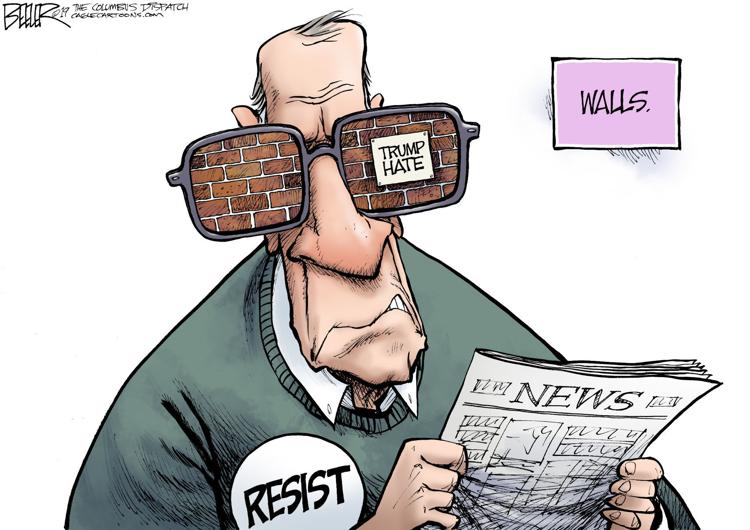 January by Joe Heller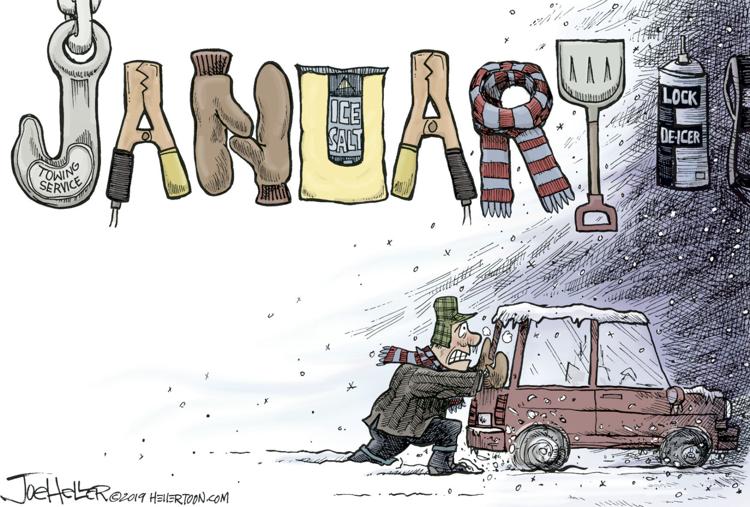 Freeze by Joe Heller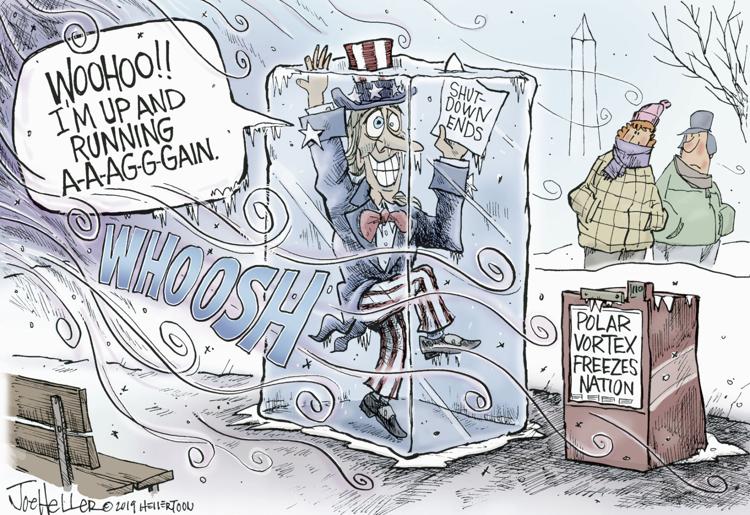 Cortez Chicken Little by Rick McKee, The Augusta Chronicle