When CG Public Health held its latest round of COVID-19 vaccine registrations on Tuesday morning, it had a slight tweak to its ongoing approach. While in previous weeks residents could call in or register online, timeslots this week were only available by phone.
Despite the shift in technique, the results weren't dramatically different.
According to CG Public Health Director Brian Hanft, it took a little less than two hours for 400 primary doses of COVID-19 vaccine to be assigned. With that, Hanft said at Wednesday afternoon's press conference with Mason City Mayor Bill Schickel that he expected the department to shift back to its dual approach for next week's round of registrations on Monday morning.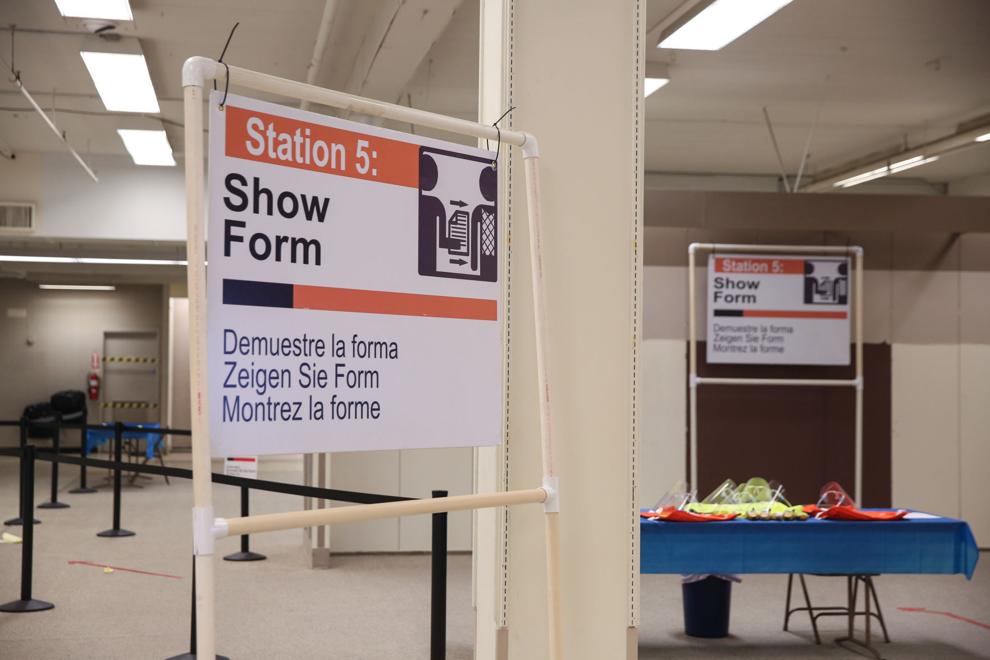 "It seems to work best if we provide dual options," Hanft said. 
Earlier in the day, CG Public Health held its first mass-vaccination clinic of the week and used about 200 prime doses and 225 boost doses, per Hanft.
On Friday, the plan is to do the same. CG Public Health has it set up now that when someone receives their first dose of COVID vaccine, they'll be scheduled for their boost dose at the end of their appointment. The goal is to get people back in for their boost doses between 28 and 42 days after the first round was administered. Hanft has said that, so far, Public Health hasn't had a problem with those timelines.
For those 65 and older who haven't gotten registered yet, Hanft urged people to keep the faith and keep trying to get in, and has said before that his department doesn't intend to move on from the age group until everyone in it who wants a vaccine can get one. He's also said that folks in that group who are homebound and want a vaccine can work with CG Public Health to try and get something more comfortable set up.
"We definitely reach out to those groups and those people," Hanft said.
Along with continuing vaccinations for those age 65 and older, Hanft said that Public Health is trying to wind down its vaccinations for school teachers and staff in the coming days with a "closed pod" on Saturday to try and get them done. 
While CG Public Health is still handling the lion's share of COVID vaccinations, there are other emerging options in town that Hanft suggested people may consider.
Hy-Vee has started making appointments for vaccines available but, as of Wednesday afternoon, none of the Mason City Hy-Vee locations have appointments available online. If someone does want to try and register through Hy-Vee's website, they should have their insurance card and a Medicare Part B red, white or blue card ready to upload (if they're a Medicare recipient). That registration can be found by going to the "Health & Pharmacy" section of "Hy-Vee.com" then clicking "COVID-19 Vaccines" and then clicking "Find Appointments."
"You should reach out to your local pharmacies, talk with your pharmacists and see if they're going to get it," Hanft said. But then he pointed out to Schickel that the supply of doses coming into pharmacies has tended to be smaller than what Public Health is getting and that there will need to be a lot more options to take the burden off of his department.
Based on data from the Iowa Department of Public Health, Cerro Gordo County has had 2,026 completions of the vaccination series (by county of residence). More than 4,000 vaccine series have been initiated. 
Statewide, 509,090 doses have been administered through Wednesday.
What a Globe Gazette News+ membership can do for you:
A deeper examination of local issues than you'll find anywhere else.
Two products in one – not everything that's in the print edition of the Globe Gazette is on our website, and not everything on our website is in the print edition.
Access to newspapers.com archives dating back two years.
The ability to carry your local news with you and receive alerts instantly as news unfolds.
Advertising that frequently gets you deals you won't find anywhere else.
Jared McNett covers local government for the Globe Gazette. You can reach him at Jared.McNett@globegazette.com or by phone at 641-421-0527. Follow Jared on Twitter at @TwoHeadedBoy98.