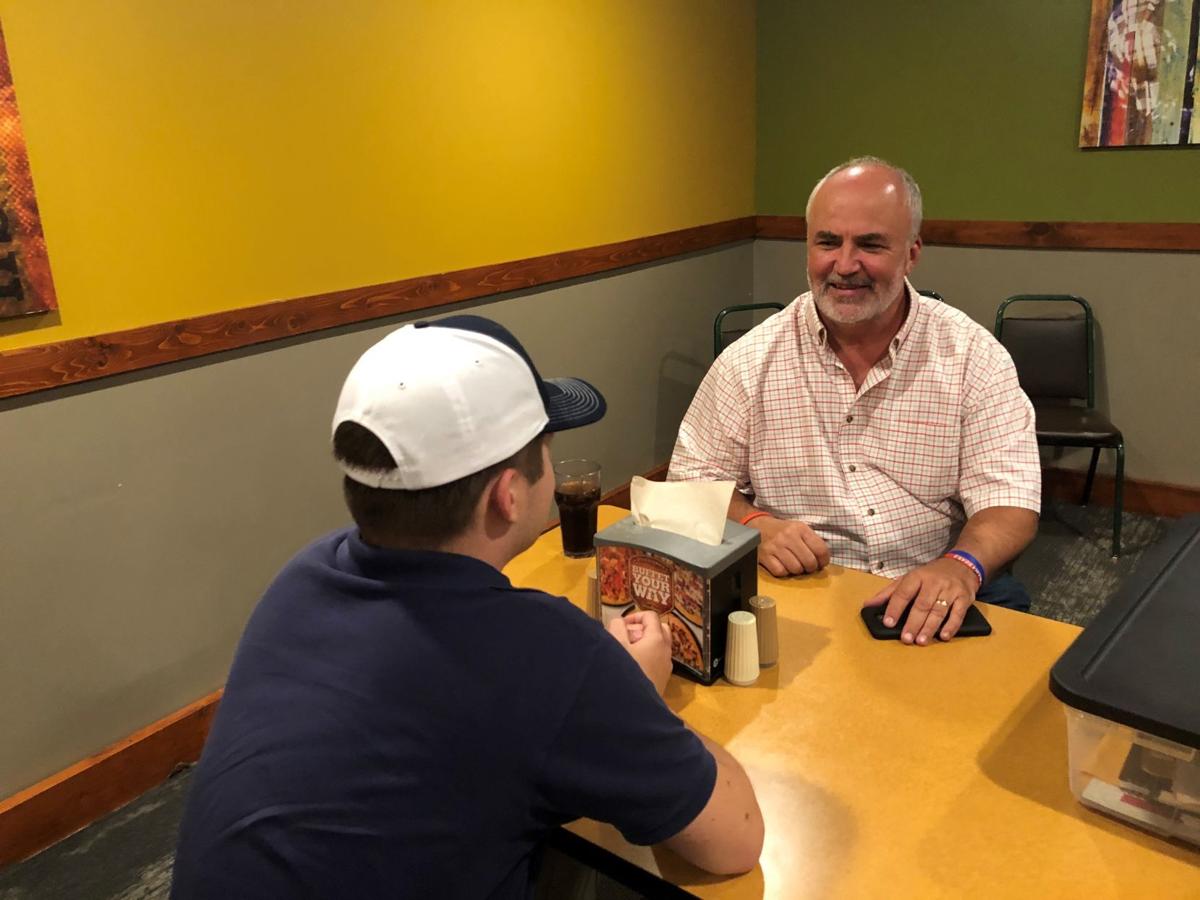 Republican state Sen. Jim Carlin, representing Iowa's 3rd District since 2017, announced in February of this year that he would be running for U.S. Senate, gunning for the seat currently occupied by Republican Sen. Chuck Grassley.
Carlin spent time on Tuesday night speaking with the Globe Gazette at a Pizza Ranch in Garner about the issues important to his campaign and why Iowans should write his name down come election time.
Campaign issues
Carlin talked about numerous issues, but he made it clear that the most important goal for his campaign was protecting freedom for Americans.
"My reasons for running for U.S. Senator are pretty straightforward," Carlin said. "One of the questions I asked myself last year was if you look 20 years down the road from now do you see your grandchildren free. The honest to that for me was no.
"Once you answer that question, no, it triggers a responsibility to do something."
Carlin, who currently resides in Sioux City, hopes to counteract what he considers attacks on American freedoms with numerous different policies. Carlin spoke at length about how the U.S.'s greatest threat moving forward is China, and that government officials need to act "before it's too late."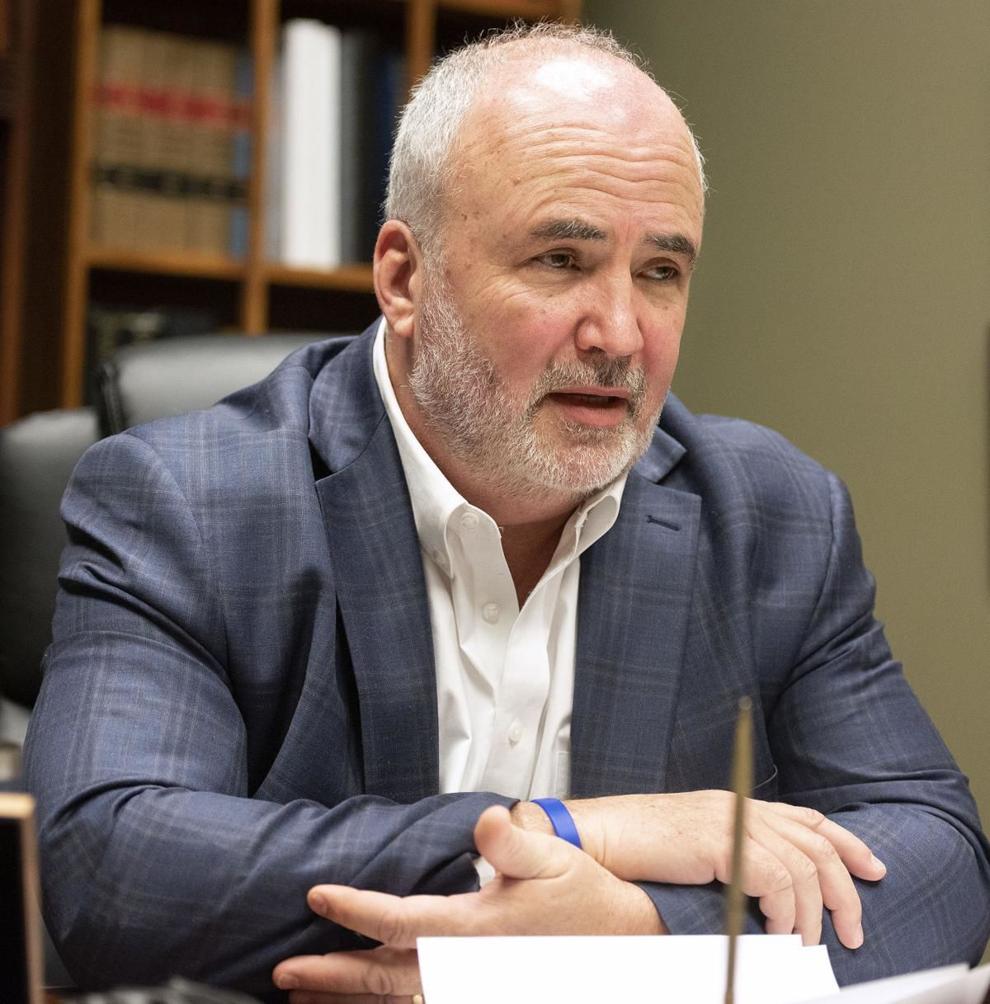 Carlin promoted the idea of a coalition of nations to "engage the Chinese on trade and military." Carlin slammed current leadership, except for former President Donald Trump, for their inactivity on China.
Another passionate point of conversation for Carlin was immigration, specifically protecting the U.S.'s southern border. Carlin said this should be a top priority, voicing his support for a southern border wall to keep illegal immigrants out of the country.
"We need a wall separating us from Mexico," Carlin said. "99 percent of the methamphetamines that come into Iowa comes from Mexico. One in five of our state inmates are there for meth."
North Iowa issues
Carlin spent some time discussing issues specific to North Iowa, including the importance of the Renewable Fuel Standard (RFS) to becoming a freer nation.
Carlin said that continuing to invest in biofuel and taking steps towards energy independence are crucial to the United States long term.
"It helps our farmers, helps our prices and our markets for corn," Carlin said "Raising the RFS is a good idea."
Staff shortages across North Iowa, and the entire state, were another issue Carlin spoke on. Carlin emphasized the importance of better education in Iowa as a key to reversing the staff shortages across the state.
Issues with Democratic Party
Carlin accused the Democratic Party of attempting to take away freedom from America and American citizens.
"The government is on a path and trajectory that is taking away constitutional freedoms," Carlin said. "The right to defend yourself, your self-expression, your religious freedom, the value of the money you earn, all of these things collectively which strips people of their freedom."
Carlin said that the Democrats in federal government are currently attempting to remove voter ID laws and American's second amendment rights under President Joe Biden. Carlin also claims that the Democratic Party is trying to reconfigure the Supreme Court to give the party a majority.     
"If you don't have the majority in the Supreme Court, you just make up new rules until you have the majority," Carlin said. "Joe Biden has talked about that. The Democratic Party has talked about that."
Most egregious of all, according to Carlin, is the inflation being triggered from "massive" infrastructure bills, raising taxes that middle-class families won't be able to pay.
"The working middle-class man cannot afford 12 percent annual inflation," Carlin said. "Right now, it's six percent… if that goes up to 12 percent this year, which it's projected to, that means one out of eight dollars he has earned is gone."
Issues with Sen. Grassley
Accusations were also levied against Grassley by Carlin about his role in expanding the nation's debt over the past 40 years.
"In 1980, we were the world's leading manufacturer, the unquestioned military leader of the world. We were the beacon of freedom to the world," Carlin said. "Presently, we are no longer the world's economic leader in manufacturing, we are $30 trillion in debt, and in 1980 we were $1 trillion in debt. That's a failure of leadership."
Now, Carlin has thrown his hat in the ring to seek election to the U.S Senate, regardless of whether Grassley decides to seek reelection.
Currently, Carlin is the only Iowa Republican who has announced his intention to run for the U.S. Senate seat in 2022. Two Democratic candidates have announced their candidacies: Glenn Hurst and Dave Muhlbauer.
The general election for the U.S. Senate seat will take place on Nov. 8, 2022.
Zachary Dupont covers politics and business development for the Globe Gazette. You can reach him at 641-421-0533 or zachary.dupont@globegazette.com. Follow Zachary on Twitter at @ZachNDupont