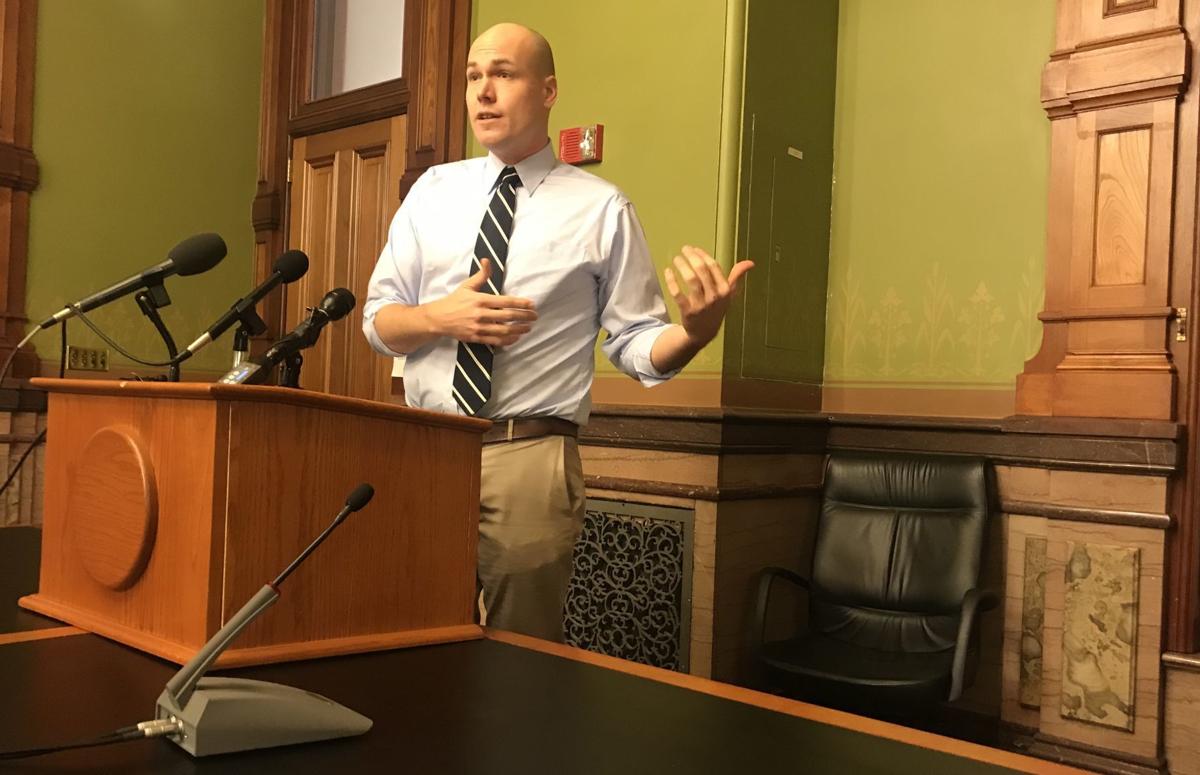 J.D. Scholten's going to be riding the R.V. again.
In 2018, the Democratic candidate drove his vehicle "Sioux City Sue" around all 39 counties of Iowa's 4th Congressional District in an attempt to unseat long-time Republican congressman Steve King.
Scholten lost. By 3.3%. The smallest margin King has won by since Iowa's 4th Congressional District was reconfigured.
A little more than nine months after losing to the nine-term congressman, Scholten announced he's ready for a rematch.
Early Monday morning Scholten declared his campaign for the 2020 race with an ad narrated by Kevin Costner and replete with rural Iowa imagery and residents.
In an accompanying release, Scholten said "We're building a people-powered campaign that is focused on meeting with, listening to, and earning the trust and support of voters in all 39 counties in Iowa's 4th district. This time, we're going to get the job done."
His theme follows what he ran on in 2018: Fix, Fight, Secure.
"We have to fix health care, fight for an economy that works for all of us and secure our democracy by cleaning up Washington and getting money out of politics," Scholten said.
Support for Scholten's bid came immediately.
Democracy for America, a progressive political action committee out of Vermont with 1 million national members, announced its endorsement by saying "We're excited to endorse Scholten on day one of his rematch against King because we know that he will always stand tall for the people of Iowa's 4th Congressional District and our shared progressive values."
Since his loss in November, Scholten has stayed active in Iowa politics by announcing the creation of a statewide organization designed to educate working families that tapping into an existing tax credit can improve their financial standing. In the lead up to Tax Day in April, the Working Hero Iowa organization worked to highlight the benefits of the Earned Income Tax Credit and directed people to free tax preparation services. And he waved off questions at the time about whether or not he would run in 2020 by saying "I'm leaving the door open."
King, meanwhile, has had his committee assignments stripped from him for saying to the New York Times in January "White nationalist, white supremacist, Western civilization — how did that language become offensive?" and has raised less money to date than State Sen. Randy Feenstra, one of the three Republicans challengers seeking to oust King. Feenstra's campaign raised a reported $260,442 while King reportedly raised $61,666. 
During a Republican campaign event in Windsor Heights in April that featured the four congressional district candidates, Feenstra called on Christian conservatives to be "lights" in a fight against "darkness" while county supervisor Jeremy Taylor expressed about King's viability in another reelection attempt.
Still, Scholten told the Sioux City Journal that he expects King to make it through the primary gauntlet. 
"It doesn't matter who wins the primary, my issues will be the same," the Democrat said. "If I had to bet, I'd say it is King. He's never lost a race."
King has represented Iowa's 4th Congressional District since its reconfiguration in 2012 to include Cerro Gordo, Floyd, Winnebago, Boone, Chickasaw, Story and Webster counties and won by an average of 14.3 points in his four races. Before that, he represented the now dissolved 5th District.
Scholten will hold a rally Tuesday, August 6, in Ames at 9 p.m. at Mother's Pub. 
What a Globe Gazette News+ membership can do for you:
A deeper examination of local issues than you'll find anywhere else.
Two products in one – not everything that's in the print edition of the Globe Gazette is on our website, and not everything on our website is in the print edition.
Access to newspapers.com archives dating back two years.
The ability to carry your local news with you and receive alerts instantly as news unfolds.
Advertising that frequently gets you deals you won't find anywhere else.
Get Government & Politics updates in your inbox!
Stay up-to-date on the latest in local and national government and political topics with our newsletter.