In mid-February, state health officials in Iowa announced that five counties, including Hancock County, would not receive a new weekly shipment of COVID-19 vaccinations because public health departments in those areas didn't hit 80% administration thresholds. 
This week, CG Public Health is working to avoid a similar outcome.
The department's director, Brian Hanft, said on Tuesday morning at the Cerro Gordo County Board of Supervisors meeting that he does have a slight worry about reaching the target goal. "We do have concerns. We do have to worry that we wouldn't get our 80% out because the demand just isn't there," he said.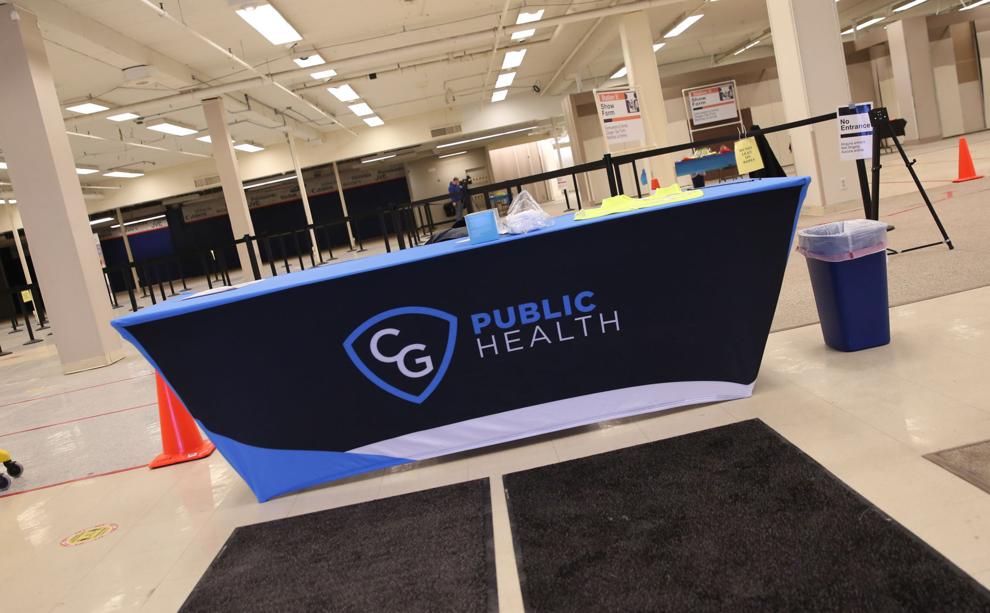 That concern comes as the county is now getting a steady clip of about 2,000 COVID-19 vaccine doses a week which is largely split between the Moderna and Pfizer varieties.
But registrations, both online and via phone, seem to have tapered off. In past weeks, appointment slots would disappear almost as soon as they came available with some residents calling hundreds of times. It wouldn't even take a full day. Now, though, more than a day after registrations went live for the week, there is still availability for a March 13 mass clinic. Hanft said he isn't quite sure why that is.
"We know there's got to be people still looking for it so we ask people: If they're on the fence or still looking for it, please do it now. We need people to get in and we need to try to run through all of the vaccines we receive," he said.
A recent change in just who qualifies for vaccine registration might help fill the increased slots the county has. 
This past week, the Iowa Department of Public Health announced that those with certain medical conditions as well as pregnant people, smokers and those who are overweight are now eligible for a COVID-19 vaccine. Hanft said that CG Public Health will soon focus on people in those categories as well.
"It's going to be coming out. We just talked about that this morning. We got notification this weekend, and then we dealt with it yesterday. The hospital is going to bring in people who are 65 and under and have pre-existing conditions," he said.
According to Hanft, it's difficult for the county to remain solely focused on vaccinating those over 65 as new qualifications for pre-existing conditions roll out. Those pre-existing conditions include:
Asthma
Cancer
Cerebrovascular disease
Chronic kidney disease
COPD
Cystic fibrosis
Down syndrome
Certain heart conditions
High blood pressure or hypertension
Liver disease
Neurological conditions such as dementia
Organ transplant recipients with a weakened immune system
Overweight (BMI of over 25), including obese and severe obesity
Pregnancy
Pulmonary fibrosis (damaged or scarred lung tissues)
Sickle cell disease
Smoking
Thalassemia
Type 1 diabetes
Type 2 diabetes
Weakened immune system or immunocompromised
"Based on the number of people looking for vaccines yesterday, we just didn't see a huge slam of calls coming in or people trying to log-in so we're just going to follow suit, accept those people and get vaccines in arms," Hanft said. 
As of Monday, Cerro Gordo County has 5,341 vaccine series completions and 7,395 initiations by the county of the vaccine provider. Per data from the U.S. Census Bureau, about 42,450 people live in Cerro Gordo.
What a Globe Gazette News+ membership can do for you:
A deeper examination of local issues than you'll find anywhere else.
Two products in one – not everything that's in the print edition of the Globe Gazette is on our website, and not everything on our website is in the print edition.
Access to newspapers.com archives dating back two years.
The ability to carry your local news with you and receive alerts instantly as news unfolds.
Advertising that frequently gets you deals you won't find anywhere else.
Jared McNett covers local government for the Globe Gazette. You can reach him at Jared.McNett@globegazette.com or by phone at 641-421-0527. Follow Jared on Twitter at @TwoHeadedBoy98.