A new wave of debates about mask mandates in North Iowa, set off by a federal judge's order on Monday, is coming as rates have ticked up in four counties across the region over the past week, and the 0-17 age demographic had the highest COVID-19 positivity rate in seven counties.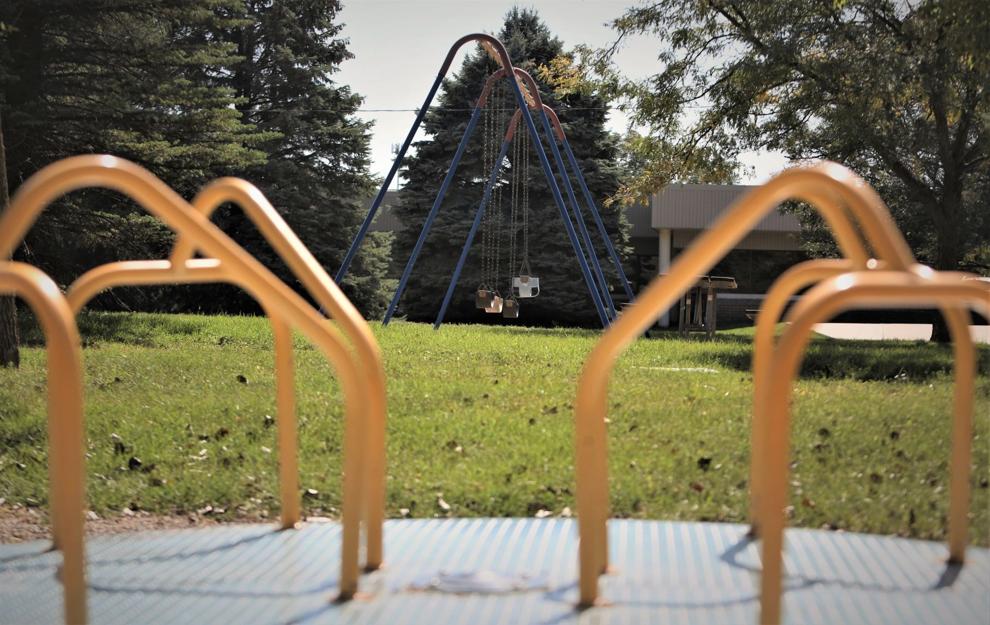 According to data from the Iowa Department of Public Health, for the counties of: Cerro Gordo, Floyd, Franklin, Kossuth, Mitchell, Winnebago and Wright, kids were the largest drivers in the rate of positive tests in the previous seven days. In four counties, Cerro Gordo, Franklin, Kossuth and Winnebago, kids accounted for at least one third of the overall positive cases this past week. In Cerro Gordo, 33% of the 126 positive tests were kids. For Kossuth, the numbers were 35% from 97 total positives. Franklin's numbers were 39% out of 46 tests. And in Winnebago, 40% of the 43 positive cases were kids.
At a Cerro Gordo county board meeting on Tuesday, CG Public Health Director Brian Hanft began his remarks by telling the three county supervisors what his department was doing in regard to schools.
"Continue to try and provide support to schools and daycares," Hanft said. Part of that, he said, involves monitoring the availability of the COVID-19 vaccine for those under 12 and also staying apprised of mask mandate discussions.
The positive test rate for COVID-19 in Cerro Gordo County overall went down by 1% in the past seven days (from 8% to 7%) although the total positive cases went up from 78 to 126. Floyd, Hancock and Mitchell went down in terms of percentages as well but saw more total positive tests. Winnebago's percentage stayed at 9%. Butler, Franklin, Worth and Wright all went up with Worth going from 2% to 11% and Wright edging up to 15% from 13%.
Recent Associated Press reporting found that the U.S. is averaging more than 1,800 COVID-19 deaths and 170,000 new cases per day, the highest levels since early March and late January, respectively. Those two figures have been trending upward over the past two weeks.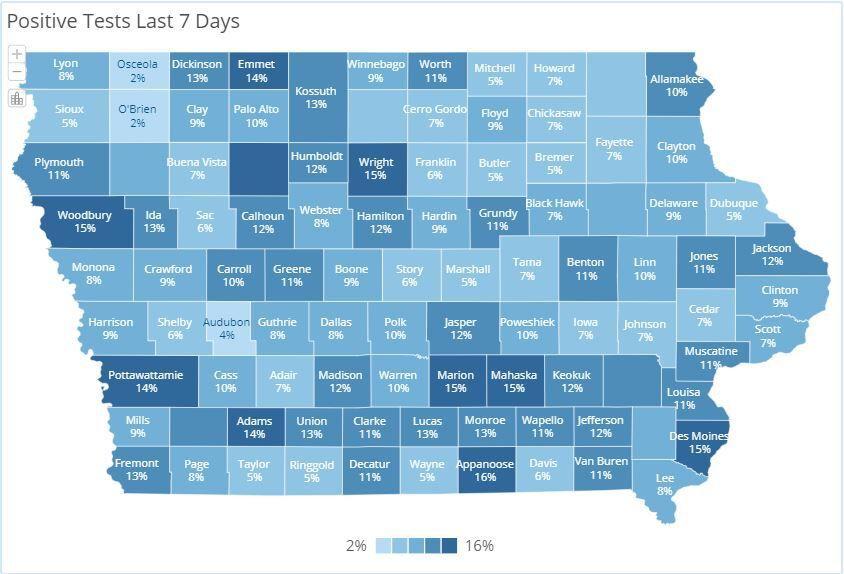 Throughout the state of Iowa, there were 11,588 positive tests in the past week along with 578 hospitalizations from COVID-19 and 157 people needing to go to the ICU. 78.3% of those hospitalized did not receive a vaccine and 87.3% of patients in the ICU are unvaccinated.
The total vaccination rate for the state is 52.8%. In Cerro Gordo its 54.7%, Butler is the only other North Iowa county above 50% at 51.2% (based on CDC counts). 
At that same county board meeting on Tuesday, Hanft said that there's planning for how a third dose might be administered but those plans haven't fully solidified for the department yet.
On Sept. 8, the head of the World Health Organization, Tedros Adhanom Ghebreyesus, suggested that countries such as the United States should keep from giving out boosters to fully vaccinated, "healthy people" until poorer countries with vaccine shortages are able to at least get first doses. 
"A month ago, I called for a global moratorium on booster doses, at least until the end of September to prioritize vaccinating the most at risk people around the world who are yet to receive their first dose," Tedros said, according to the Associated Press. "There has been little change in the global situation since then."
As residents settle into fall, Hanft said that his department is seeing a lot of seasonal illnesses mixing with COVID cases to create a substantial burden to clinics and hospitals. 
And all of that is making things feel stuck in place.
"It seems like we're in a lot of holding patterns right now," Hanft said.
Jared McNett covers local government for the Globe Gazette. You can reach him at Jared.McNett@globegazette.com or by phone at 641-421-0527. Follow Jared on Twitter at @TwoHeadedBoy98.