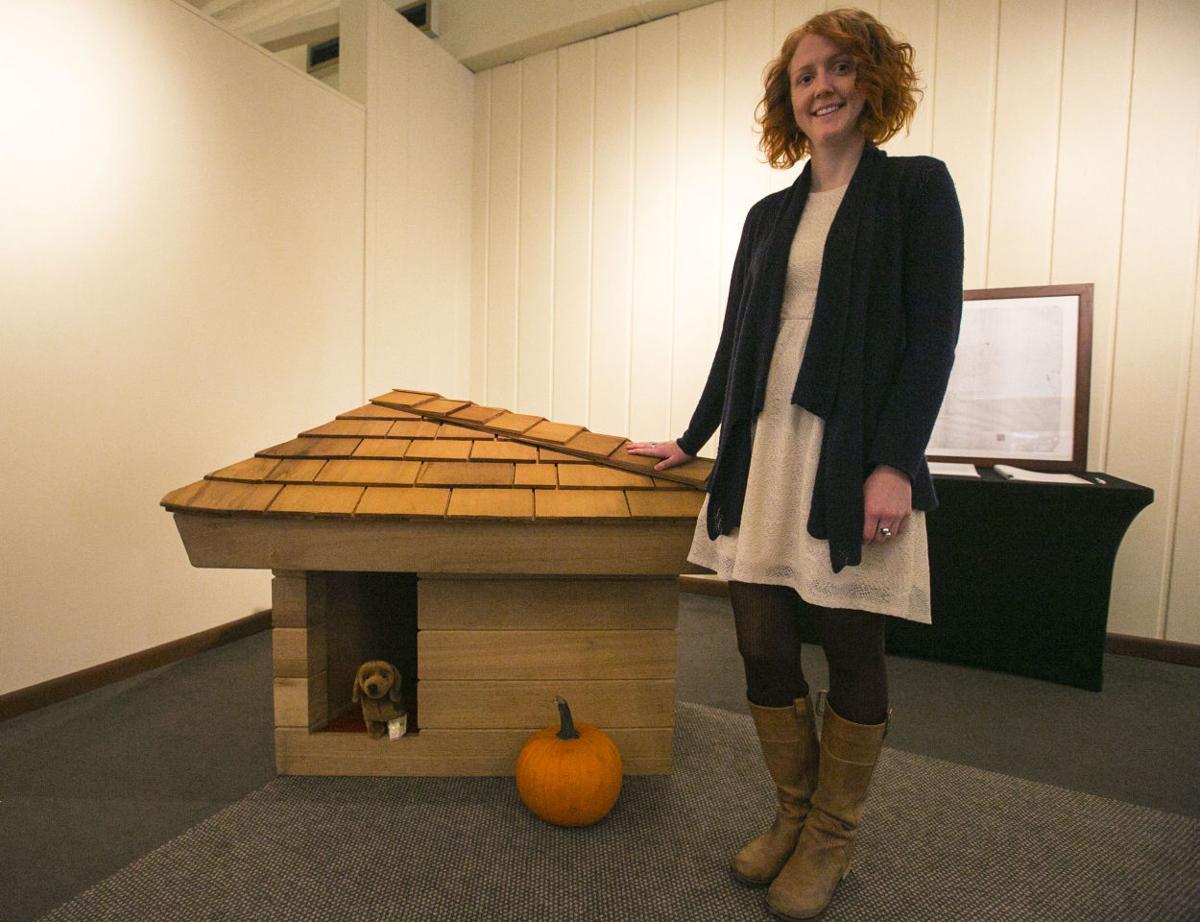 MASON CITY | When a 12-year-old California boy wanted Frank Lloyd Wright to design his doghouse, all he had to do was ask.
In response to an earnest 1956 letter, the world renowned architect eventually responded with plans for a 3-foot tall triangular design.
Now, a replica of that original doghouse — considered the smallest structure ever Wright designed — is currently on display at Wright on the Park in the Southbridge Mall through Dec. 31.
The fact that a child could so earnestly ask and then receive the plans makes it extraordinary, said Caitlin Callahan, executive director of Wright on the Park.
"I think this story really speaks to a different side of Frank," she said. "He was notorious for being very full of himself."
The organization is displaying the house, along with a copy of Wright's design plan and his correspondence with the child.
In June 1956, 12-year-old Jim Berger, who lived in the Usonian-style Berger House designed for his father, wrote a letter directly to Wright on lined paper in cursive writing asking him to also design a dog house for his Labrador retriever, Eddie.
In the letter, Berger also included specifications for his dog.
"He is two and a half feet high and three feet long. The reasons I would like this dog house is for the winters mainly," the boy wrote.
Payment for Wright's services would come from his newspaper delivery route.
"My dad said if you design the dog house he will help me build it. But if you design the dog house I will pay you for the plans and materials out of the money I get from my route."
Wright wrote back to Berger within days, stating he was tied up with projects, but asking Berger to write again months later reminding him of his request.
After another letter from Berger a year later, Wright sent a single sheet of plans through the mail within a couple of weeks, said Berger's brother Eric via phone on Thursday.
A few years later in 1963 Berger's father built the house from Wright's plans, but their mother wanted it discarded after their father died in 1973, Eric Berger said.
About two or three years ago an interested filmmaker convinced Eric and Jim to build the replica for a Wright documentary, Eric said.
Growing up, despite the fame of its designer, the family didn't treat the original dog house as anything extraordinary.
"It was just there in the yard; we really never had a dog that liked it," Berger said.