MASON CITY | Every year, law enforcement, local officials and North Iowans gather in Mason City to remember those who have died due to domestic violence.
On Friday, Forest City High School sophomore Alexandria "Alex" Brahm spoke during Remember My Name in the Mason City Room at the Mason City Public Library about losing her mother several years ago.
Remember My Name, sponsored locally by the North Iowa Domestic and Sexual Abuse Community Coalition, honors the memory of the women, men, children and bystanders who have died in Iowa as a result of domestic violence. More than 300 Iowans have been killed in domestic violence-related homicides from Jan. 1, 1995 to March 31, 2018
For Brahm, life has been several seasons of tragic loss and grief. In 2012, her aunt was murdered. In 2016, her mother died.
"Mom...that suddenly meant someone who sleeps all the time due to seizures," Brahm said, remembering her life when she was 7 years old. At the time, she said, she did not know that the seizures were caused by drug use.
She recalled her mother's abusive boyfriends after her parents divorced and visiting her mom at Prairie Ridge. She loved her mom, and her mom loved her, she said.
"People make terrible choices," she said.
Brahm wrote an essay about her mother and recorded it for a podcast. It was chosen for a series of National Resource Center for Domestic Violence podcasts titled "I'm an Activist" posted in February. She read the essay during the event Friday. 
Her mother, Shawntel, endured a difficult childhood where her mother died from cancer and her father was abusive.
"My mom's dad was a terrible father," she said.
Her mom later developed an addiction to painkillers.
"At 7 years old, my parents were divorced; my mom was abusing painkillers," Brahm said.
Brahm didn't understand why. She does not place all blame on her mom, as she said drug addiction is complicated and overpowering for most people.
After the divorce, she said her mother dated a man who slammed her head into some concrete because she didn't clean the house the way he wanted her to.
She then married a man who seemed like a knight in shining armor, according to Brahm.
You have free articles remaining.
"She probably would have lived if it wasn't for Steve," she said. Steve was controlling and, according to Brahm, prevented her mother from getting the helps she needed when she became sick.
In May 2016, Shawntel begged her husband to take her to the hospital but he did not.
Brahm remembers the day her stepmother said the words "Shawntel is dead." Since then, Brahm grieves the things in life that her mom will never witness.
Not long after her mother's death, her father died in a motorcycle accident.
Brahm said sometimes the only thing to do is "hope tomorrow will be better."
Brahm said her plans to volunteer with Crisis Intervention Services, an organization that assists survivors of domestic abuse and sexual assault, after high school.
Her stepmother, Nicole Hamilton-Brahm, is a violent crime program supervisor with CIS.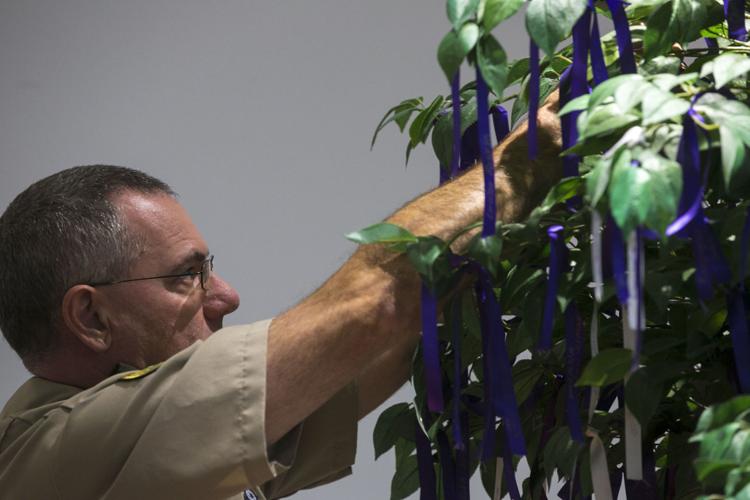 Hamilton-Brahm, along with Cerro Gordo County Deputy David Hepperly, read the number of domestic violence deaths for each year since 1995, detailing stories of North Iowans who have died.
As specific stories were told, family, friends and law enforcement would come forward and tie a ribbon with the victim's name to a tree at the front of the room.
The stories often noted that there had been signs or previous incidents leading up to the homicides, such as violations of protective orders and abuse.
On March 1, Zoanne Fullhart, 34, was found dead after a standoff with police in Cresco. Brian Fullhart was arrested for first-degree murder and going armed with indent for shooting his wife. He was released from jail on his own recognizance about a week before the incident for a burglary charge.
Cerro Gordo County Sheriff Kevin Pals spoke at the end of the event.
"If we work together, we can reduce the violence of domestic incidents," he said. "If you see something, say something."
He added that law enforcement can't step in and help if they don't know that domestic abuse is happening. 
Help for domestic abuse is available 24 hours a day through Crisis Intervention Services, 855-424-9133. Services are free and confidential.