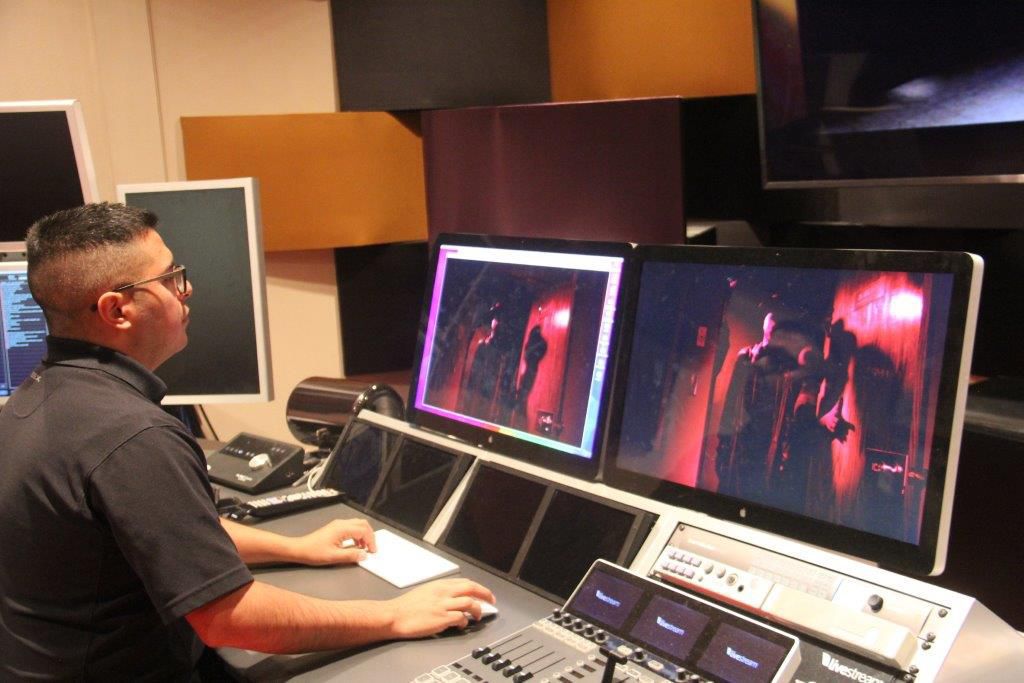 FOREST CITY | The latest production by a Forest City filmmaker was featured on Iowa Public Television this weekend during a Halloween-themed episode of "The Film Lounge." 
"The Hatman," written and directed by Carlos Ruiz, media specialist at Waldorf University, was one of five short films with horror themes featured in the episode.
Ruiz, who also teaches in the communications department at Waldorf, first became interested in filmmaking as a sixth-grader in Denver, Colorado, where he was the camera operator for his school's TV program. 
Outside of school, he and his friends filmed parodies of hit movies like "Pirates of the Caribbean," using a camera borrowed from one of their dads. 
Ruiz majored in digital media at Waldorf, where he enjoyed "playing with the cameras" and figuring out what kind of stories he wanted to tell.
He said he also loves photography and graphic design, and filmmaking "is the one medium that puts them all together to tell a story." 
"I love to tell stories that connect with people," Ruiz said. 
Ruiz, who graduated from Waldorf in 2014, was co-director of the 2015 small-budget, independent feature film "Rise of the Sea Urchins," a comedy about a water polo team.  
That film, like "The Hatman," was filmed in Forest City with mainly local actors and crew. 
Ruiz said he got the idea for "The Hatman" from watching "The Nightmare," a documentary on Netflix. 
The documentary is about people with sleep paralysis who have hallucinations of a shadowy figure entering their bedroom. 
Ruiz said the documentary was terrifying and gave him the idea for a fictional horror story. 
"The Hatman," which was shot on Waldorf's campus, is about a student who starts seeing a psychiatrist about her bad dreams. 
The student's roommate, who is now missing, was seeing the same psychiatrist.
It turns out the two young women and the psychiatrist all had the same nightmare, raising the question "is there something really happening on campus or is just in the mind?" Ruiz said. 
The psychiatrist has to "make the connection before it becomes too late," he said. 
The eight-minute film was shot in a way to give the audience the same feeling of claustrophobia the characters are experiencing, according to Ruiz.  
"The Hatman" has been admitted to a number of film festivals around the state.  
Ruiz's film credits are under the pseudonym "Charlie Gandez" because he shares his real name with a famous baseball player and famous soccer player. 
He said his wife calls him "Charlie" and Gandez is a family name, so the name he uses for his film credits is still rooted in his actual identity. 
Ruiz has written the pilot for a TV series with the working title of "Barrio." He's currently revising the script before sending it to TV networks to see if one of them will buy it and make it into a series. 
"Barrio" is about a Hispanic high school student who is a star football player and wants to be a doctor. The teen lives with his immigrant parents in a neighborhood where gangs and drugs are rampant.
His parents don't have insurance because they are undocumented, so when the boy's mother gets cancer, the family can't afford to pay for her treatment. 
The teen decides to join a gang to make money selling drugs to save his mother's life.
Ruiz said he's shown the script to a couple of professionals in the industry, and they've told him, "there's definitely something there." 
With so many cable networks now getting into original TV series business and the rise of streaming services, Ruiz is optimistic about his chances. 
"We just have to find the right network," he said.